a Turkish themed Valentine's day dinner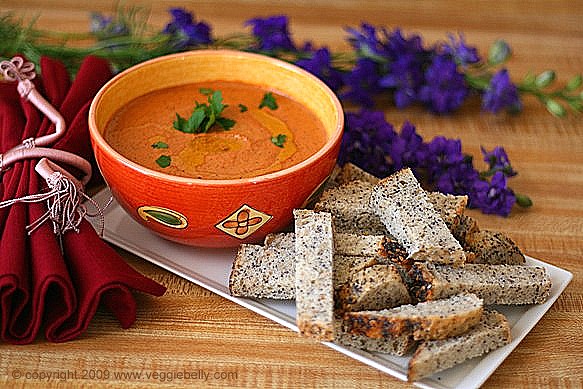 Why a Turkish theme for valentine's day dinner you ask?
When we visited Turkey, we discovered that in the touristy areas, almost every edible thing for sale was marked as either an aphrodisiac or a viagara substitute. No matter what a vendor was selling, he claimed it was good for your love life. Apricots, nuts, sweets, spices, tea…every thing came with the promise of…err…better procreative ability.

Talk about marketing technique! Sweets at the grand bazaar in Istanbul and a dried fruit stall in Cappadocia.
 
I've traveled enough to know that this aphrodisiac thing is a scam. But somehow during the Turkey trip, my brain made a connection between Turkish food and aphrodisiac. So when I was thinking of what to make for Valentines day, Turkish food was the first thing that came to mind
We started dinner with Muhammara – an incredibly delicious and easy Turkish dish to whip up. This dip is also called Acuka in Turkey and is also eaten in other parts of the middle east. It is slightly tart and sweet from the pomegranate and buttery from the walnuts. Muhammara is great as a dip, but it will also make a fantastic sandwich spread. There are several variations of this dish, but the main ingredients are always walnuts, roasted red peppers and pomegranate molasses. You can get pomegranate molasses in any middle eastern grocery store.


Muhammara – Turkish Walnut Pomegranate Dip
makes about 2 cups
1 cup walnuts
2 tbsp pomegranate molasses
2 large roasted red peppers (see below for how to roast peppers)
1 clove garlic
¼ cup olive oil
¼ cup dried bread crumbs
1 tsp cumin powder
1 tsp chili flakes
1 tbsp ketchup
½ tsp salt
Toast the walnuts in a skillet on medium heat, till they are slightly browned.
Put the toasted walnuts and all other ingredients in a blender and blend into a smooth dip. If the mixture is too thick to blend, add a few tablespoons of water to the blender. Serve with warm pita bread or vegetables.
How to roast peppers


Place red peppers over a direct flame – either on your stove or in an outdoor grill. Roast the red peppers on a high flame till they are completely charred on all sides. Place the charred peppers in a bowl and cover with plastic wrap. Let the peppers steam this way for atleast 10 minutes. Using a paper towel, wipe off all the charred skin of the red peppers. Chop the peppers, discarding the seeds and membrane inside.
Comments
comments