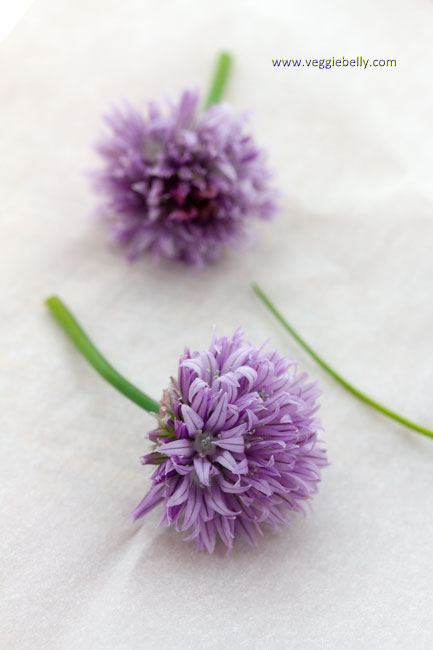 My dear friend Siva is the most passionate foodie I know. He goes on amazing eating trips and comes back with a head full of ideas. One such idea is this chive blossom tempura. When I returned home with a beautiful bunch of  blooming chives from the Dupont circle farmers market , I asked Siva what he suggests I do with them. Tempura was his answer. This tempura is easy to make, tastes great, and the batter is eggless. Serve this tempura by itself or on a salad. Thanks Siva!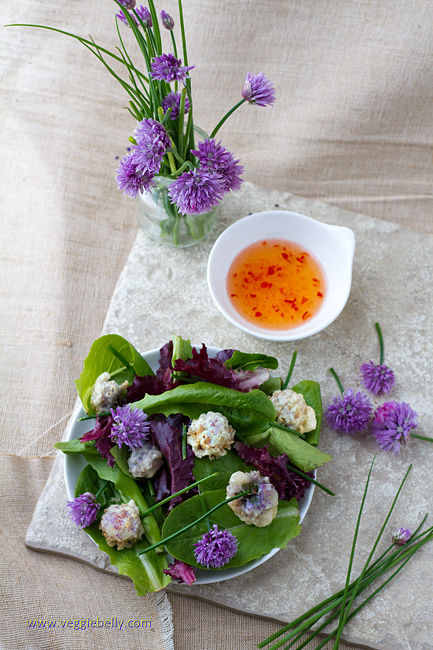 Notes:
- If you dont have chive blossoms, just use fresh chives. Chop the chives and mix it with the tempura batter. Then fry small spoon fulls of this batter. Eat these chive fritters with dipping sauce or over  salad
- Use your favorite tempura dipping sauce. Mine had vinegar, chillies, sugar and soy sauce. I use this sauce for dipping the tempura and also as a salad dressing
- Make sure the club soda/soda water/seltzer you use for the tempura batter is ice cold. I add some ice cubes to make it extra cold, and then measure the liquid out
- If you are serving this as a tempura (without the salad), you may want to leave a little of the stem on the chive blossom for great presentation. See photo below. Holding the stem, dip the flower in the tempura batter. Then fry the flower part only, while holding on to the stem using tongs.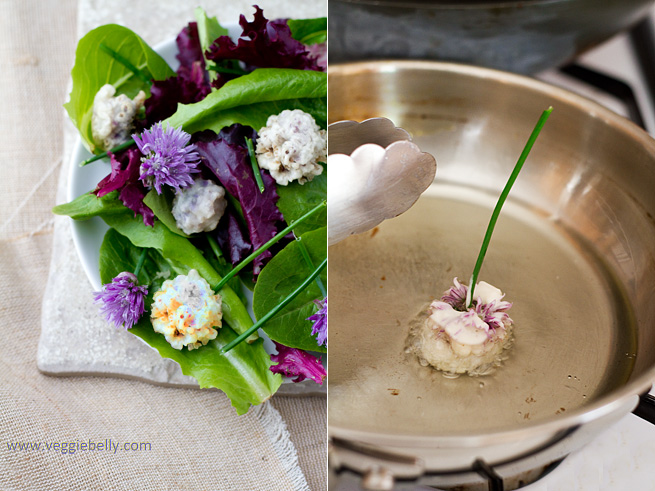 Chive Blossom or Chive Flower Tempura Salad Recipe
Serves about 2
One bunch of chive flowers (about 16 flowers)
1/2 cup flour
1/2 cup ice cold club soda or seltzer or soda water
a pinch of baking powder
Salt & pepper
Vegetable oil for shallow frying
Store brought tempura dipping sauce
3 cups salad leaves of your choice (dont use strong tasting ones like arugula)
Cut the chive flowers from the stems. Chop up the stems and reserve.
Make the tempura batter by gently mixing together flour, soda water, baking powder, salt and pepper. Dip a chive flower into the batter and shallow fry till crisp and golden on all sides. Repeat with all chive flowers, a few at a time. Drain the tempura on paper towels. Arrange tempura over salad leaves. Garnish with chopped chive stems. Serve with your favorite tempura dipping sauce.
Comments
comments