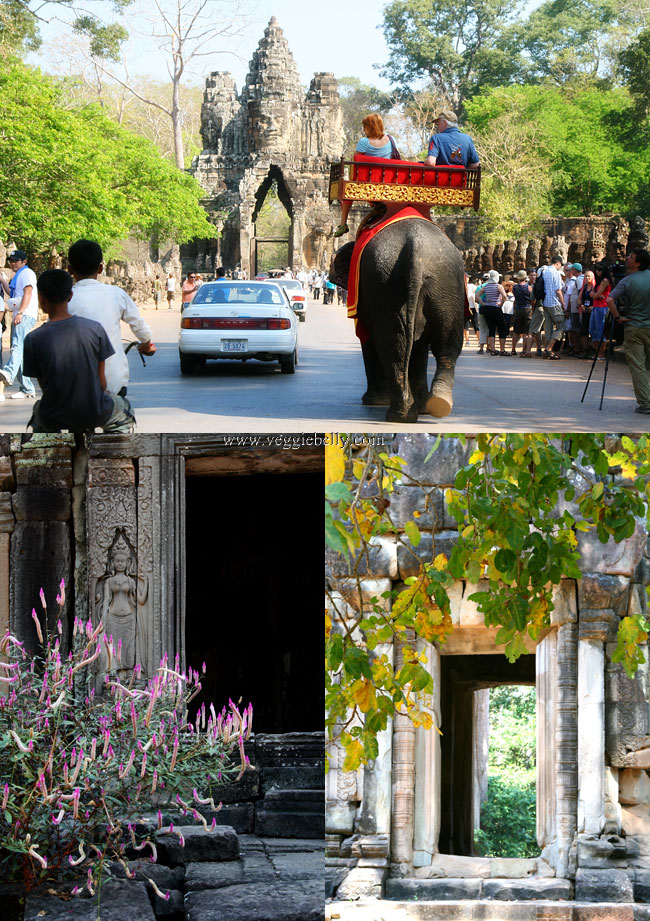 If you are a regular reader of this blog, you know I took a trip to South East Asia earlier this year. You can see my posts and recipes from Thailand here, here, and here. I also went to Cambodia on that trip; here are some pictures and thoughts from Cambodia..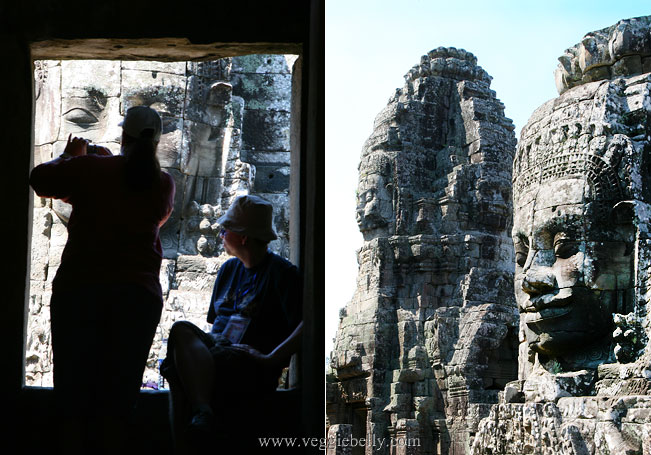 Bayon temple in Angkor Thom
Angkor Wat, Cambodia's major tourist attraction is a spectacular, 800 year old temple complex. The scale and beauty of the Angkor temples are awe inspiring. But at the same time, they were nothing new to me – I grew up in India with ancient temples all around me.  What really intrigued me was the fact that these  Hindu temple complexes exist  so far away from India.
Ta Prohm temple, where Tomb Raider movie was shot
"If Angkor Wat, the Bayon and other temples are testimony to the genius of the ancient Khmers, Ta Prohm reminds us equally of the awesome fecundity and power of the jungle. There is a poetic cycle in this venerable ruin, with humans first conquering nature to rapidly create, and nature once again conquering humans to slowly destroy" – Lonely Planet Cambodia
 Faces of Cambodia
The children of Cambodia, whether they are novice monks, beggars on the streets or school kids on vacation, are the most beautiful I have ever seen.
Bright orange clad monks were everywhere – a striking visual juxtaposition to the monochrome, stone temples.
Just as the sun was setting, and the throngs of tourists were leaving Angkor, I saw this beautiful, graceful young monk emerge from the stone facade to catch a glimpse of the setting sun. I chatted him and his friend up, and offered some candy; they were then more than happy to pose for me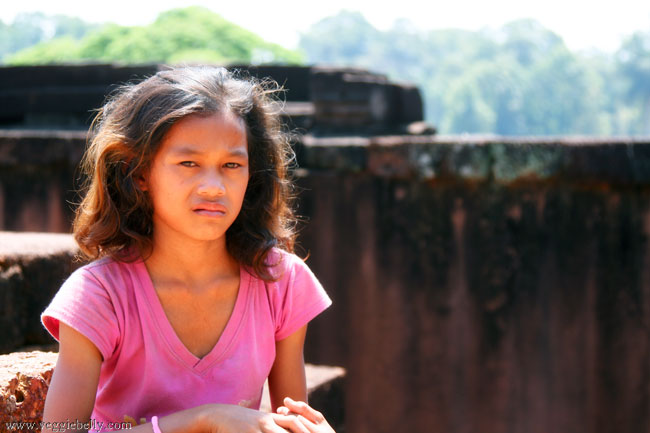 This girl, along with her little brother were begging in the hot sun. She was hauntingly beautiful. I asked my tour guide to tell her she was pretty. But he hesitated. Perhaps, he did not want to complement a beggar girl? I then asked him what the khmer word for beautiful was and repeated it to her.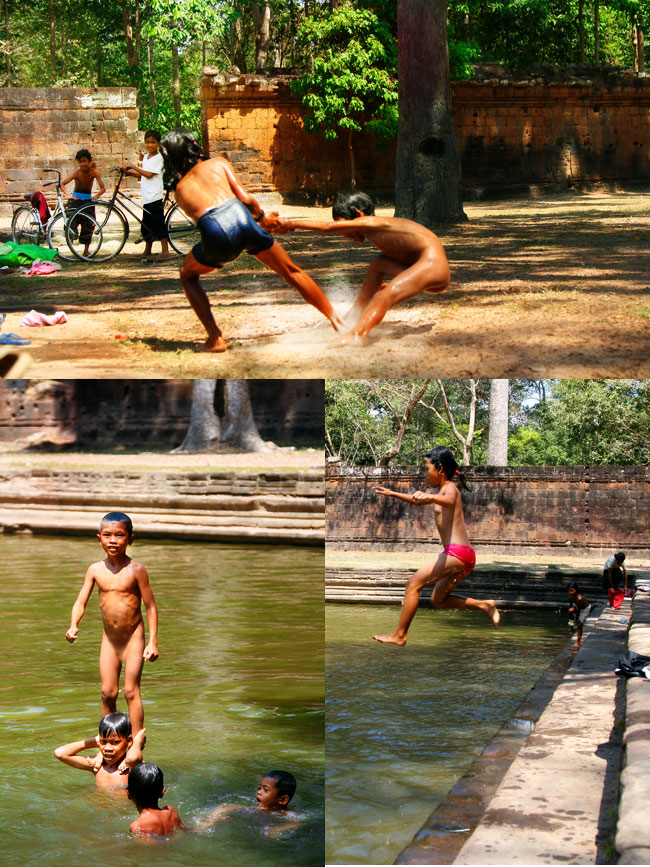 These kids were playing in the water to cool off. This used to be the Queen's pond when Angkor was inhabited.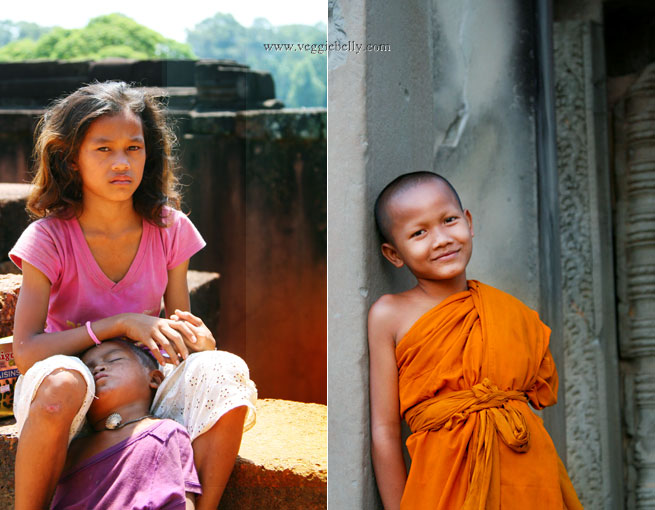 Vegetarian Food in Cambodia
I had no trouble finding meatless food in Cambodia. (Some of the dishes I ate probably had fish sauce in them, but I was ok with that). I had breakfast at the hotel, which was a huge continental spread. Lunch was near the tourist attractions and the waiter perfectly understood 'no meat'. Dinner was in downtown Siem Reap where there are a handful of vegetarian restaurants.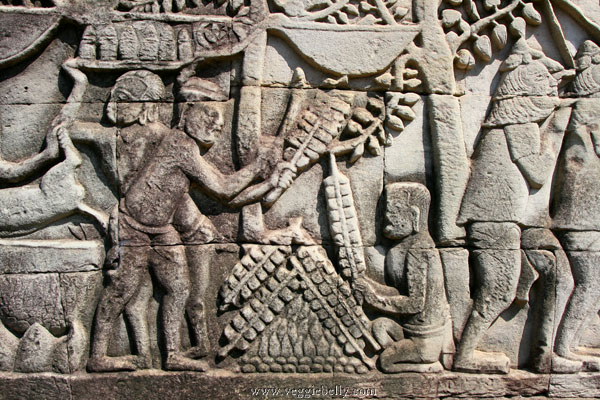 A bas relief in Agkor showing people placing skewered meat over a fire – barbeque..800 years ago!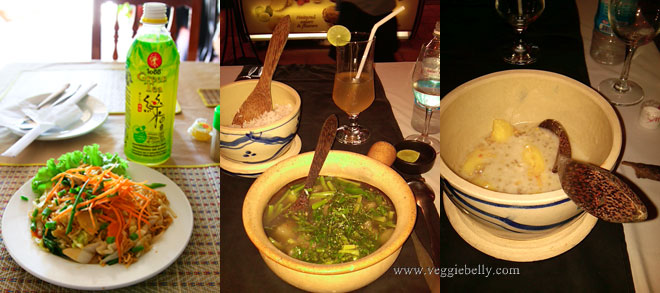 Right to left – a) Veggie noodles and green tea for lunch near Angkor Wat. After my food came I realized it was instant noodles, ugh!  b) Dinner at Chamkar vegetarian restaurant in Siem Reap; Cambodian sour soup with pumpkin and greens served with rice. c) Dessert – lentil and banana pudding
If you go to Siem Reap, Chamkar restaurant in old market, is great. Chamkar is a vegetarian/vegan restaurant, serving Cambodian food. Its on a busy, but beautiful street, service is good and prices are low. My soup was light, and rustic. I wasnt crazy about the lentil-banana dessert though.
Pardon the ugly food pictures, it was the end of a very hot and tiring day so I decided to abandon my (heavy) camera at the hotel before heading for dinner. The second and third pictures were taken with my cell phone camera.
Comments
comments