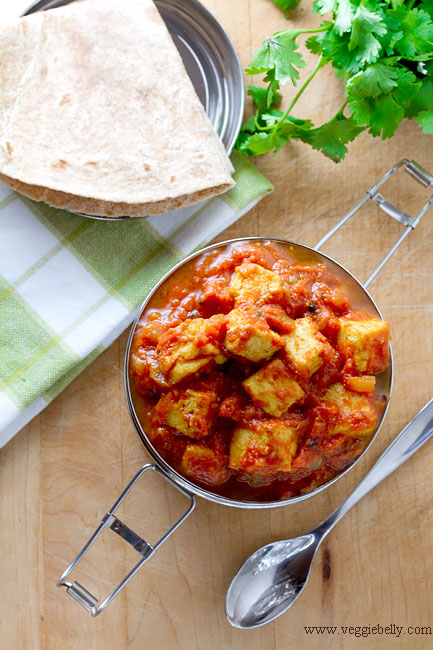 What an amazing weekend it was! Three childhood friends visited me, and we spent the weekend chatting, catching up and having a great time (N, I am still thinking of your amazing  lychee martinis!).
When my dear friend Santha wrote to me requesting this paneer tomato curry recipe, I was flooded with memories of school lunch times and all the wonderful food we used to share from our little tiffin carriers. I was somewhat famous for this curry back in school. I'd take this dish and rotis for lunch every Friday. And I always had to take extra because it was so popular with my classmates. So I decided to make this curry for my friends for our 'reuinion' weekend. 
Santha, this is for you ♥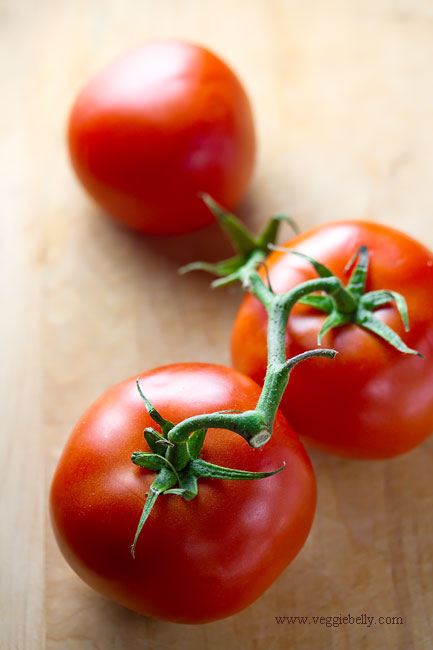 Make sure you use ripe, juicy tomatoes. Canned tomatoes are ok, but you will get the best results if you use high quality canned tomatoes like Muir Glen or San Marzano.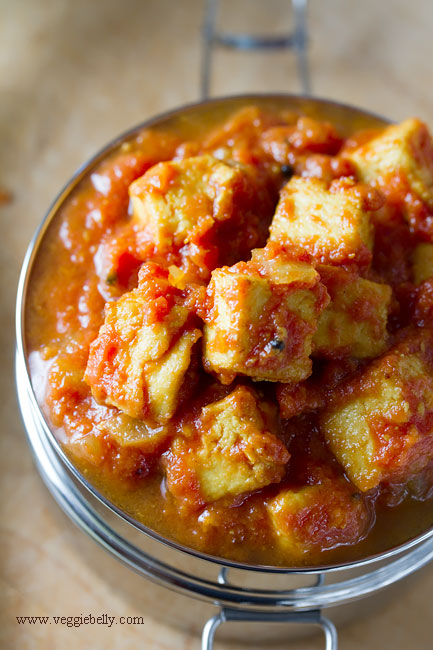 Paneer is an Indian cottage cheese, easily available at Indian stores. For this recipe, you can buy raw paneer and shallow fry it yourself, or you can buy pre-fried packaged paneer (which what I use). Nanak brand paneer is quite good.  Store bought paneer can be quite compacted and hard, so you need to soak it in hot water to soften it a bit.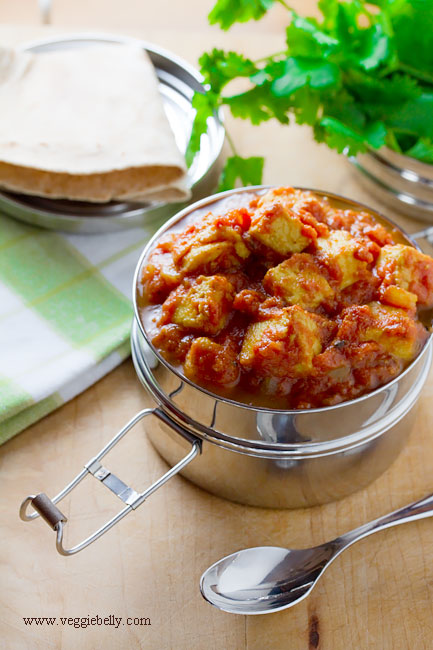 Daily meals has a tomato paneer curry recipe using garam masala. Mahanandi blog has a paneer tomato recipe as well. Be sure to checkout Local eater blog's delicious tomato paneer curry recipe from Madhur Jaffrey's world vegetarian cookbook.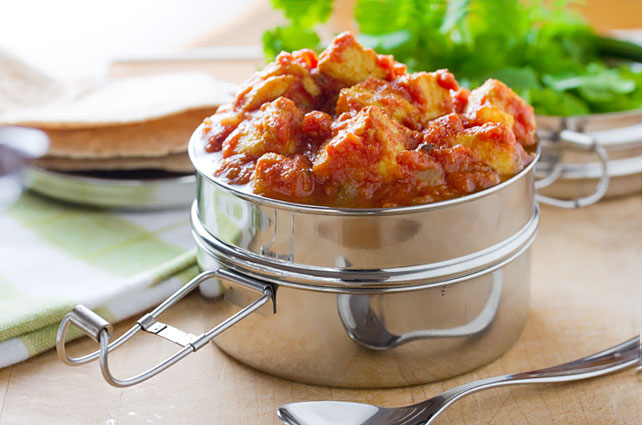 Paneer Tomato Curry Recipe
Serves about 10
For the tomato gravy
6 large, ripe, juicy tomatoes
1 tablespoon oil
¼ teaspoon black mustard seeds, optional
1/2 teaspoons cumin seeds
1 medium onion, chopped fine
½ teaspoon turmeric powder
1 teaspoon cumin powder
½ teaspoon or to taste, chili powder
Salt
1 tablespoon tomato ketchup. Use less if you want a less sweet gravy.
For the fried paneer
2 cups cubed paneer*
A large bowl filled with very hot, salted water
Make the gravy
Remove the core of the tomatoes. Quarter the cored tomatoes and place in a blender, along with 2 cups of water. Puree until the tomatoes have become a very smooth sauce. You should have about 8 cups of puree. Set this aside.
In a large saucepan, heat the oil. Add mustard and cumin seeds. When the mustard starts to splutter, add the chopped onion. Cook on medium-low heat till the onion is soft. Add turmeric, cumin and chili powders. Stir for a few seconds.
Then carefully pour in the pureed tomatoes. Bring the gravy to a boil. Then reduce heat and let the curry simmer on low heat for about 20 minutes or till the curry has reduced a little and you can no longer smell raw tomatoes. Add more water if needed.
Fry the paneer
While the tomato gravy is simmering, work on the paneer.
Fill a large bowl with very hot water. Add salt to the water, and set the bowl near you.
Heat oil in a pan and shallow fry the paneer cubes in batches.Flip the the paneer around so that all sides are lightly golden. Remove paneer cubes from the oil using a slotted spoon and place the fried paneer in the hot salted water. Be careful when doing this, the oil in the paneer will splutter when it hits the water.  Repeat this with all the paneer cubes. Let the fried paneer sit in the hot water for about 15 minutes.
*Use the above method if you are frying your own paneer. Alternatively, you could use store bought, pre-fried paneer. Simply open up the package and dunk it in the bowl with hot salted water. Let it sit for 20 minutes; then proceed with the recipe.
If you are using homemade paneer, soak it in the hot water after frying for only 10 minutes. (Store-bought paneer is harder and needs to soak longer).
When the tomato gravy is ready, drain the paneer cubes from the water, and add to the gravy.  Add salt to taste. Increase heat to medium, and let it cook for about 5 minutes.
Then stir in ketchup and turn off heat. Garnish with chopped cilantro.
Serve paneer and tomato curry with rotis or chapatis.
Comments
comments