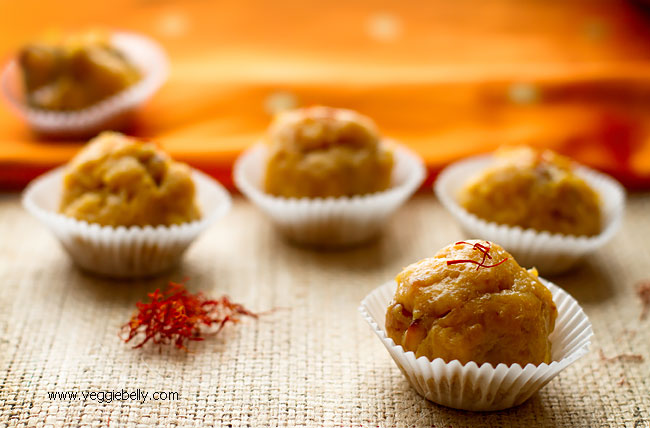 Diwali is the Indian festival of lights. We celebrate by wearing new clothes, lighting fire crackers and exchanging sweets. With Diwali around the corner, here is a recipe that celebrates both the Indian festival and the beautiful fall season here in America.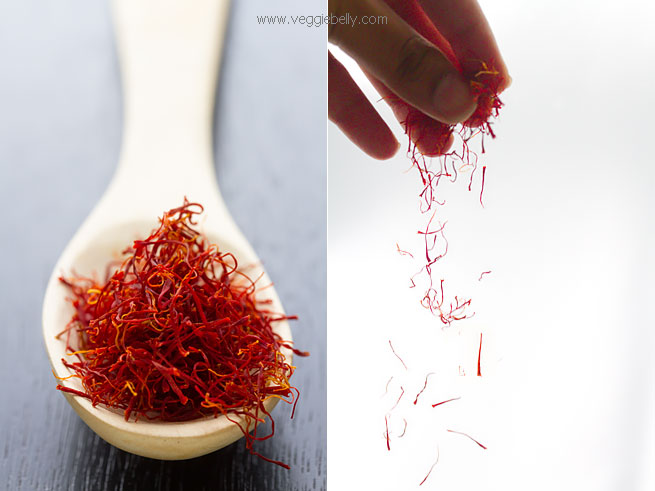 Halwa, also called halva, halveh, helwa, or  halvah is a sweet usually made with semolina or wheat in south Asia and using nuts in the middle east. Carrot halwa is also common in India. In this recipe, I use butternut squash instead of the carrots. You can use either rose water or saffron in this recipe for flavoring. I chose saffron.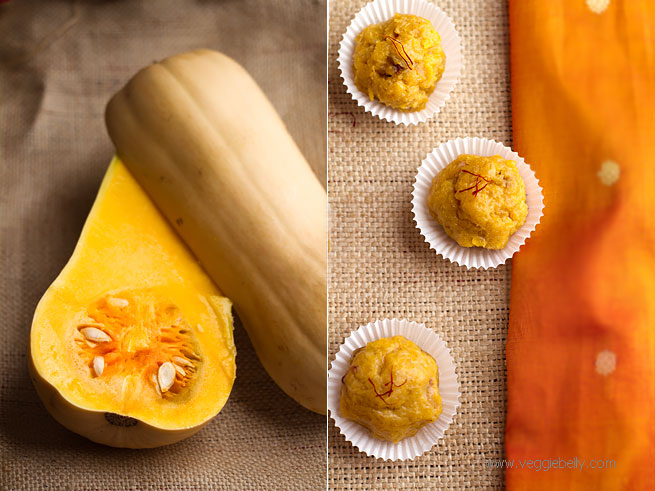 Traditional halwa uses khoa or khoya or mawa (milk that is cooked down so most the moisture is evaporated). This adds texture and richness to halwa. I use almond meal instead of khoya. Almond meal adds great flavor and helps thicken the halwa.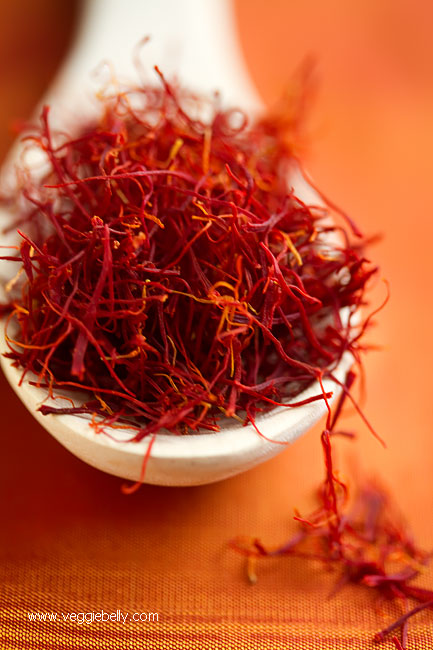 Be sure to take a look at Mahanandi's pumpkin halwa using butternut squash. En Samayal Arai blog has a pumpkin halwa recipe using yellow pumpkin. Manta's Kitchen has a pumpkin halwa or kaddu ka halwa recipe. BBC Food's recipe for pumpkin halwa can also be used with carrots, zucchini or any gourds.
Vegans can try this recipe with coconut milk or almond milk. Earth vegan blog has a vegan carrot halwa recipe using almond milk.
For a great video on halwa making technique, watch Vah Chef's carrot halwa video.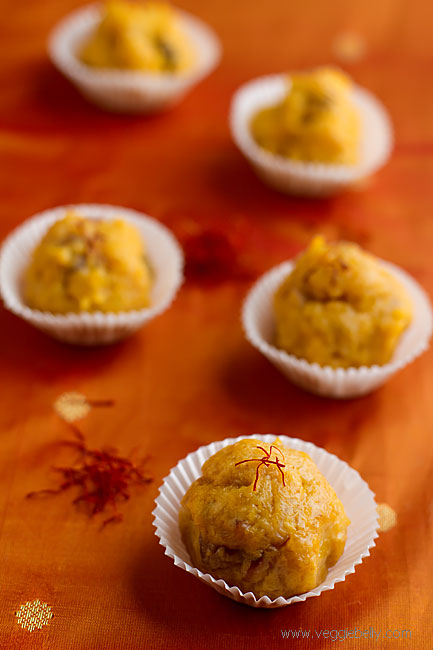 Pumpkin Halwa Recipe
serves 6-8
1 small butternut squash or any winter squash or pumpkin (weighing about 1.5 lb or 4 cups when grated)
4 tablespoons butter or ghee
2 tablespoons cashew nuts
2 tablespoons raisins
4 cardamom pods, lightly crushed
1 cup low fat milk
½ cup sweetened condensed milk
2 tablespoons almond meal or ground almonds
A pinch of salt
¼ teaspoon saffron
Peel the butternut squash or pumpkin using a vegetable peeler or sharp knife. Halve it and scoop out the seeds and membrane. Cut it into large chunks. Using the coarse side of a box grater, grate the chunks. (A food processor will make the grating easier). You should have about 4 cups of grated squash.
Heat the butter or ghee in a large, wide, non-stick skillet. Add cashews, raisins, and cardamom. When the cashews get golden, add the grated butternut squash or pumpkin. Cook, stirring for about 2 minutes on medium heat.
Add the milk and condensed milk. Cook uncovered on medium heat for 15 minutes or till the squash is cooked, but still holding its shape. Stir the halwa occasionally so that it doesn't burn or stick to the pan.
Add almond meal and cook another 4 minutes. The halwa is done when it has thickened and the liquid is no longer runny. The halwa will get firmer when cool. Add the salt and saffron at the end of cooking.
Cool the halwa a little, then shape into balls (optional). Store in an airtight container in the refrigerator.
Comments
comments