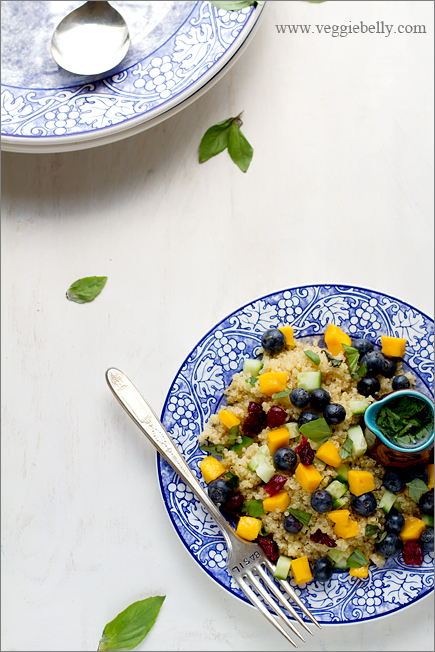 My sister regularly gets this blueberry mango quinoa salad with lemon basil dressing at the Marks and Spencer grocery store in UK. She also regularly raves about it to me. She says it's the perfect healthy salad for summer – fruity, tangy, fresh and filling.
Marks and Spencer's version of this salad has quinoa, barley, red rice, sprouts, mango, blueberry, and cucumbers. I simplified it a bit, and used only quinoa plus the fruits and cucumber.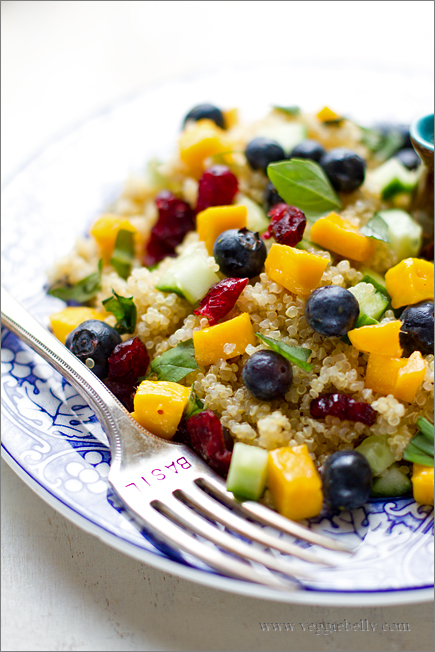 Cut the cucumber and mango about the same size as the blueberries, so everything looks uniform. Add the fruits to the salad just before serving to ensure they are fresh and juicy. This salad recipe has as much fruits and vegetable as there is quinoa. If you want it less fruity just use less fruits or more quinoa.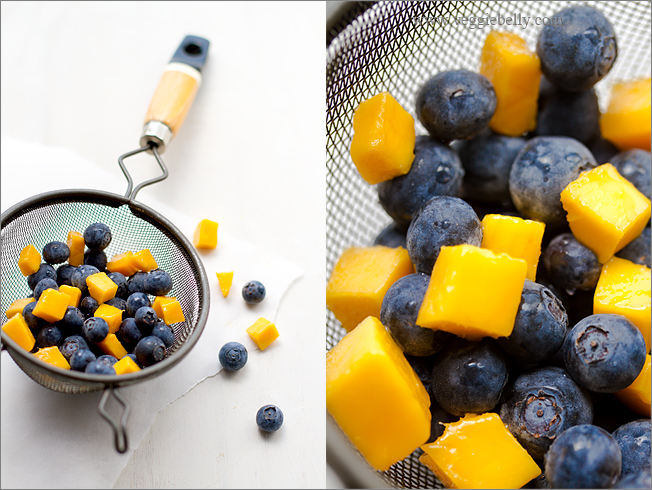 The dressing recipe here will make a little more than you need. Toss  half the dressing with the quinoa. Serve the other half on the side – this always pleases the people who like their salads extra tangy!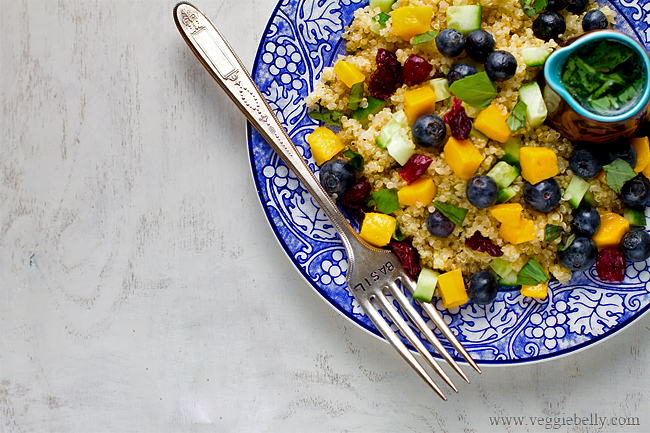 You can customize this blueberry mango quinoa salad recipe any way you like. Here are some suggestions to add to this recipe if you want some variations:
-          Cooked chickpeas
-          Any kind of sprouts
-          Walnuts
-          Cubed jicama
-          Cubed carrot
-          Fresh mint
Here is another recipe for blueberry mango quinoa salad with lemon basil dressing ala Marks and Spencer from foodwired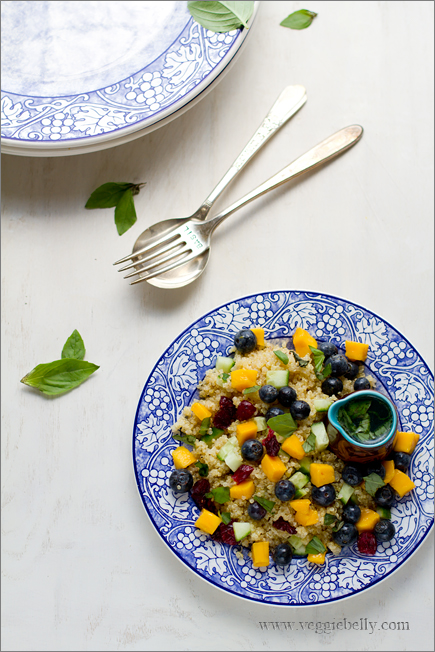 Blueberry Mango Quinoa Salad with Lemon Basil Dressing Recipe
Serves about 2
For the quinoa
1/2 cup quinoa
1 cup water
For the fruits and veggies
½ cup fresh blueberries
½ cup cubed ripe mangoes
½ cup cubed cucumbers
1/2 tablespoon dried cranberries
For the lemon basil dressing
1½ tablespoons extra virgin olive oil
2 tablespoons lemon juice
1/4 teaspoon lemon zest
10 Basil leaves, chopped finely
Salt and pepper
Place the quinoa and water in a medium skillet and bring to a boil. Then reduce heat, and simmer covered for about 15 minutes or till the quinoa is cooked. Remove the lid, and fluff the quinoa with a fork. Let it cool to room temperature.
While the quinoa is cooking, combine the fruits in a bowl and refrigerate till you are ready to serve the salad.
Whisk together all the dressing ingredients, except the chopped basil. Refrigerate till you are ready to serve. Chop and add the basil to the dressing just before serving. If you add it earlier, it will go black.
Add half the dressing to the quinoa and mix gently.
Assemble the salad just before serving – toss the quinoa, fruits and cucumbers together. Serve other half of the dressing on the side. Serve  immediately.
Comments
comments