Dal fry is a typical Indian lentil dish (and popular on restaurant menus) made with cumin, turmeric, onion, tomato, garlic and lentils. I've simplified the recipe and turned it into a holiday gift mix in a jar. If you have friends and family who are vegetarian or Indian food lovers, they will be delighted to receive this as a Christmas gift! And you will love making this gift – its easy, fun, vegetarian, vegan AND cheap!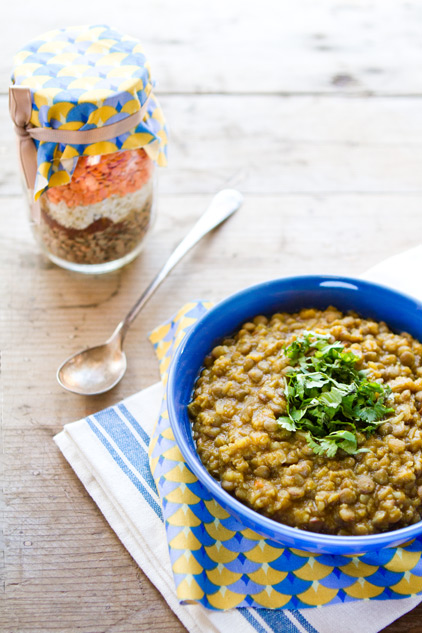 This dal fry mix in a jar was my Christmas present for a dear friend S, who is a new mother and is running her own business. You can imagine just how busy she must be! I figured a tasty dal mix in a jar, that she can make with almost no effort at all will be the perfect holiday gift for a busy mom like her.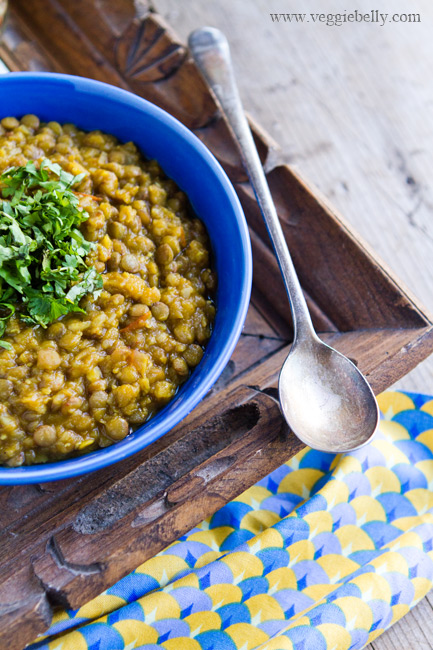 l've used a combination of red lentils (masoor dal) and green lentils. Make sure you use the flat round green lentils from the bulk section of the grocery store. Dont use whole Indian green lentils (green moong dal) because it takes longer to cook. You can substitute the green lentils with yellow letils (yellow moong dal).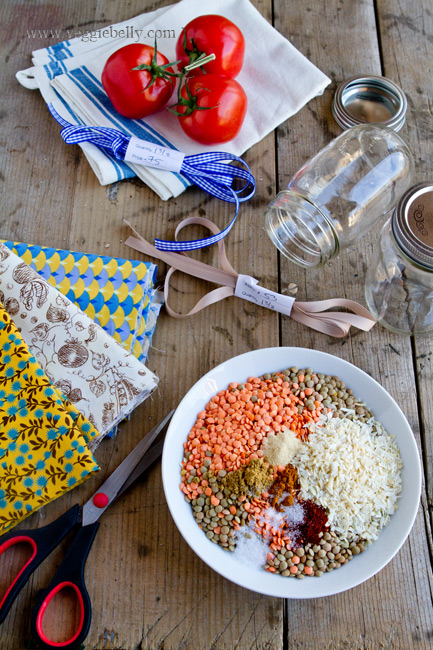 Caramelized onions is a common flavor base for Indian curries. To emulate some of that flavor, I use dried onion flakes in this recipe. They give the lentils a great, deep, slow cooked taste. You can find dried onion flakes in the spice section of the grocery store or in the bulk section.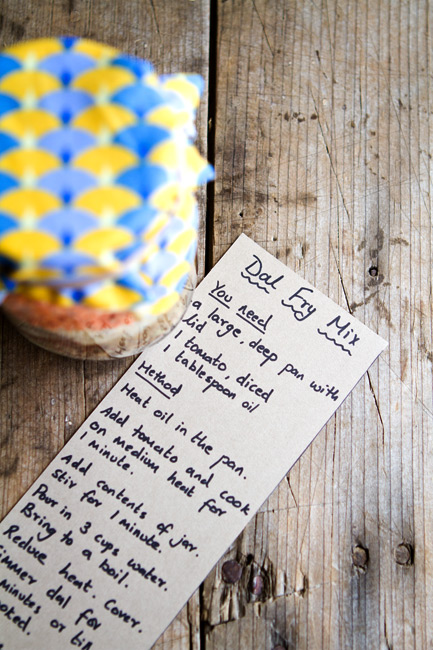 Writing (or printing) out the recipe/instruction card for this mix is your chance to really personalize the gift. I like to make my instruction cards humorous – like adding inside jokes, cartoons etc. The point is to get funny and creative with the instruction cards!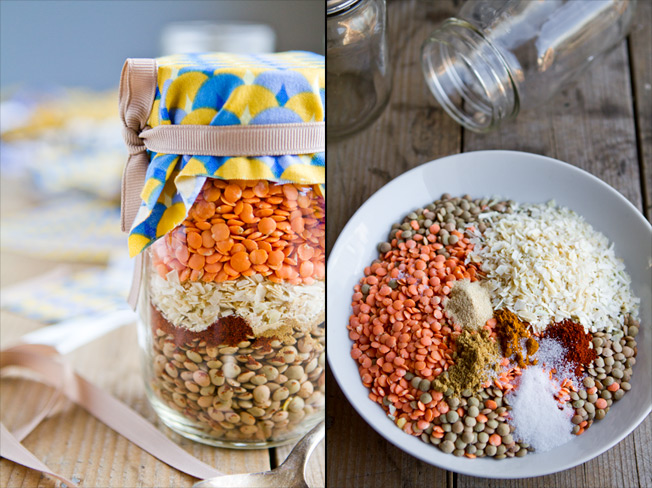 For another homemade holiday gift idea for vegetarians, take a look at my cajun dirty rice mix in a jar.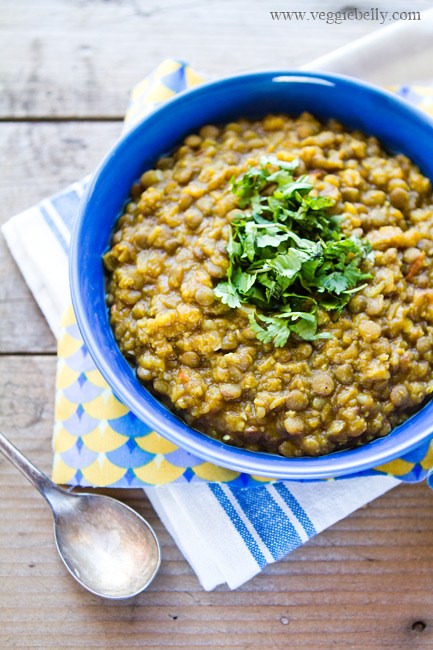 Dal Fry Mix in a Jar Recipe
makes 1 jar
For the gift jar
One 1 pint jar
a 5″x5″ piece of fabric
a thin rubber band
some ribbon
Cardstock or any thick paper for writing instructions
Ingredients
¾ cup green lentils (not green moong dal)
¾ cup red lentils
4 tablespoons dry onion flakes
1 ¼ teaspoon garlic powder
¼ teaspoon turmeric powder
1/2 teaspoon chili powder
½ teaspoon cumin powder
½ teaspoon salt
Pour the green lentils into the jar first. Then add onion flakes, garlic powder, turmeric, chili powder, cumin, and salt. Then pour in the red lentils.
If there is a gap between the top layer and the lid, crush a kitchen towel and stuff it into the gap. This will prevent the lentils and spices from moving around, and will preserve the pretty layers in the jar.
Seal jar tightly. Cover the lid with the fabric square. Place a rubber band over the fabric to secure it around the neck of the jar. Tie a ribbon in a bow around the neck of the jar, hiding the rubber band.
Write or print out these instructions on a thick piece of paper and attach to gift jar:
"You will need:
A large, deep skillet with a lid
1 medium tomato, chopped
1 tablespoon oil
Heat the oil in the skillet. Add tomatoes, and sauté on medium heat for about a minute. Add the contents of the jar, and stir for 2 minutes.
Pour in 3 cups of water. Bring to a boil. Reduce heat to low and cover the pan. Simmer the dal for about 20 minutes, or till cooked. Add more water while cooking, if needed.
Serve hot with steamed rice.
Serves 4″
Pierce a little hole in the upper corner of the instructions paper, and tie it to the ribbon. Or place the instructions against the jar, and tie it around the jar using ribbon or a rubber band.
Comments
comments