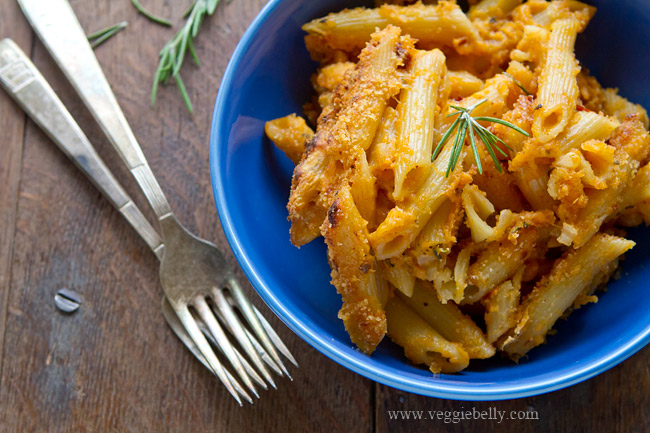 When I received a review copy of my friend Michael Natkin's new cook book Herbivoracious: A Flavor Revolution with 150 Vibrant and Original Vegetarian Recipes
, I was so thrilled and so hungry. Thrilled because Michael is my favorite vegetarian blogger and his site is full of creative vegetarian recipes. Hungry because Michael's book is one of the best vegetarian cookbooks around, and all the recipes look delicious. Whether you are a vegetarian or an omnivore, you are going to love this book. And it has plenty of vegan and gluten-free recipes as well.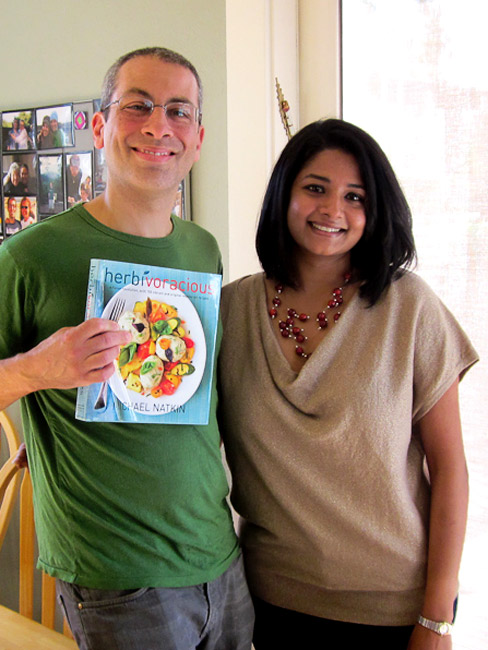 Michael and I, with Michael holding the very first copy of his cookbook! Exciting!
Michael has been a vegetarian since he was 18. When his mother fell sick, he started cooking her macrobiotic meals at home. Since then, Michael has been a devoted vegetarian. And his passion for food is so evident in his uber successful blog, Herbivoracious (same name as the cookbook!).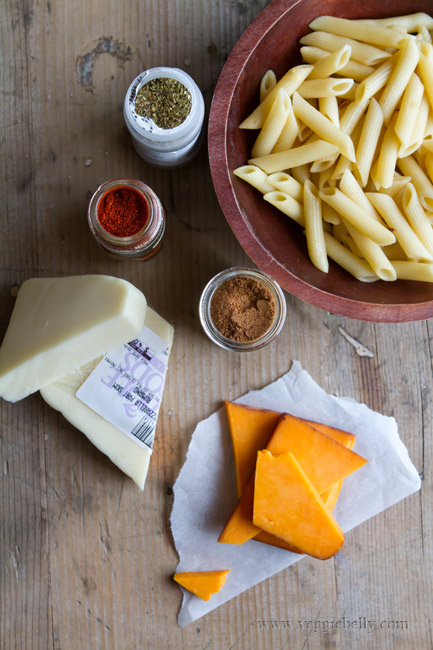 The blog is an encyclopedia of information, filled with recipes and tips. How does polenta with pan roasted porcini, tomato confit and chevre sound to you?! My personal favorite Herbivoracious blog recipe is the chickpea, spinach and tomato soup – simple yet packed with flavor.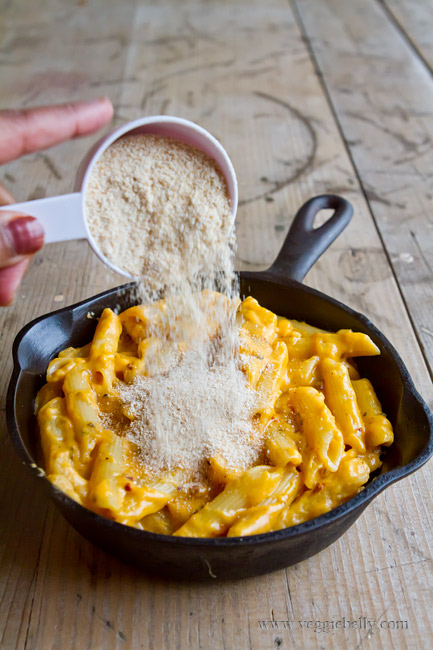 When I received Herbivoracious, the cookbook, I had great trouble deciding what recipe I should make for this post. The chickpea and olive tagine with ras el hanout ( a North African spice mix) sounded yummy. As did the blackbean soup with orange jalapeno salsa, 10 minute chickpea salad with feta and basil, grilled tofu and pepper tacos, red curry delicata squash, and..well..pretty much all the recipes in the book!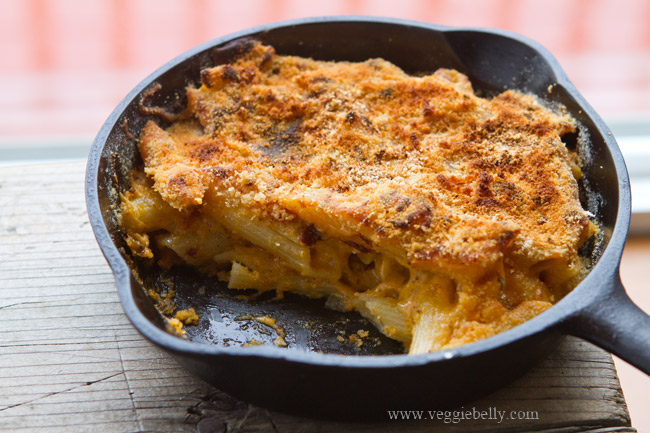 I finally decided to make the triple smoky mac and cheese. Because its cheesy, spicy and comforting – exactly what I needed on a cold, wet Portland evening. It's the best mac and cheese I've had. It was easy to make, and tasted like it came from a high end restaurant. Meat lovers are sure to love this vegetarian mac and cheese. It has so many great smoky flavors going on, my husband thought it had bacon in it! Michael says you can either use smoked cheddar or smoked mozzarella in this recipe. The smoked cheese, plus smoked paprika and chipotle peppers make this mac and cheese wonderfully smoky.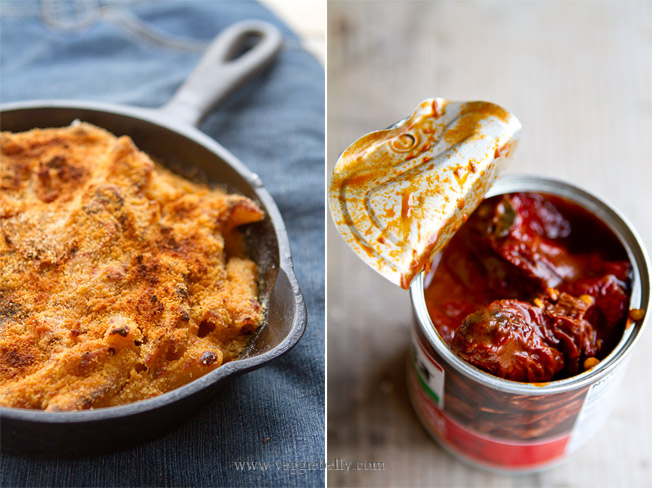 Enjoy Michael's recipe, and then make sure you enter the giveaway. The book will be out in May and the publisher, Harvard Common Press will send out a copy to one lucky winner as soon as Herbivoracious is published! You can also get your own copy on Amazon through this link Herbivoracious: A Flavor Revolution with 150 Vibrant and Original Vegetarian Recipes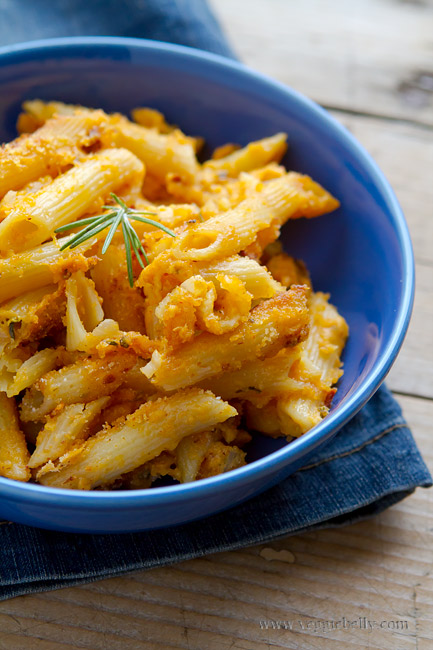 Triple Smoky Mac and Cheese Recipe
A recipe from Herbivoracious Cookbook. Reproduced with permission.
Serves 6 to 8
Ingredients

1 pound elbow macaroni (Sala's note: I used penne because thats what I had on hand)
6 tablespoons (3⁄4 stick) unsalted butter
1⁄4 cup all-purpose flour
4 cups whole milk
Half an onion, finely diced
1 tablespoon smoked paprika
1 teaspoon fresh rosemary leaves, minced
1 canned chipotle chile in adobo sauce, minced, or
1⁄4 cup Frontera brand chipotle salsa
1 teaspoon dried oregano
1⁄4 teaspoon nutmeg (preferably freshly grated)
8 ounces smoked cheddar, grated, or substitute regular cheddar if you can't find smoked cheddar
8 ounces mozzarella (substitute smoked mozzarella if you're using regular cheddar), grated
Kosher salt
1⁄2 cups Homemade Bread Crumbs made with 2 cloves minced garlic added. Recipe in the book.
Method
1. Bring a large pot of salted water to a boil. Boil the macaroni according to package directions, draining when it is just becoming aldente. This will bake more in the oven, so don't overcook it. Drain, transfer it to a bowl, and toss with 2 tablespoons of the butter.
2. Preheat the oven to 350°F and grease a 9 x 13-inch baking dish. (Sala's note: I baked the mac and cheese in a cast iron skillet instead of a baking dish)
3. Melt the remaining 4 tablespoons butter in a medium saucepan over medium-low heat. Sprinkle in the flour and whisk pretty constantly for 3 minutes. Whisk in the milk. Add the onion, smoked paprika, rosemary, chipotle, oregano, and nutmeg. Bring to a gentle simmer and keep cooking, whisking occasionally, until the sauce begins to thicken, about 5 minutes.
4. Reduce the heat to low. Whisk in the grated cheeses, a handful at a time, stirring each addition of cheese until melted. It is important to do this gradually, to avoid graininess.
5. Taste the sauce and adjust the seasoning to your preference. It will probably need just a little salt, depending on the cheeses. Add more chipotle if you'd like it hotter. Remember that the sauce should be pretty intense, because it needs to flavor a full pound of pasta.
6. Stir the macaroni into the sauce. Pour the macaroni into the baking dish. Scatter the bread crumbs evenly over the top.
7. Bake until you can see bubbling around the sides and the bread crumbs are nicely browned, about 30 minutes. Let the dish rest for 5 to 10 minutes before serving.
***********************
A Chance to Win Michael's Herbivoracious Cookbook!
Be One of the First to Receive a Copy!
The awesome people at Harvard Common Press are giving away a copy of Herbivoracious to one lucky Veggie Belly reader!
To enter the contest, just leave a comment and tell me why you'd like to be the one to win this book.
Contest ends Wednesday, April 4th 2012. US & Canada shipping only.
One randomly picked lucky winner will receive a copy of this book when it is published in May!
THIS GIVEAWAY HAS ENDED! The randomly picked winner is comment #7, Cat!
Comments
comments