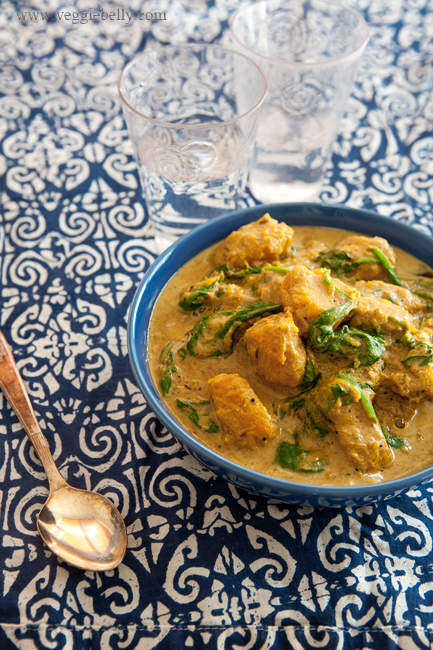 If you read my previous post on my homemade curry powder recipe, you are already anticipating this post! This is a pumpkin and spinach curry recipe using my home made curry powder. The curry powder takes just 12 minutes to make and there is nothing like freshly roasted and ground spices in your curry!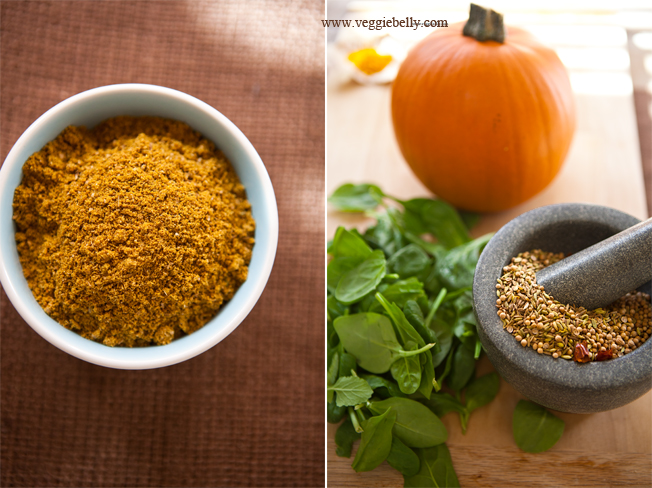 The curry powder is a really simple recipe using just coriander, cumin, fennel seeds, dried chili and turmeric. But heres a great trick to get two layers of flavor from this simple curry powder – add most the curry powder to the pumpkin and cook it till the pumpkin is done – this will give the spices a mellow, rounded flavor. Then, add a little more curry powder right at the end of cooking; this will add another layer of fresh spice taste.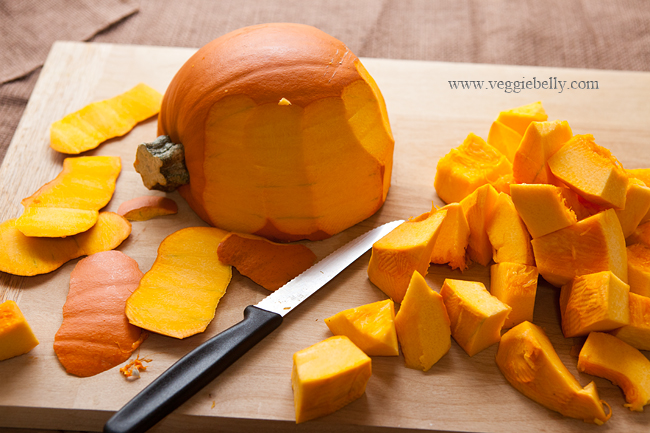 Any yellow flesh winter squash will work with this recipe. Today I've used pie pumpkin. But I often make this recipe with butternut squash, which my husband and I both love.  You can also use potato or sweet potato, or mixed vegetables.
Making this easy vegan curry during the holidays? Sprinkle some dried cranberries over the curry when its done for added sweetness and a festive look.
How to to peel a winter squash like butternut, kabocha or a pumpkin
Using a sharp chef's knife, cut the squash or pumpkin in half.
Then using a spoon, scoop out the seeds and thready bits from the cavity.
Lay the squash or pumpkin cut side down. Using one hand to hold it down and stabilize it, take a sharp, preferably serrated knife, and carefully slice off the skin.
Then cube the squash.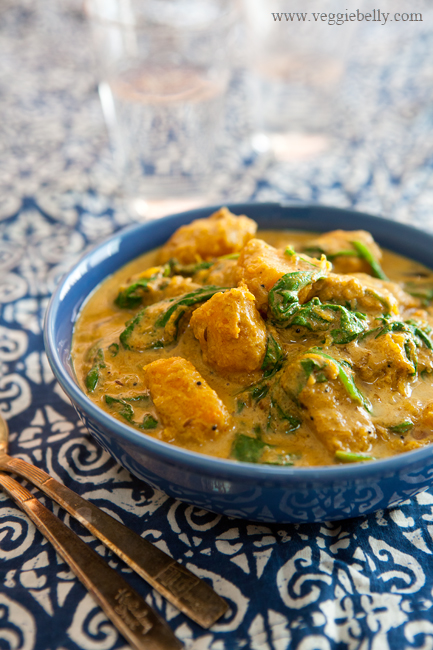 Pumpkin  and Spinach Curry Recipe
Serves about 4
Ingredients
2 tablespoons vegetable or canola oil
¼ teaspoon black mustard seeds, optional
¼ teaspoon Cumin seeds
6 Curry leaves, optional
1 medium onion, diced
4 cloves garlic, minced
1 recipe homemade curry powder (5 tablespoons), see this post for recipe
4 cups peeled and cubed (1 ½ inch cubes) pie pumpkin or butternut squash or kabocha squash. See post above on how to peel squash.
2 cups water
1 cup coconut milk (about half a 14oz can)
3 cups tightly packed baby spinach
Method
Heat oil in a large saucepan and add mustard seeds if using. When they start to pop, add the cumin seeds and curry leaves and stir till fragrant, about 30 seconds.
Add onions and cook till they are light brown
Then throw in the garlic and cook for 30 seconds or till fragrant.
Sprinkle 4 tablespoons of curry powder, stir, then add the peeled, cubed squash or pumpkin and salt.
Pour in 2 cups of water and bring to a boil. Then reduce heat to a lively simmer, cover the pot and let the squash or pumpkin cook till it is fork tender, about 20 minutes.  If the water is drying up before the pumpkin is done, add more water, half cup at a time. If there is too much water in the pot, boil it uncovered, till there is only about 3/4 cup water remaining.
When the squash/pumpkin is cooked, add the coconut milk and remaining 1 tablespoon of curry powder. Stir and bring back to a boil.
When the curry boils, add the spinach and cook just till the spinach wilts, about 1 minute.
Optional – for added sweetness, garnish the curry with some dried cranberries, or stir in up to one teaspoon of sugar.
Serve hot with rice, roti, bread or quinoa.
Comments
comments