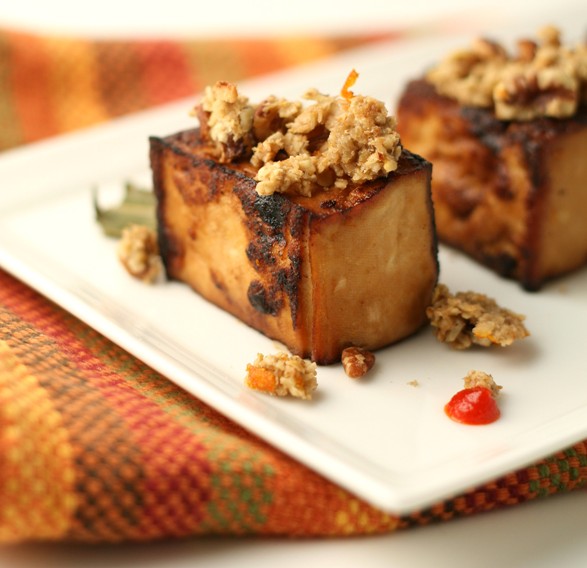 Did you watch Top Chef this week? Are you as excited as I am about Carla's tofu dish?!
I didn't quite expect her to make a vegetarian, tofu dish and win her round! I have to say, I wasn't a big fan of Carla…till I made her tofu, that is! It's not that I don't like Carla, but my focus was on other contestants. Like Jamie, who consistently makes good dishes and is a no-drama kind of girl. Or Fabio. Oh, Fabio! I think he's pretty cute in all his Italianness. And who else can say things like "give me a monkey's a*s to stuff with fried banana and I'll make it taste good" or "I'm 30 years old and sleeping on this bunky bed".
So with cool Jamie and quirky Fabio around, I kind of didn't notice Carla. Then Carla made this wonderful vegetarian dish that put her in my radar. I couldnt wait for the week to end so I could try this recipe for friday night dinner. The pecan and oat crust is simply brilliant. I can think of a lot of uses for it. So thank you, Carla! I did make some changes to this recipe, see the notes at the end of this post.

 
Carla's Pecan and Oat Crusted Tofu
Makes about 9 pieces
Adapted from Carla's recipe on Top Chef, season 5, episode 10

For Tofu and Marinade
1 block (18oz package) of Tofu, firm or extra firm
3 tbsp soy sauce
¼ cup water
1 garlic clove, minced
2 tsp chili paste (I used sriracha)
1 Orange, zest and juice. Reserve ½ tsp zest for the crust
1 lime or lemon, zest and juice
For the crust
¼ cup Oats (the quick cooking kind)
¼ cup vegetable stock
1/4th of a bay leaf
¼ cup chopped pecans
½ tsp orange zest
1 tsp minced ginger
1 tsp minced garlic
2 tsp Olive oil
Drain the tofu block and wrap it tightly in 4 layers of paper towels. Place a plate over the wrapped tofu and let it sit for about an hour. This will help remove some of the moisture from the tofu. You could skip this step if you wish; Carla didnt do this.
Cut the tofu into equal sized squares. For an 18 oz pack of tofu you should get about 9 squarish pieces. Place the tofu pieces in a zip lock bag or shallow dish. Pour in the soy sauce, water, garlic, chili paste, orange juice and zest, lime juice and zest. (At this point you can taste the marinade and add more lime juice or soy sauce if needed). Make sure all the tofu is coated in the marinade. Place the tofu with marinade in the fridge for atleast 30 minutes. I marinated the tofu for 1 hour.
Pre heat oven to 375F
Heat a large non stick pan. Spray some olive oil or non stick spray on the pan. When the pan is hot, remove the tofu cubes from the marinade and place in the pan. On high heat, sear the tofu on all sides. The tofu must be browned on all sides.
Transfer the tofu to a non stick baking sheet. Place the baking sheet in the oven and bake the tofu for 25-30 minutes. Turn the tofu pieces over half way through.
To make the crust
Bring the vegetable stock and bay leaf to a rolling boil. Turn off heat and immediately add the quick cooking oats to the stock and stir.
(If you are not using quick cooking oats or instant oats, you will have to cook the oats in the stock for a few minutes).
Mix in all other ingredients for the crust. Mix well using your fingers. Then crumble the oat mixture onto a baking sheet. Spread it evenly. Bake in a 375F oven for about 10 minutes or till the mixture is slightly brown and dry.
To assemble the dish, place tofu cubes on a plate and top with the oat pecan crust.

This photo goes to Jugalbandi's Click event, this month's theme is Tofu/Cheese.
Notes
This recipe is slightly different from Carla's original recipe that appeared on the Top Chef show, season 5, episode 10.
I baked the oat pecan crust separately in the oven. Carla's recipe calls for the seared tofu and crust to bake together.
I also increased the baking time of the tofu to 25-30 minutes because I wanted a crispy exterior. Carla's recipe only bakes the tofu for 10 minutes.
I thought the original recipe might be a bit too salty and citrusy. So I cut down on the soy sauce and citrus juice. Taste the marinade and adjust the soy sauce and citrus according to taste.
Don't let the marinade go to waste. Place the marinade, along with one tablespoon of brown sugar in a pan and bring to a boil. Boil for about 1 minute or till the sauce thickens a little. Use this sauce on vegetables, rice or tofu.
Comments
comments