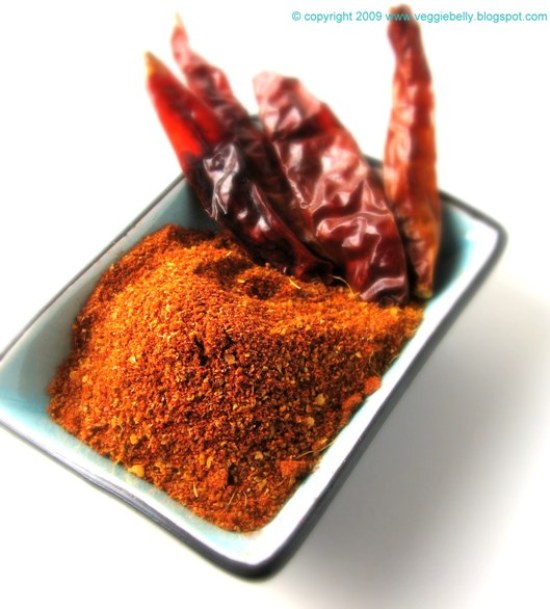 (This photo is my entry to Jugalbandi's Click event; this month's theme is 'red')
When it comes to complex, spicy flavors, there is nothing to beat Ethiopian food. The heady aromas of fenugreek, cardamom, cloves and cumin constitute some of my favorite flavor combinations. And I love their communal eating concept – everyone sits around and eats from the same plate. (For my Ethiopian fix, I go to Meskerem Restaurant in Washington DC and highly recommend it).
I had always assumed that the Berbere spice mixture used in Ethiopian and Eritrean cuisines was difficult to make. But then I saw an easy, almost authentic version of Berbere in the 'Sundays at Moosewood Restaurant' cook book. (I say 'almost' authentic because traditional Berbere has ajwain and rue berries, this recipe does not.) I tried the recipe and it was really good. And my kitchen even smelled a little like Meskerem Restaurant!
I made a few changes to the recipe – I call for less cardamom than the original recipe. I felt the cardamom was a little too dominant in Moosewood's recipe. I also used less dried chiles.
Ethiopian Berbere Spice
about 3 tablespoons
Adapted from the cook book, Sundays At Moosewood Restaurant
Cumin Seeds – 2 tsp
Whole Cloves – 4
Cardamom Seeds – 1/2 tsp (crush cardamom pods with a wooden spoon to remove the seeds)
Whole Black Peppercorns – 1/2 tsp
Whole Allspice – 1/4 tsp
Fenugreek Seeds – 1 tsp
Coriander Seeds – 1/2 tsp
Dried Red Chiles – 5
Fresh Ginger, minced – 1/2 tsp
Turmeric – 1/4 tsp
Salt – 1 tsp
Sweet Hungarian Paprika – 2 1/2 tbsp
Ground Cinnamon – 1/8 tsp
Ground cloves – 1/8 tsp

Heat a skillet on medium-low. Add the first 7 ingredients (cumin seeds through coriander seeds) to the skillet. Toast the spices, stirring constantly, for about 2 minutes.
Cool the toasted spices and add them to a spice grinder. Add all the other remaining ingredients to the spice grinder as well. Grind to a fine powder.
Store Berbere in an air tight container in the fridge.
A slightly different version of Berbere is on the Congo cook book site.
How to use Berbere

The classic use for Berbere is in Wats (stews). Make Yemeser Wat by cooking lentils with some Berbere
Try sprinkling Berbere on french fries
Or make spicy ketchup using Berbere, recipe here
Do a Berbere stir fry using assorted vegetables or tofu
Berbere will also work well in any recipe that calls for Garam masala because Berbere and Garam masala have several ingredients in common.
Comments
comments