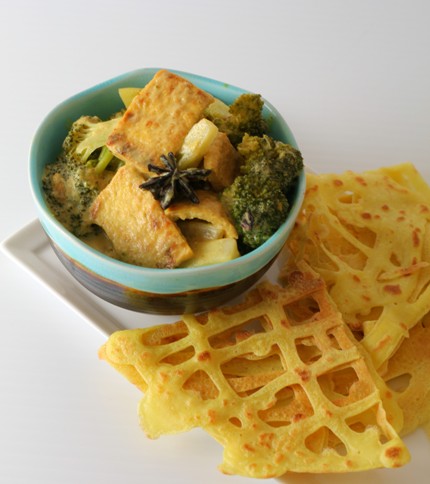 One of the benefits of being Tamil is a strong connection with Malaysia. For about thousand years, Tamils have traded with Malaysia. And for over 200 years Tamils have lived in Malaysia and made the country their home. So many of my friends and relatives live in Malaysia or have connections with the country. To me, that means easy access to Malaysian cooking ingredients and equipment! Just last week I had a roti jala (net bread) mould sent to me. Ive been experimenting with making roti jala and it turned out great – like a lacy, coconut flavored crepe. (You don't really need the mould to make roti jala, you could just as well use a squeeze bottle.) I made a tofu curry to accompany the roti jala. The curry had enough Indian elements that it tasted familiar to me. At the same time, the soy sauce and lemon grass give it an exotic feel.
Roti Jala, Malaysian Net Bread. (Serve with Tofu and Broccoli Curry)
about 4-6 servings
All purpose flour – 2 cups
Egg – 1
Coconut milk – 1 1/4 cup
Water – 1 cup
Turmeric – 3/4 tsp
Salt to taste
Vegetable Oil
Combine all ingredients in a bowl and mix well. Pass the batter through a strainer to remove any lumps.
Heat a non stick skillet and spray some oil or non stick spray. Use a roti jala mould or squeeze bottle and pour the batter onto the skillet making a lacy pattern (see video below by youtube user zuppe1e).
Cook till the bottom side is slightly brown. Fold the roti jala into four and remove from skillet.
Serve hot with Malaysian Tofu and Broccoli Curry
Dont have a Roti Jala mould?
You can buy a mould online through the Rasa Malaysia blog. Here is the link to Rasa Malaysia's product page.
You can also easily make roti jalas with a squeeze bottle like this one:
__________________
Have you entered yet?
You can enter the random drawing to win one of these Exotic Eats from Argentina
Dulce de Leche with Hazelnuts

Go to this post to enter!
____________________________
Comments
comments