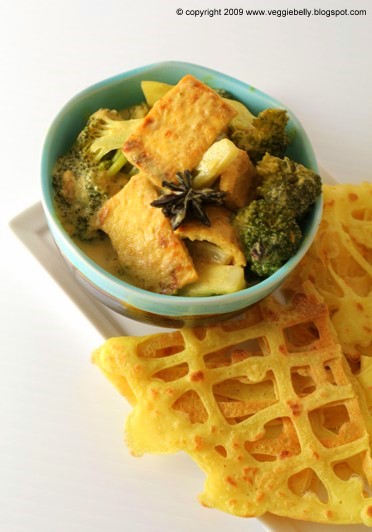 Malaysian Tofu and Broccoli Curry. (Serve with Roti Jala)
about 4-6 servings
Star Anise – 2 pieces
Cinnamon – 1/2 stick
Cloves – 4
Tomato – 1
Turmeric – 1/2 tsp
Water – 1 cup
Coconut milk – 1 can
Tofu – 1 block
Broccoli cut into small florets – 2 cups
Soy Sauce – 1 tbsp
Salt – 1 tsp
Oil – tbsp
Grind to a paste
Onion – 1/2 a medium onion
Garlic – 6 pods
Ginger, finely chopped – 2 tbsp
Lemon grass – 4 stalks
Cashew nuts – 6 pieces
Chili – 2 (I used thai green chilies. Use less for a less spicy dish)
Oil – 1 tbsp
Prepare the tofu
First drain and squeeze out excess water. Wrap the tofu in several layers of paper towel. Then wrap the tofu parcel tightly in an absorbent cloth. Place the tofu in the cloth on a flat surface, put a plate on top of it and put 3 cans (canned tomatoes, beans etc) on top of the plate. Let the tofu weigh down and compress for atleast 2 hours (I left it overnight).
Remove the cloth and paper towels and slice the tofu into flat squares. Heat a large, flat nonstick pan. Spray non stick spray. Place the tofu in a single layer on the pan and cook on medium-high heat. Don't move the tofu around. When the tofu is golden, turn the pieces over and cook the other side till golden. While cooking, press the tops of the tofu slices to squeeze out any remaining water.
Grind the paste
Remove the outer layer of the lemon grass stalks and discard. Use only the tender white parts in the paste.
If any part of the lemon grass is tough to cut, don't use it in the paste, but reserve it and add it whole to the curry. You can fish out the lemon grass pieces before serving.
Chop the tender, white parts of the lemon grass. Chop the ginger and onion. Place all the ingredients for the paste (onion through oil) in a blender and blend to a smooth paste.
For the curry
Heat a deep pan with oil. When the oil is hot, add the star anise, cinnamon and cloves. Fry for about 30 seconds. Then carefully add the ground paste to the oil. Fry the paste on medium heat, stirring often, till the paste is fragrant and light brown – about 15 minutes.
Add the chopped tomato, turmeric and salt and saute 30 seconds. Now add the water and reserved lemon grass stems (the tough ones you didn't grind up) and simmer for about 20 minutes. Pour in the coconut milk. Immediately add the soy sauce, broccoli florets and prepared tofu. Simmer on low for about 5 minutes or till the broccoli is tender. Pull out the lemon grass before serving.
Serve hot with Roti Jala.
__________________
You can enter the random drawing to win one of these Exotic Eats from Argentina
Go to
this
post to enter!
____________________________
Comments
comments