a Turkish themed Valentine's day dinner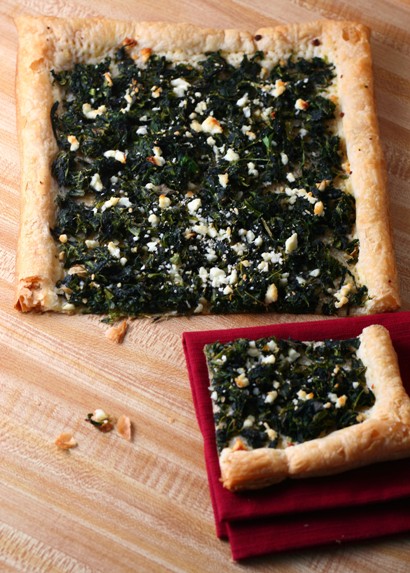 If there was one thing I loved eating the most in Turkey, it was spinach borek. These spinach and feta filled pastries were everywhere. Street vendors sold them on carts outside the blue mosque in Istanbul, in the grand bazaar, by the gorgeously lit bosphorous at night….boreks were ubiquitous.
Traditional borek (or burek) is similar to spanakopita – spinach encased in phyllo dough. This recipe is my take on borek. I made an open-faced pie. This way, you get more of the spinach filling and its quicker than wrapping the filling in the pastry dough. Once you thaw the puff pastry sheet, this is a really quick and easy dish to make.
Open faced Spinach and Feta Borek
makes 2 generous servings

1 sheet Puff pastry
a 10 oz box of frozen spinach
1 tsp cumin powder
2 cloves garlic
2 tbsp chopped fresh parsley or oregano
A pinch nutmeg
¼ cup crumbled feta cheese (use more if you wish)
Salt and pepper
1 tbsp olive oil
Thaw the puff pastry and the frozen spinach. Once the spinach is thawed, squeeze out all the water from it and set aside.
Pre heat oven to 400F
Unfold the puff pastry sheet onto a lightly floured surface. Using the rolling pin, flatten and roll out the pastry a little. Then, leaving a small border all around the puff pastry sheet, prick the inside of the sheet with a fork. Pricking the pastry sheet will ensure it doesn't puff up during baking. We only want the unpricked border to puff up.
Heat a pan with the oil. Add the garlic. When it sizzles, add the cumin powder to the oil and turn off heat immediately. Now add the nutmeg, parsley or oregano and spinach to the pan. Add salt and pepper (keeping in mind that the feta cheese is salty). Using your fingers, mix the ingredients together.
Spread the spinach mixture onto the pastry sheet. Make sure you don't go over the pricked border. Crumble feta cheese over the spinach.
Bake in the oven for 15 minutes.
Comments
comments