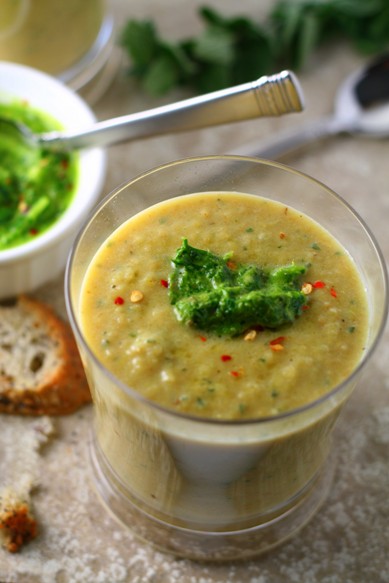 Raw parsnips are quite carrot like. They smell like carrots and taste a little like carrots. But when you roast parsnips, they take on a completely different character – they get intense and sweet. When I lived in England, roasted parsnips were as common as roasted potatoes in my college cafeteria.
In this soup, I roast the parsnips first and then blend them into a soup with vegetable stock, leeks and celery. This is not the best looking soup in the world, so I add a pinch of turmeric for color; you can leave it out if you dont mind a tasty but grey soup. I picked up some seeded multigrain bread at Trader Joes which goes perfectly with this thick, sweet soup.
I serve the soup with a flavorful fresh herb and caper chimichurri. A popular Argentine sauce, chimichurri is made with parsley and olive oil. I added capers for their yummy saltiness. Spoon the chimichurri over the soup or stir it in.
Roasted Parsnip Soup
serves about 4
2 parsnips chopped, about 2 cups
2 celery ribs roughly chopped
1 leek stalk cleaned and roughly chopped
½ a bay leaf
3 cloves Garlic
2 tbsp fresh oregano leaves
A splash of white wine
½ tsp Turmeric for color, optional
2 cups vegetable stock
2 cups low fat milk
1 tbsp + 1 tsp Olive oil
Pre heat oven to 400F
Scrub the parsnips clean. Chop off the ends. Chop the parsnips into cubes. Toss with 1 teaspoon of olive oil. Place on a baking sheet and roast in the oven till the parsnips are golden. I cut the parsnips pretty small, and it took me 20 minutes.
While the parsnips are roasting, heat a large, deep pot with 1 tablespoon of olive oil. Add the chopped celery, leeks, garlic and bay leaf. Cook on medium-high heat till the celery has softened a little – about 3 minutes. Now add the oregano and wine and cook another 1 minute till the wine bubbles and evaporates. Add the turmeric, and vegetable stock. Bring to a boil. Then lower heat and Simmer for 5-7 minutes. Fish out the bay leaf and discard it.
Add the roasted parsnips and milk to the stock. Place in a blender and puree into a soup – as smooth or chunky as you like.
Return the soup to the pot, and warm through before serving. Taste the soup and add salt and pepper. Remember, the stock has salt and the chimichurri is salty.
Fresh herb and Caper Chimichurri
makes about 1/4 cup
1 cup fresh Parsley leaves roughly chopped
2 tbsp fresh Oregano
Capers – 1 ½ tbsp plus 1 tbsp of the brine (use pitted green or kalamata olives instead)
3 tbsp olive oil
1 tbsp wine (I used white, cooking wine)
1 tbsp stock or water
1 garlic clove
A pinch of Crushed red pepper, more if you like it hot
Salt to taste
Place all ingredients in a food processor and blend into a coarse paste.
Comments
comments