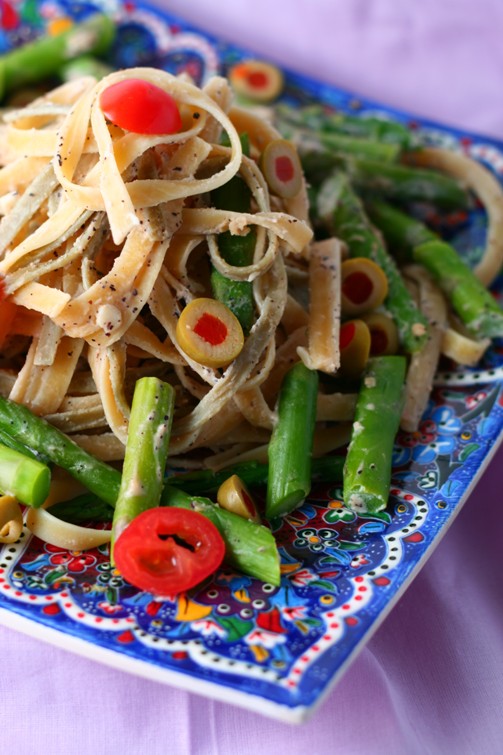 Pasta is one of those foods that you can easily internationalize. Saute pasta with curry powder for an Indian touch. Mix it with coconut milk and green curry paste for a thai pasta. Today I made a middle eastern style pasta. Tahini makes a creamy base for the sauce. I added some sumac for a savory punch of flavor. Sumac, also spelled sumak, sumag or sumach is a dark red middle eastern spice. It tastes tangy and slightly cumin like and goes really well with pasta.
The inspiration for this tahini-sumac sauce comes from Lebanese za'atar. Za'atar is made with sesame seeds, sumac and thyme or oregano. I used tahini instead of sesame seeds to turn this into a creamy, addictively delicious sauce. And its vegan to boot! You can use any vegetable you like in this dish. Green beans or peas will be delicious.
Fettuccine pasta with Asparagus and Tahini-Sumac Sauce
Serves about 3

½ pound fettuccine pasta or any other flat pasta
3 tbsp tahini
1 tsp balsamic vinegar
1 tsp sumac
1-2 cloves garlic minced
½ tsp dried oregano. You could also use dried thyme or Italian seasoning
1/3 cup olives, any kind will do
1 bunch asparagus
Salt and pepper
Bring plenty of water to a boil in a large pot. Salt the water generously. Add pasta to the boiling water.
Trim and discard the tough ends of the asparagus. Cut the rest of the asparagus into thirds and set aside.
While the pasta is cooking, make the tahini-sumac sauce. Combine the tahini, vinegar, sumac, oregano, garlic, salt and pepper in a bowl. Add 6 tbsp of the boiling pasta water. Whisk the sauce with a fork till everything is well combined.
If you prefer not to use raw garlic, saute it for 30 seconds in olive oil and then add the garlic and oil to the sauce.
In the last one minute of cooking, add the chopped asparagus to the pasta pot. Boil for a minute. Drain the pasta and asparagus. The pasta must be al dente and the asparagus crisp and bright green.
Return the pasta and asparagus to the pot; add the sauce and toss the pasta till it is coated evenly is sauce.
Sprinkle chopped olives all over.
Garnish with chopped tomatoes or parsley.
Comments
comments