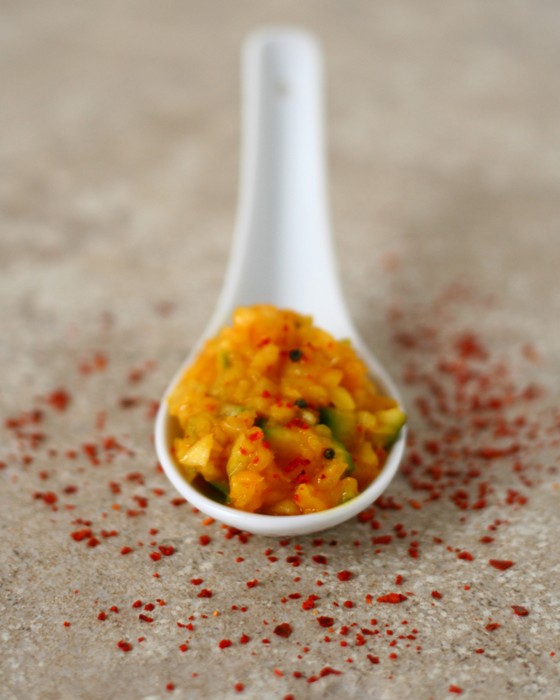 Somebody pry me away from this pickle! It's becoming a dangerous addiction! All I've been eating is curd rice and mango pickle! Its that yummy. But then, what's not to like about my grandmother's recipes? Like all her recipes, this one is full of tasty, south Indian goodness. The secret ingredient in this pickle is roasted, ground fenugreek. I always have some on hand to add a rich, nutty, slightly bitter punch to recipes. Unlike pickled cucumber which is sweet and vinegary, this Indian pickle is spicy, salty and pickled in oil. It packs a lot of flavor, so a little goes a long way!
Make sure you buy raw (not ripe), green, rock hard mangoes for this recipe. The pickle will keep up to 3 weeks in an airtight container in the fridge. It tastes the best after the second day, when all the flavors have soaked into the mango pieces.


Green Mango Pickle
makes about 2 cups

1 large firm, green mango
¼ cup vegetable oil
½ tsp mustard seeds
2 pinches asafoetida
1 tsp turmeric
1 tsp red chili/cayenne powder. Use paprika for less heat.
¼ tsp fenugreek powder, see below for method
¾ tbsp salt

How to make fenugreek powder: toast fenugreek seeds in a skillet on a low flame. Once they are fragrant, about 2 minutes, turn off heat and let the fenugreek cool. Then grind in a food processor to a fine powder. Store in an air tight container.
Using a sharp knife, cut the mango and discard the core. Chop the mango into very tiny pieces. Or you could zip it through a food chopper.
Place the chopped mango in a bowl. Place the turmeric, chili powder and fenugreek powder in a little mound on top of the chopped mango.
Heat the oil in a small skillet and add the mustard seeds. When they start to pop, add the asafoetida and turn off the heat. Pour the hot oil with the mustard seeds and asafoetida over the mound of turmeric, chili powder and fenugreek. Add the salt. Stir till everything is well combined.
When the pickle is cool, put it in an airtight container and refrigerate.
This pickle is great as a condiment with Indian food. I also enjoy it with pita bread and hummus or stirred into pasta or couscous.
Comments
comments