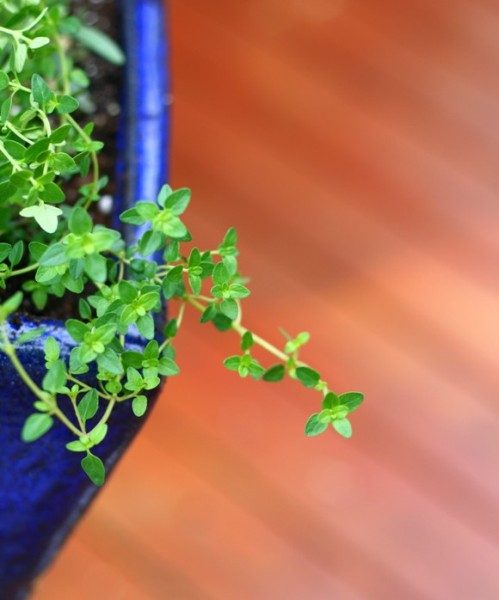 Is there such a thing as a black thumb? Like, opposite if green thumb? Thats what I am. I just cant keep any plant or green thing alive. I've even killed grass. Twice. (Over fertilized and under watered, in case you are wondering).
So this year, Ive challenged myself to planting something and nurturing it. So I planted some herbs on the deck. I figured herbs would be a great place to start. The prospect of cooking with freshly harvested herbs from my planter, hopefully, is motivation enough to take care of them.
I'm already dreaming of what I will cook when the herbs are ready to pluck! Iced tea with that incredibly lemony smelling lemon balm….green pea and mint soup….lavender infused frosting on cupcakes…sandwiches with fresh homemade basil pesto…
…please herbs, stay alive for me…puhllleeeeezzzzeeee..

This is the end result of the afternoons labor…

But lets start at the beginning. We went to the garden center and selected some herbs. We laid them all out on our newly painted deck. Herbs, pots and potting soil.

These are the herbs we bought.

Please herbs…stay alive..

I started with the mint..

Mint went in the "ethical pot"….

Gardening is better with some coldstone icecream and tea. Come to think of it, everything is better with coldstone icecream! This one is chocolate icecreamwith brownies and raspberries mixed in.

S hangs the hanging pot on the deck rail…

In goes the potting soil…

Then I plant the herbs while S grudgingly takes pictures…

They look sooo pretty and my deck smells heavenly. Please herbs…just stay alive for me..

S, the good husband he is, cleans up my mess on the deck…

… and throws out old soil..

All done!
Do you have any tips for herb growing? I'm all ears! I could use all the help I can get to keep these guys alive!
Comments
comments