Ever made a bloody mess opening a pomegranate? Or do you buy pre-seeded, over priced pomegranates at the grocery store because you dont want to deal with opening a fresh one? If you've answered 'yes', this post is for you! A completely mess free way to open those lovely, fresh pomegranates that are in season now…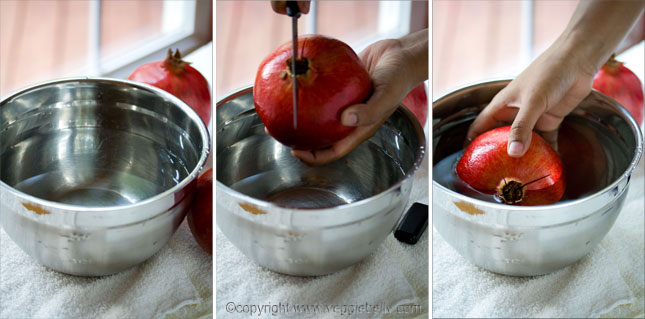 Fill a large bowl with water. Using a sharp knife, make two deep slits on top of the pomegranate in the shape of a 'x'. Do this on a cutting board for more support. Place the pomegranate in the bowl of water.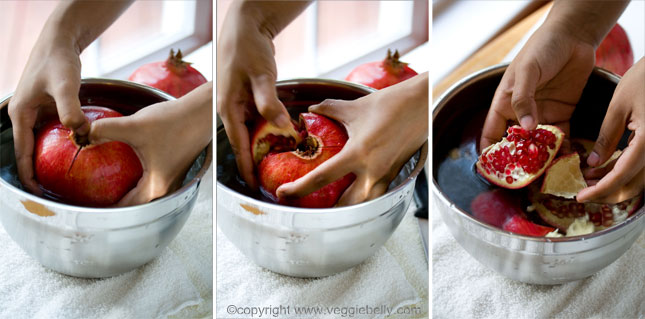 Put your thumbs where you made the 'x' shaped slit, and pry open the pomegranate. Do this underwater so that the red juices don't splash on you. You should be able to pull the fruit apart in wedges. If the pomegranate is difficult to pull apart, make the slit on top deeper and longer.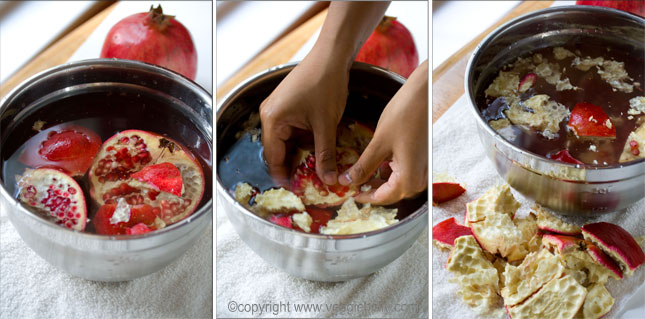 Pull the pomegranate wedges apart into manageable pieces. Gently remove the white membrane, while keeping the fruit under water. Then use your fingers to gently remove the red seeds. The seeds will sink to the bottom and the membrane and skin will float to the top.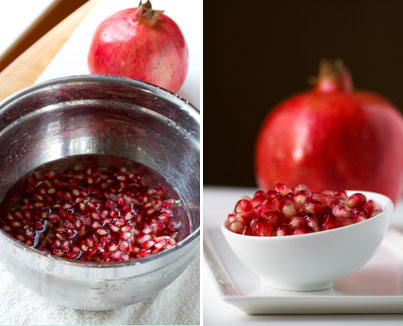 Skim the top of the water to remove all floating white membrane and skin. Then pour out the water, reserving the pomegranate seeds. Pour a little more cold water over the seeds and pour out once again to make sure all the white membrane is gone. Gently pat dry the pomegranate seeds. Serve immediately or store covered in the fridge.
Comments
comments