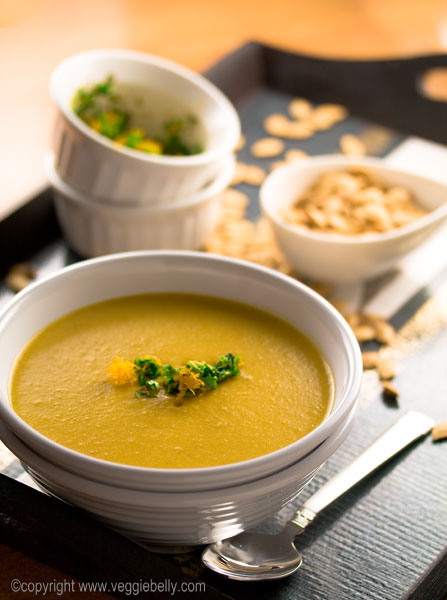 We spent the evening by the fireplace, cozying up, watching the rain, and listening to old songs. Dinner was by the fire place too - a silky pumpkin and cashew soup, scented with fennel and coriander and finished with a little fresh orange juice. This was a filling, warming, comforting meal; perfect for a dreary fall day.  
The soup is topped with a gremolata. Now traditional Italian gremolata has parsley, garlic and lemon zest – all minced and mixed together. I changed it up a little to match the soup. The soup has curry flavors, ginger and a touch of orange juice in it. To complement the soup, my gremolata has cilantro, ginger and orange zest. Just put a spoon of gremolata on top of the soup before serving. It really perks up the flavors.
A note on what pumpkin to use for this soup: Pie pumpkin is the best. Pie pumpkins are smaller and rounder than carving/halloween pumpkins. You could also use butternut squash instead of pumpkin. 
You can easily veganize this recipe if you wish. Just cut out the milk and use more vegetable stock. The cashew nuts will ensure the soup is creamy even without the milk.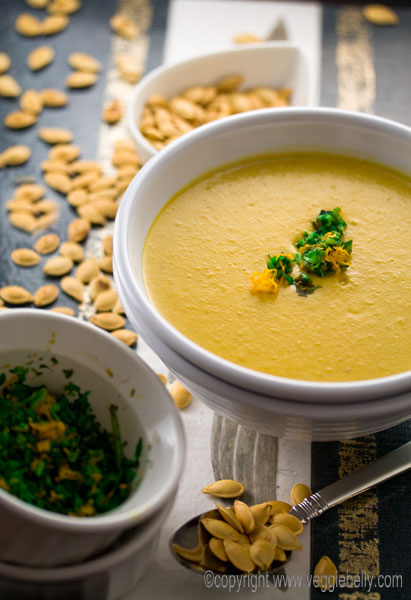 See the pepitas in the picture below? I toasted up the seeds from the pumpkin and served it as another topping for the soup. You could skip the pepitas if you wish and serve  the soup with just the gremolata and some good crusty bread for dunking.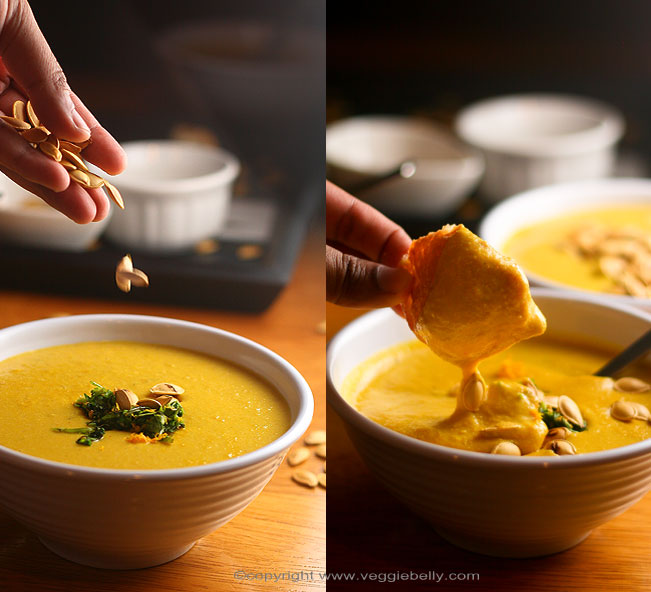 Curried Pumpkin Cashew Soup Recipe
serves about 3
1 pie pumpkin (about 2 lbs)
1/4 tsp fennel seeds
1 small onion
3/4 tbsp minced ginger
1 tsp cumin or coriander powder
1/2 tsp turmeric
1/4 tsp paprika or cayenne powder
1/2 tbsp sugar
2 cups milk
1 cup water. Use more for thinner soup.
1/2 cup cashew nuts
4 tbsp orange juice
Olive oil
Salt
French baguette or other crusty bread to serve with soup
Pre-heat oven to 400 F. Cut the pumpkin in half. Scoop out the seeds and fibers. (Discard the fibrous insides, but you could save the pumpkin seeds to toast – about 45 minutes in a 300 F oven). Sprinkle a little salt in the cavities of the pumpkin. Drizzle about 1 tsp of olive oil into the cavities. Place the cut pumpkin halves, cut side down on a baking sheet. Bake for 20 minutes or till the pumpkin flesh is soft.
While the pumpkin in roasting, roughly chop the onion and mince ginger. Heat 1 tbsp olive oil in a deep pan. Add fennel seeds. When they start sizzling, add onion and ginger. Saute on medium heat till onion is translucent. Then add cumin or coriander powder, turmeric and paprika or cayenne. Cook on medium for about 2 munites.
When the pumpkin is done, scoop the flesh using a spoon (hold the hot pumpkin with oven mitts or let it cool before handling). Discard the pumpkin skin. Place the pumpkin flesh in the pan with the onion and spices. Pour in sugar, milk, water or stock and cashews and let the soup simmer for about 3 minutes. Then pour into a blender and blend into a smooth puree. Stir in orange juice and mix well. Serve with cilantro gremolata.
Cilantro Orange Ginger Gremolata Recipe
4 tbsp cilantro finely minced
1/4 tsp minced ginger
1/2 tsp orange zest
Salt
Mince cilantro and ginger very finely. Mix minced cilantro, ginger, orange zest and salt together.
Comments
comments