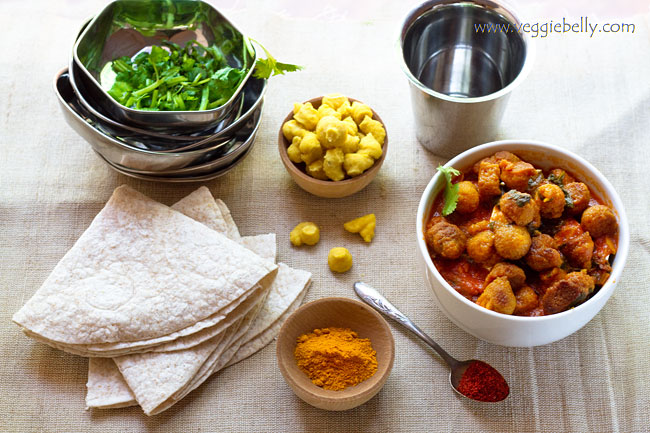 Whoever invented moong vadis is a genius. These little 'drops' or nuggets of dried lentils cooked in a curry, are filling and tasty. Also called Mangodi in parts of India, moong wadis are extremely versatile, you can use them in curries, soups or mashed up in chili. Because the lentils are ground up and dried, they have a great meaty texture when cooked. Moong wadis or mangodis are superb soy-free meat substitutes. 
How to use Moong Wadis
- Always shallow fry or deep fry wadis till golden before using
- Add to tomato based curries along with any vegetable you like (potato is traditional)
- Add fried moong wadis to yogurt based curries like kadhi or mor kulambu
- In the winter months I add extra water to this recipe and turn it into curried lentil drop soup. I serve the soup with a dollop of sour cream or greek yogurt
- Use fried moong wadis in vegetarian and vegan chili recipes instead of immitation soy based 'meats'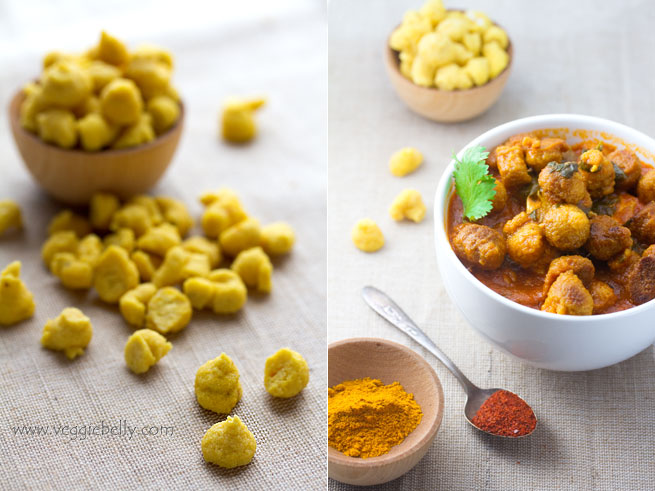 How moong wadis are made: Moong dal and spices are soaked and ground into a paste. Little drops of this lentil dough are then piped onto a baking sheet or other surface and sun-dried for 2-3 days or untill hard. You can store these in an airtight container for several months. See this post for a recipe. I dont bother making moong wadis, I just buy them at the Indian store.
Lentil Drop Curry or Moong Wadi/Moong Vadi/Mangodi Recipe
serves about 6
4 tablespoons vegetable oil
2 cups moong wadi from the Indian store
1 tablespoon vegetable oil
1/2 teaspoon cumin seeds
1 red or green chilli chopped, optional
1/8 teaspoon asafoetida
1 small onion, finely chooped
1/2 tablespoon garlic paste
1/2 tablespoon ginger paste
1/4 cup tomato puree or 2 tablespoons tomato paste
1 teaspoon coriander powder
1/2 teaspoon turmeric
1/2 teaspoon red chilli powder, optional
Juice of 1/2 a lime or according to taste, optional
Heat 4 tbsp vegetable oil in a medium pot. Add the moong wadis to the oil. Fry on medium heat till the wadis are golden brown. Remove the wadis from the pot using a spoon and set aside. In the same pot, heat 1 tbsp oil.  Add cumin seeds and let them sizzle about 20 seconds or till fragrant. Then add chilli if using and cook another 15 seconds. Add asafoetida.
Immediately add chopped onion and cook till onions are soft, about 2-3 minutes. Then add garlic and ginger pastes. Cook, stirring for another 2 minutes. Pour in the tomato puree, add coriander powder, turmeric and red chilli powder if using. Let the gravy simmer for about 2 minutes. Then add the fried moong wadi along with 5 cups of water.
Bring the curry to a boil. Then lower heat, place a lid on the pot and let it simmer for about 20 minutes or till the moong wadis have plumped up and dont taste raw anymore. Taste the curry and add lime juice according to taste. If the gravy is too thick, add more water.
Serve hot with rice, bread, rotis or tortillas.
Comments
comments