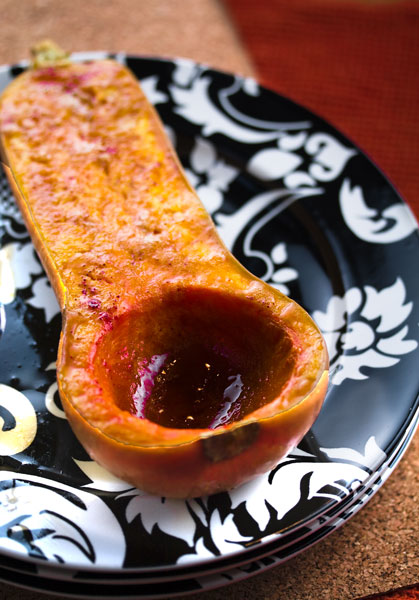 Butternut squash.
Brown sugar.
Chipotle powder.
Bake.
Eat.
Its that simple and easy. We really liked the sweet and spicy brown sugar-chipotle combination. The puddle of brown sugar in the squash cavity is the best part!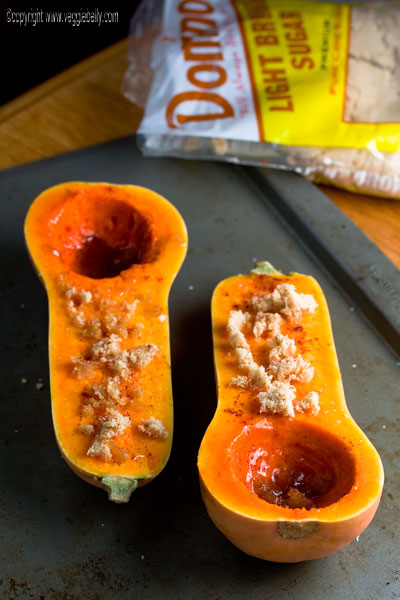 Brown Sugar and Chipotle Baked or Roasted Butternut Squash Recipe
serves about 2 as a side dish
1 small butternut squash, about 3/4 lb
1 teaspoon olive oil or butter
3 tablespoons light brown sugar, more or less depending on how sweet you like it
1/4 tea spoon chipotle powder, or according to taste
salt
Pre heat oven to 350 f
Cut the squash in half lengthwise. Scoop out the seeds. Place the squash, cut side up, in an oven proof dish or baking tray that has been lined with foil. Brush olive oil or butter over the cut surfaces and insides of the squash. Sprinkle brown sugar, chipotle, and salt on the squash. I like to sprinkle just a little on top and put most the brown sugar mixture in the cavity of the squash.
Bake in the oven for about 30-40 minutes or till the squash is soft and sugar is bubbly but not burnt. Check on it periodically while baking, because sugar will burn easily.
Comments
comments