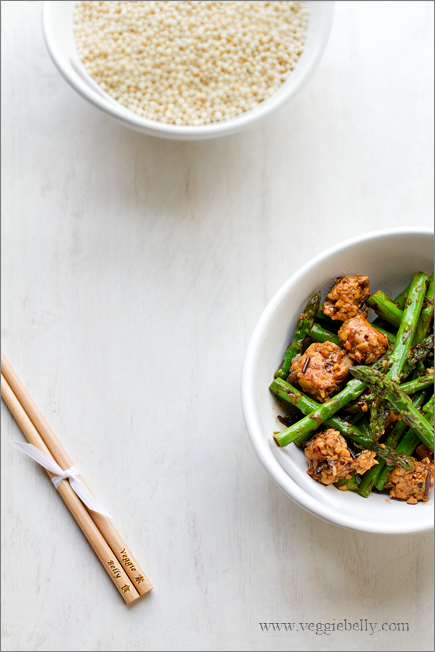 Tempeh is a fermented soy bean cake from Indonesia. Tempeh has a nutty flavor, firm texture, and is very high in protein, making it a great meat substitute in vegetarian and vegan recipes. In this tempeh stir fry recipe, I use some fresh asparagus.
I like Light life tempehs, they have great texture and taste. For this stir fry recipe, I used Light life wild rice tempeh.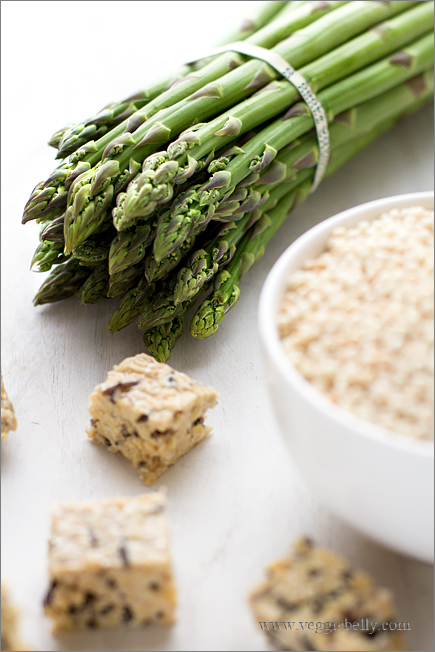 I like to serve the stir fry with a quick and simple ginger pearl couscous (also called Israeli couscous or mograbiah). Regular couscous, quinoa, orzo or brown rice with ginger will also be great.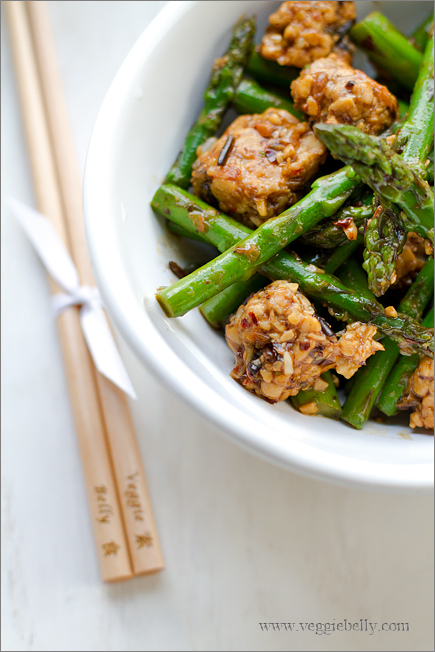 More tempeh stir fry recipes on the web..
Broccoli tempeh stir fry recipe on Iron Stef
Another broccoli and tempeh stir fry recipe on Cate's world kitchen
Stir fried summer vegetables and tempeh in coconut curry sauce recipe on savvy vegetarian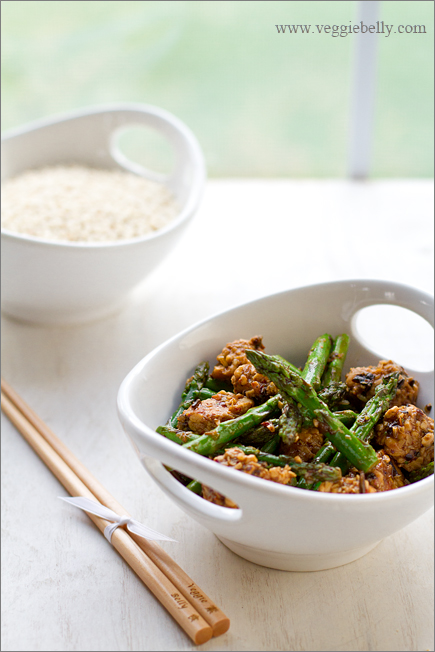 Asparagus and Tempeh Stir Fry Recipe
serves 2-3
1 bunch asparagus (about 35 asparagus spears)
8 oz tempeh
1 tablespoon vegetable or canola oil
For the sauce
1 teaspoon corn starch
 1/2 cup cold water
1 teaspoon fermented black beans, mashed with a fork
2 cloves garlic, chopped, optional
2 tablespoon soy sauce
Trim away the thick bottom ends of the asparagus. Then cut the asparagus spears in half. Cut the tempeh into 1 inch cubes.
In a medium bowl, whisk together the corn starch and water until there are no lump. Then add all other sauce ingredients.
Add the cubed tempeh to the bowl with the sauce. Toss well. Let it marinate for about half an hour. If you are in a hurry, you can skip the marinating.
Heat a large wok with the oil. Pull out the tempeh from the marinating liquid, and save the liquid. Add the tempeh to the wok, and sauté for 3 minutes or until the tempeh is lightly browned.
Add the asparagus spears, and stir 1 minute. Pour the reserved marinating liquid into the work, and let it boil for about a minute or till the asparagus is tender, but still a little crisp.
Serve with ginger pearl couscous.
Ginger Pearl Couscous or Israeli Couscous or Mograbiah recipe
1 teaspoon sesame oil
1 teaspoon finely minced fresh ginger
½ cup pearl couscous, also called Israeli couscous or mograbia
Salt
Heat sesame oil in a medium skillet. Add the ginger and let it sizzle for 30 seconds on medium heat. Add the pearl couscous and stir for 3 minutes or until it is lightly brown. Add 1 ¼ cup water. Bring to a boil. Reduce heat to low. Cover the pan and cook for about 10 minutes or till the couscous is done. Sprinkle with salt.
You can substitute the Israeli couscous with regular couscous, quinoa, orzo or brown rice. Just sauté the ginger and then follow the package directions on the couscous, quinoa, orzo or brown rice.
***********************************************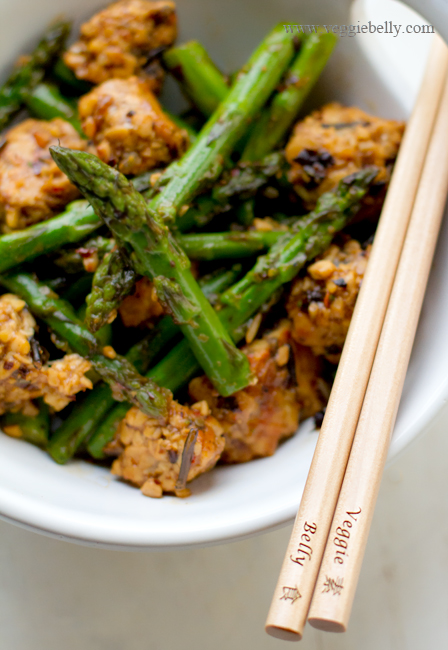 Like my personalized chopsticks?!
Win a pair of customized engraved wood chopsticks from www.chopchopsticks.com!
See their photo gallery for more personalized chop sticks.
To enter, leave a comment below and tell me what you would like engraved on your customized chopsticks if you won.
US residents only.
Giveaway ends Friday July 1st 2011 10pm EST.
One random winner will be picked.
Comments
comments