It has been an awe inspiring, eye opening trip so far and I am seeing so many breathtaking sites. Above is a picture of the magnificent Badlands in South Dakota. I wasnt expecting great vegetarian food driving through this part of the world, but I landed up discovering superb restaurants and some very unique vegetarian foods. Read on to see everything I've been eating and 'cooking' on this cross country drive.
If you've missed it, make sure you read part 1 of this trip first.
Notes from the Road
Total miles traveled – 3,001
States covered so far - Virginia, Maryland, West Virginia, Pennsylvania, Ohio, Indiana, Illinois, Wisconsin, Minnesota, South Dakota, Wyoming, Montana, Idaho
Cities visited - Cleveland OH, Chicago IL, Madison WI, Wisconsin Dells WI, La Crosse WI, Sioux Falls SD, Rapid City SD, Cody WY, Jackson WY, Idaho Falls ID, Boise ID 
Mood – awestruck and inspiried by what I've seen and experienced so far..
Observations –  Human directions are better than GPS directions; your GPS is not human.
I'm falling in love with America all over again. What a beautiful country! And driving across it is such a great way to see it
Best meal so far – vegetarian Native Indian taco at a tiny mountain cafe in Cheyenne Crossing, SD. Recipe below
Craving – Curd rice and hot masala chai
National parks and monuments visited – Badlands, Mt Rushmore, Crazy Horse, Custer State Park, Devils Tower, Yellowstone National Park, Grand Tetons
Entrance fees paid for the above - $103
Wildlife spotted - praire dog, fox, bison, elk, pronghorn, deer, lots of birds and creepy crawlies
Cutest Thing I Ever Saw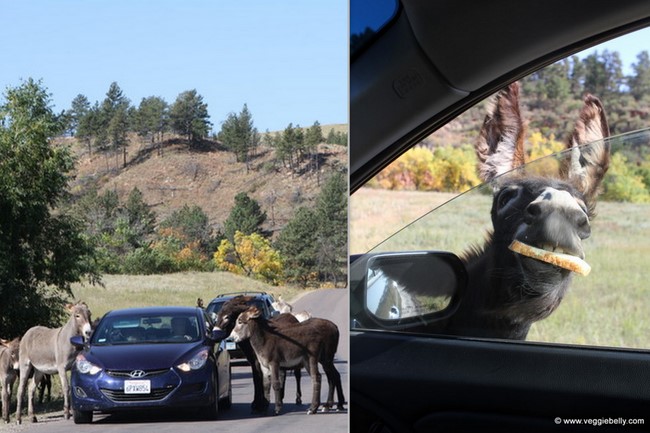 Custer State Park in South Dakota is home to the cutest donkeys ever. These little donkeys are called begging burros because they come up to passing cars and beg for food. Sometimes they wont let you go untill youve fed them. I took some bread from my hotel for them. They eat anything – donuts, pretzels, crackers. Cutest things ever!
Vegetarian Food on a Cross Country Road Trip – What I'm Eating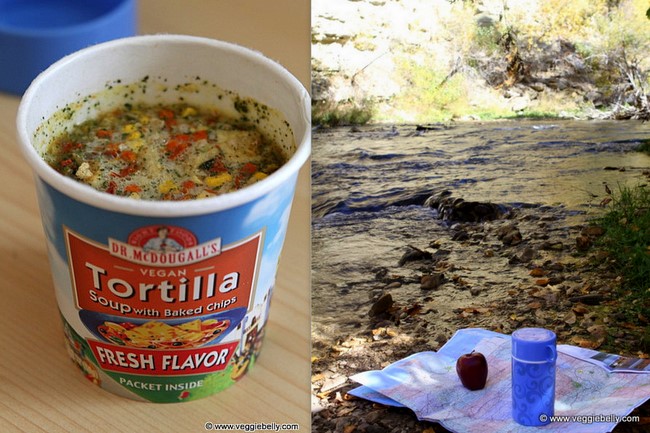 I knew I was driving through the blackhills and would have to pack lunch that day. I had bought along a few Dr McDougalls vegan soup cups. The tortilla soup tasted decent.  All I had to do was add hot water to it and put it in my thermos. The soup plus and apple was a nice light lunch. What was even better was that I picnicked along a creek in the spearfish canyon, surrounded by breath taking fall colors.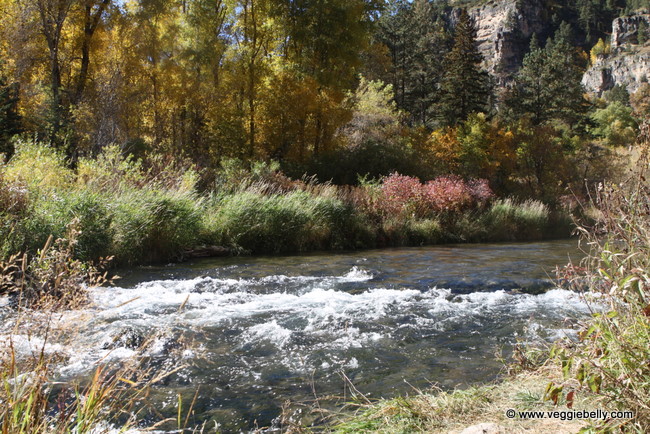 The beautiful Spreafish Canyon, SD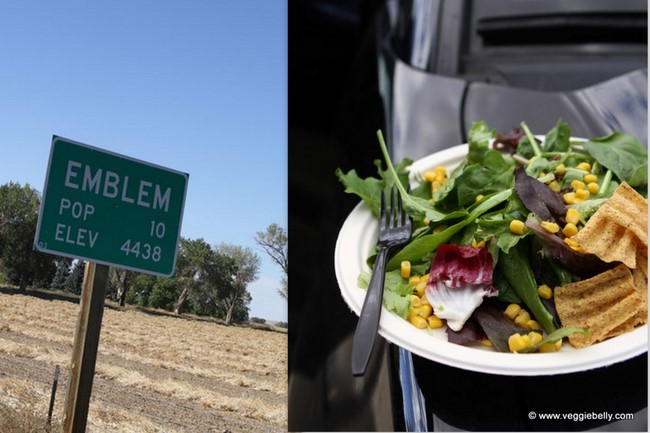 Another time I made myself a quick vegetarian lunch on the road was in Wyoming. I was driving about 300 miles that day and was starving by early afternoon. I opened up a bag of spring mix I'd bought earlier in the city, tossed in some canned sweet corn, seasoned salt, sun chips and olive oil.
Then I drove by smallest town I've seen - Emblem WY, population 10 people!

I was also eating out during my trip ofcourse. A memorable meal was at the Phillips Avenue Diner in Sioux Falls, SD. I skipped the deep fried twinkie on their menu..gross. But the Salty Dog shake was heavenly – it was vanilla icecream, caramel syrup and beer nuts all blended together. It was caramely, salty and sweet.

And them something happened that every road tripper should dread. My masala dabba (Indian spice box) spilled itself all over my car's trunk. That meant I had to take out my 2 suitcases, 7 boxes, 3 bags, 1 comforter, and 1 computer and then vaccum the whole car. Ugh! Such a pain trying to suck up all those little mustard seeds. Lesson: when you travel with a full masala dabba, tape up the damn thing!
Finding Vegetarian Food in the Land of Bison Meat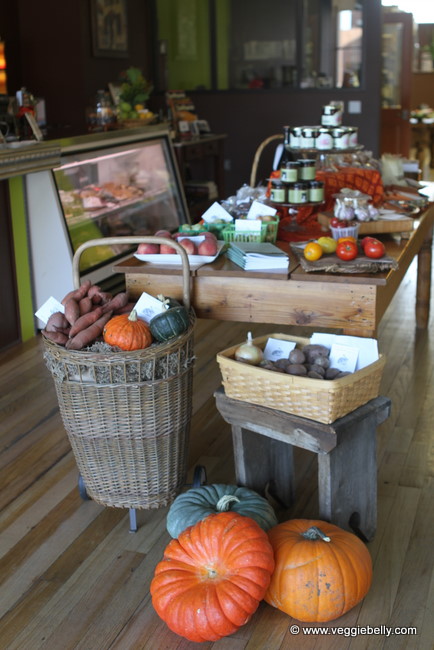 I was asked several times in South Dakota if a vegetarian eats chicken and fish. Seriously. This is the land of meat and potatoes and often that meat is bison. So how was I going to find tasty, healthy vegetarian food in South Dakota? At a restaurant that specializes in local meats ofcourse! I have nothing against non-vegetarian restaurants. They are afterall, the majority. If I can find a well constructed vegetarian meal at a Bison meat place, I am happy to eat there.
The Corn Exchange is a beautiful fine dining restaurant in Rapid City, SD that specializes in cooking with local, organic meats and produce.
I met acclaimed Chef and owner MJ Adams at the restaurant and chatted with her before dinner. Here are some things I asked her. (Photo of MJ with bison courtesy of The Corn Exchange.)
Sala: What is your food philosophy?
 MJ: I take what is in season and worship the food. Somewhat like Alice Waters' philosophy. I like to take seasonal stuff and prepare them in the simplest way possible.
 
Sala: I know there isn't a big vegetarian culture here in South Dakota, but you always have one vegetarian entrée on your menu. How do you design your vegetarian dishes?
MJ: I try to make it exciting. We use local vegetables like eggplant, english peas etc. We care about food and want to create dishes that people havent had before. We treat vegetarian dishes like any other entree and try to add wonderful components to them.
 
Sala: What are some of the vegetarian dishes you have served at the restaurant?
MJ: Right now we have a vindaloo of fresh tomatoes, cauliflower and zucchini. I like doing Indian inspired dishes. We've previously had organic garnet yams in a coconut green curry. Another vegetarian dish at the Corn Exchange was a polenta with roasted summer vegetables like asparagus, peppers and zucchini all drizzled with basil oil.
The vegetarian entrée of the day was a fresh vegetable vindaloo topped with seared tofu. It sounded interesting, and I sat down to order it.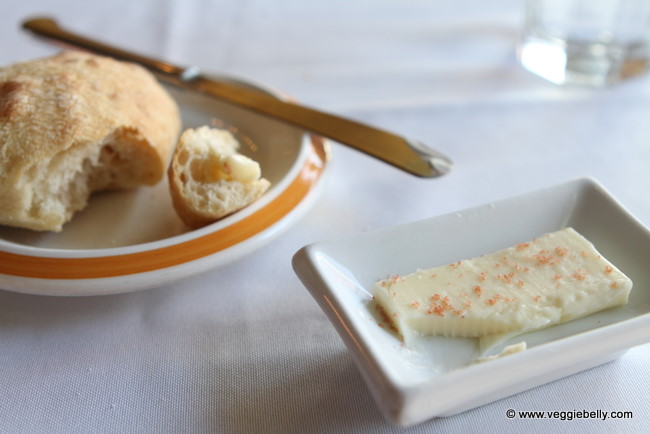 First came some nice bread with grass fed butter sprinkled with a touch of Hawaiian red sea salt – what a nice idea!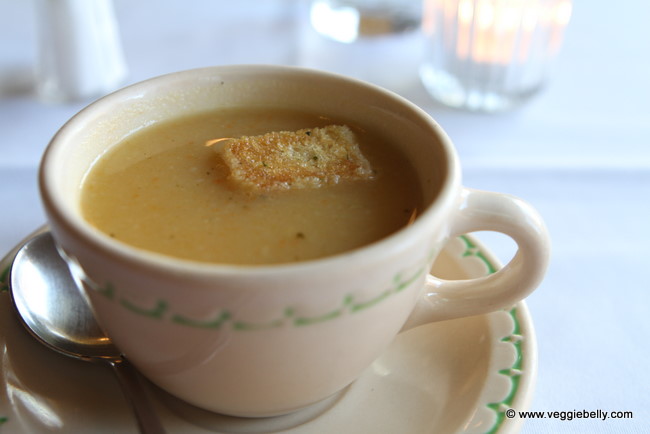 Next, I had a beautiful turnip soup. The turnip was local; and Chef MJ Adams sautés onions, carrots, celery, adds some sage, potatoes and turnips and cooks the soup in water. I loved the unadulterated turnip flavor of the soup.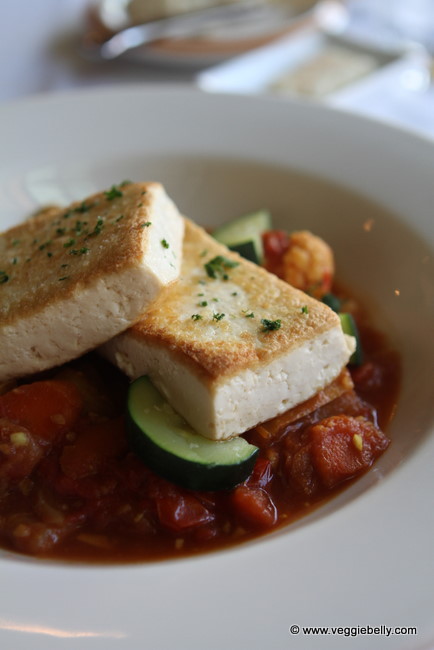 The entrée was 2 seared tofu pieces sitting on a vindaloo of tomatoes, cauliflower and zucchini. The dish was light, and had a hint of ginger, garlic and cumin.
Native American & Other Food Finds
If you are ever in Rapid City, SD make sure you visit the Praire Edge Gallery. Their Native American art collection and souveniers are unique and interesting.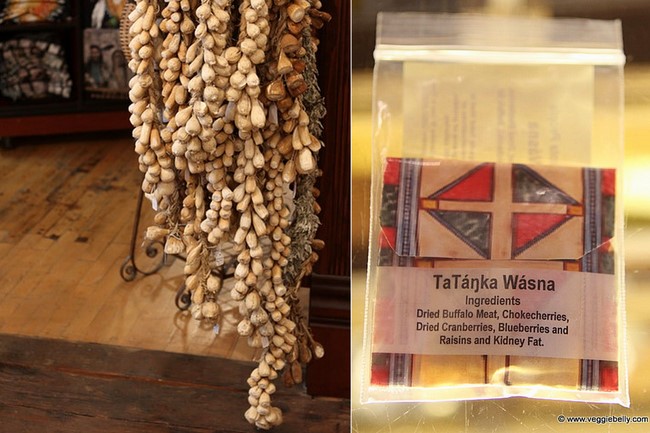 Michael, who owns Praire Edge gave me a ton of information about Native American food. One of the staples is a dried turnip (above left) that is reconstituted by boiled and eaten with meats. Wasna (above right) is a kind of Native American meat and berry patty.
Below are some more interesting food finds from my road trip..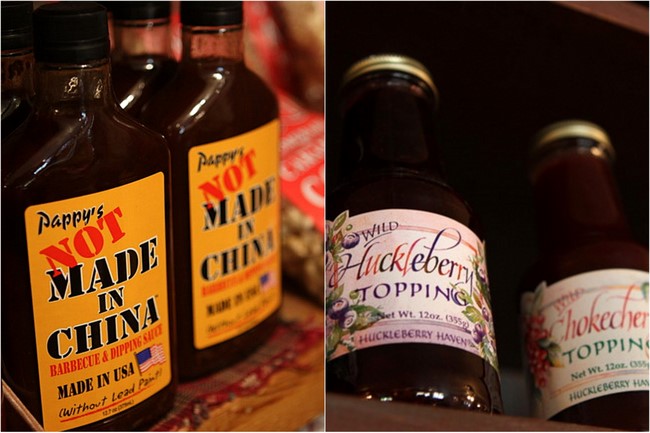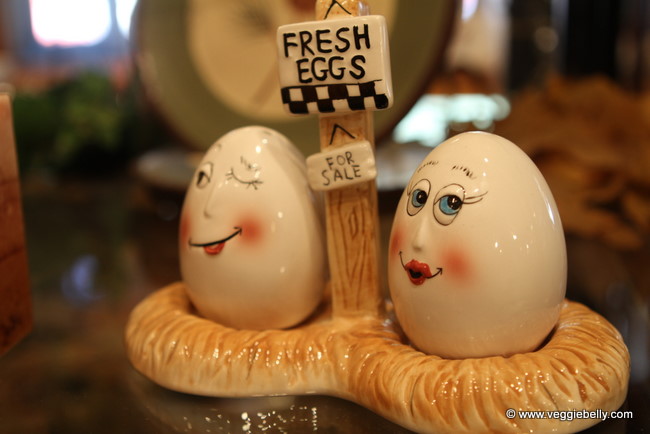 How to Make Indian Tacos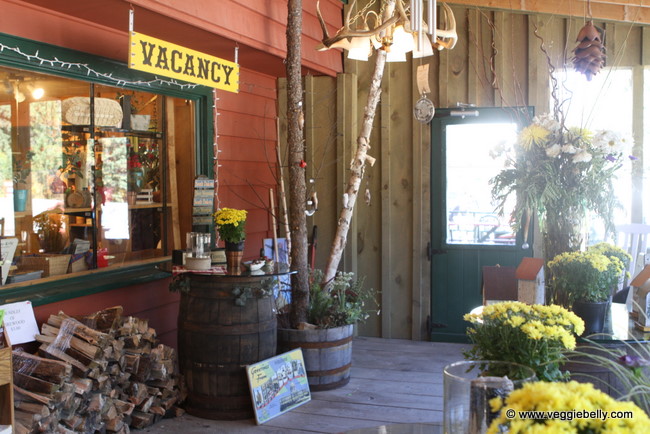 While driving through the Blackhills of South Dakota, I stumbled upon the  Cheyenne Crossing Café. I was really hoping this charming little café (the only food place I had seen in over 50 miles of driving) would have  some vegetarian food. Not only did they have vegetarian food on the menu, they had a veggie version of their famous Indian tacos! AND they showed me how to make them!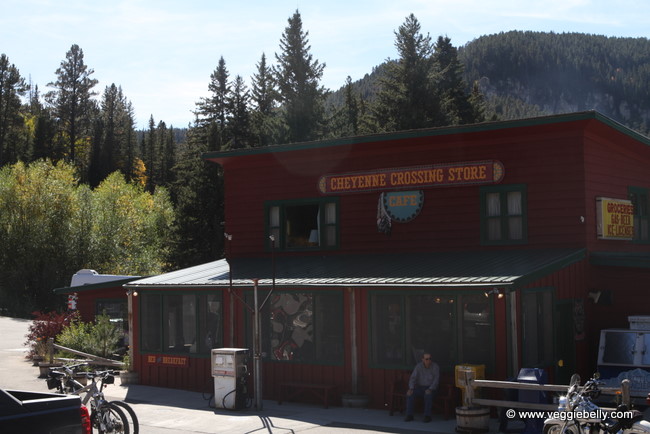 Read on to see how the Cheyenne crossing café makes their  Indian tacos.
An Indian taco is a piece of Indian fry bread, topped with beans, meat, lettuce etc. Fry bread is the official state bread of South Dakota. It was introduced to the Native Americans by European settlers and is now a common food.
Fry bread is basically flour, baking powder and salt kneaded together with water. The dough is then rolled out and deep fried into soft, golden pillows.
Cheyenne crossing café was kind enough to let me into their kitchen and show me how they make their famous Indian taco.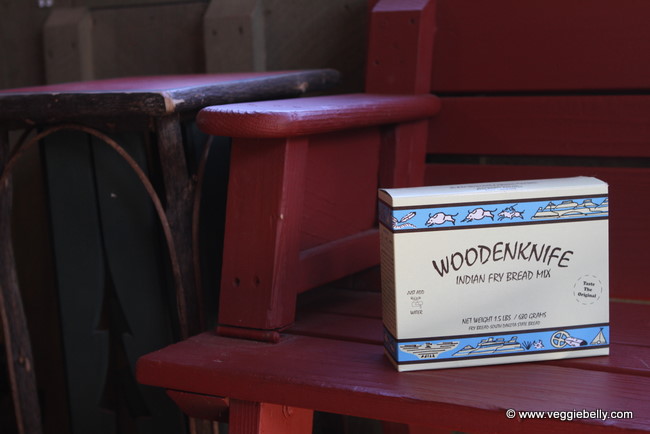 The cafe uses Woodenknife fry bread mix. But you don't need a mix. Making Indian fry bread is very easy, you just knead together flour, baking powder, salt and water. Take a look at my friend Michael's excellent recipe for fry bread and vegetarian Indian tacos on his site, Herbivracious.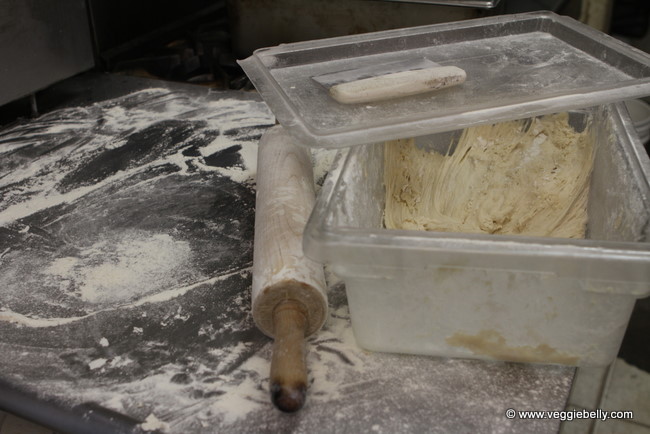 Chef Carol at the Cheyenne Crossing Café kneads a big bunch of fry bread dough.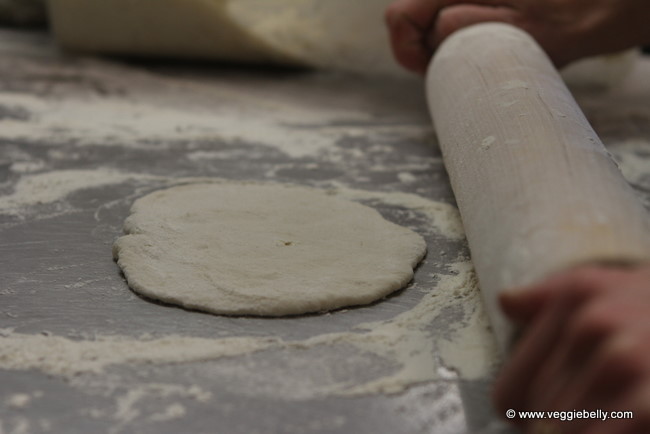 Then she rolls it out into a big round.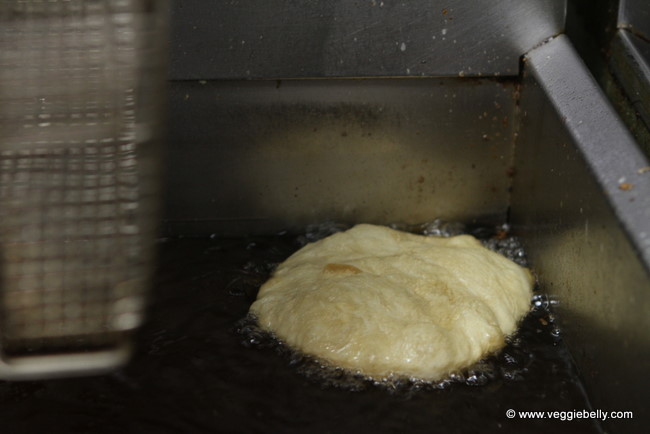 She deep fries it in canola oil untill it is puffy and golden.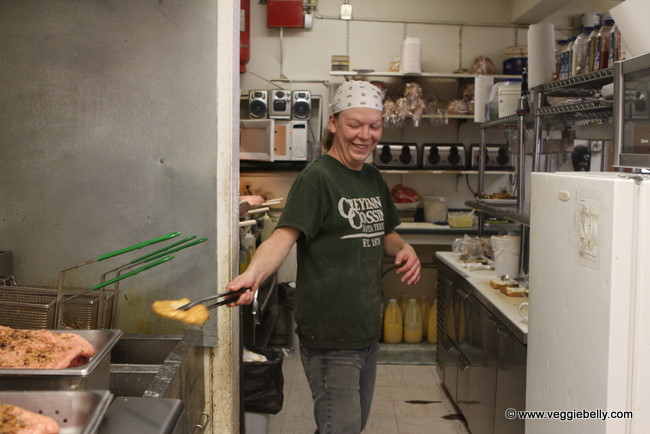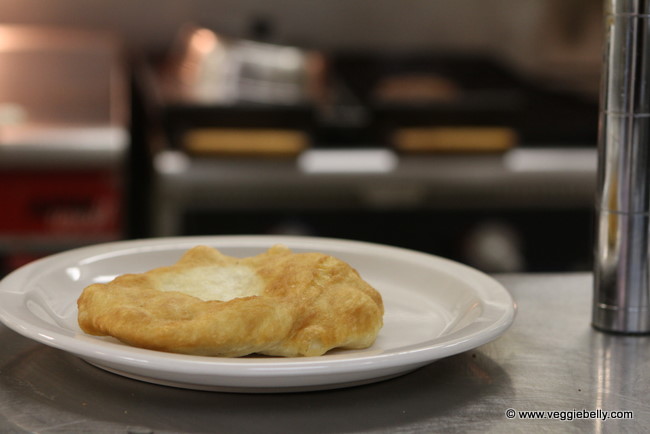 The fry bread is now ready to become an Indian taco. My vegetarian Indian taco had beans, lettuce, tomatoes, olives, cheese and sour cream on top of the fry bread.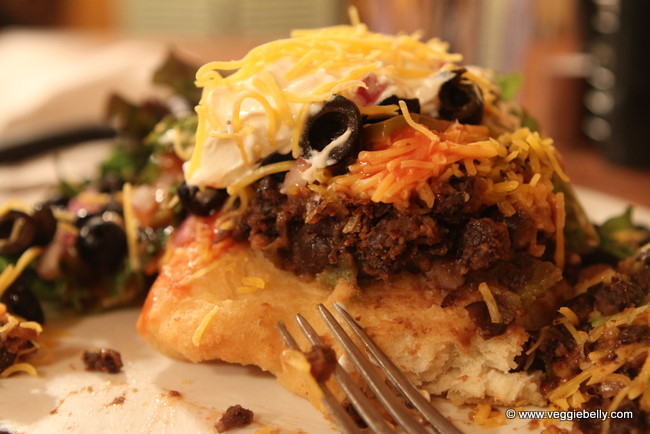 Eating my Indian taco – fry bread, beans, cheese, sour cream, lettuce. Really good and really bad (for you) at the same time!
Commonly Asked Questions About My Road Trip Across America
I've received many emails with questions about my road trip. People I meet along the way also seem to have similar questions for me, so I thought I'd do a little FAQ.
Are you driving alone?
Mostly. My husband came with me up to Chicago. A friend met up with me and rode with me for a few days. Other than that I am driving alone.
Are you scared?
No. I am being careful and sensible (for the most part!). There is nothing scary about driving in the US as long as you practise common sense. I dont drive at night, and I dont stay in shady places. I feel safe doing this trip. And I am having a tremendous amount of fun.
What if your car breaks down?
I drive a good, safe car that is tuned up and taken care of. I really dont expect car trouble. But I got myself a AAA membership before my trip. So if I was ever in trouble, I could call them and they will come out and help me.
Where are you staying?
A combination of hotels, friends homes, and Couch Surfing. Couch Surfing is a great idea – it connects travelers with locals who host them in their homes. I've hosted and been hosted several times around the world, and it has always been a wonderful experience.
Are you getting internet everywhere?
Pretty much. When I cant find a network, I use the Sprint MiFi my husband gave me. Cell phone service however, has been patchy in the moutains.
How are you processing your photos on the road?
I have my laptop with me. But my laptop doesnt have photoshop, which is the editing software I usually use. So I use Picasa to edit my pictures on my laptop for now.
Why are you driving cross country?
Read Part 1 of this series to learn more.
Rice Noodles and Vegetables in Soy Cilantro Broth Recipe
I was in Wall, a tiny little town in South Dakota. I really couldnt find any vegetarian options that I liked in town. So I decided to make myself something quick using my kettle and the vegetables I had in my cooler. Vary the amount of noodles, vegetables and seasonings however you like.
serves 1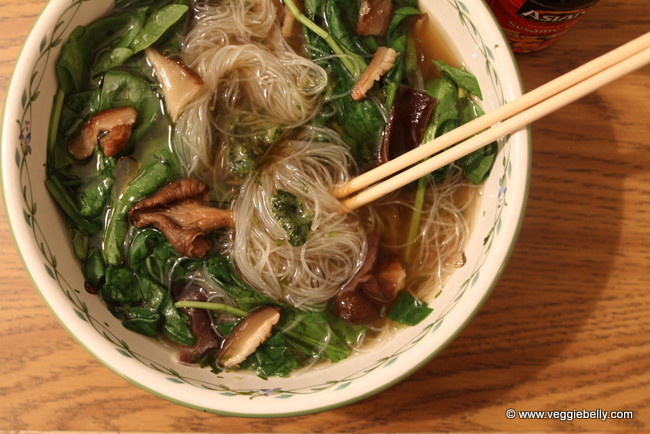 Ingredients
8-10 pieces of dried shitake mushrooms
a handfull of rice noodles or rice sticks
2 handfulls of baby spinach
1 small carrot, chopped tiny
3 tablespoons sweet corn
1-2 soy sauce packets (saved from take out)
2 tablespoons cilantro paste (from a tube, found in the salad section of grocery store)
Red chili flakes
Garlic salt
A drizzle of sesame oil
Method
Reconstitute the mushrooms – boil water in a kettle, pour it in a bowl with the mushrooms, cover and let it soak till the mushrooms are soft. Fish out the mushrooms and reserve the soaking liquid.
Then Boil about 3 cups of water in a kettle. Place all ingredients in a large bowl, including the reconstituted mushroom. Pour boiling water over. Cover and let it sit about 12 minutes or till the rice noodles have softened. For extra flavor, add some of the mushroom soaking liquid.
Comments
comments