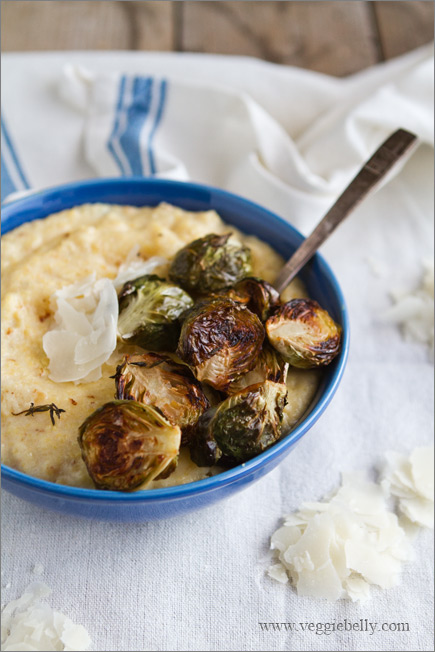 This creamy polenta with balsamic roasted brussels sprouts recipe is the ultimate comfort food. I love curling up on the sofa with a hot bowl full for dinner. The left overs are great for lunch the next day.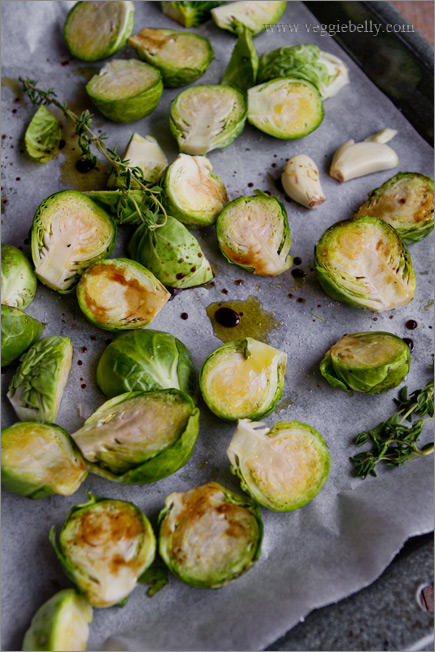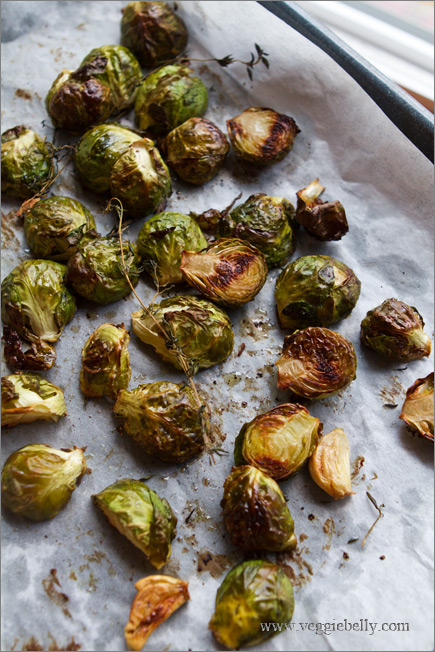 Roasting brussels sprouts in the oven till they are caramelized is my favorite way of preparing them. If you are not  fan of brussles sprouts, simply replace  them with broccoli florets or mushroom caps. Yum!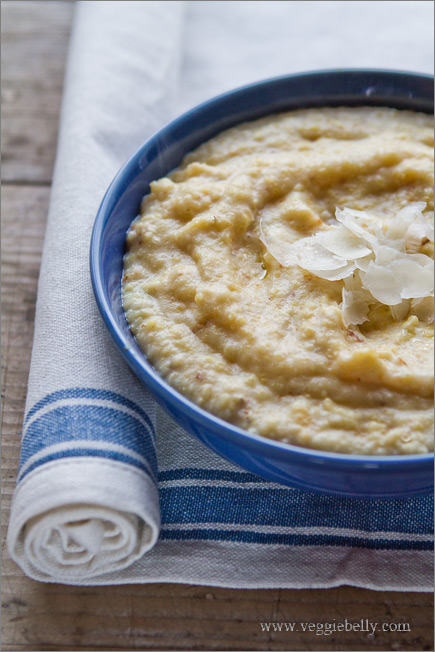 I like my polenta extra creamy, so I add half milk, half water as my cooking liquid. Make sure you use a large pan to accommodate the boiling and spluttering from the polenta.
Bob's Red Mill is my favorite polenta. The flavor and texture are just wonderful. Polenta is nothing but ground cornmeal. It comes in fine, medium or coarse grinds. I like the texture of medium and coarse grinds for this recipe. Cooking times may vary depending on what grind you use.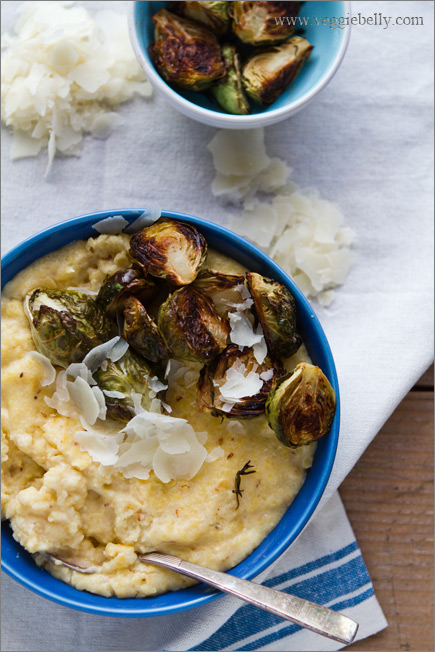 Creamy Polenta with Balsamic Roasted Brussels Sprouts Recipe
serves 3-4
Ingredients for Creamy Polenta
1 1/2 cups water or vegetable stock
1 1/2 cups milk, any fat% you like
1 cup polenta (not the quick cooking type). I like Bob's Red Mill polenta
salt
1 tablespoon butter
1/4 cup grated parmesan cheese
Method
In a large pot, bring the milk and water or vegetable stock and some salt to a boil. As soon as it begins to boil, pour the poelnta/corn meal in a steady stream, while whisking. Continue to whisk till it is incorporated.
Let the polenta cook on medium heat for about 30 minutes or till the polenta is cooked and no longer gritty. Stir the polenta every 10 minutes so it doesnt burn in the bottom. Be cautious, the polenta can bubbles and splutter as it cooks.
When polenta is done, butter and parmesan. Serve immediately with roasted brussels sprouts (recipe below).
Polenta will tighten up as it cools. To reheat, add a little water to it.
Ingredients for Balsamic Roasted Brussels Sprouts
12 brussels sprouts. Substitute with 12 broccoli florets or 18 white button mushrooms
3/4 tablespoon olive oil
1/2 tablespoon  balsamic vinegar
1 clove garlic, peeled. Optional
3 thyme sprigs. Optional
Salt
Cracked black pepper
Method
While the polenta is cooking, work on th roasted brussles sprouts.
Pre heat oven to 375f
Cut and discard the brussles sprouts stems. Peel away any yellow leaves. Cut each brussels sprout in half lengthwise.
Place brussles sprouts in a bowl with all other ingredients and toss well.
Spread out on a baking sheet lined with parchment paper. Make sure the brussels sprouts are in a single layer.
Bake in a 375f for about 20 minutes or till the brussels sprouts are browned. Half way through, toss the brussels sprouts and return to the oven, so they brown evenly on all sides.
If using broccoli or mushrooms follow the same method, but roast them in a 425f oven for about 20 minutes or till browned.
Serve hot with creamy polenta.
Comments
comments