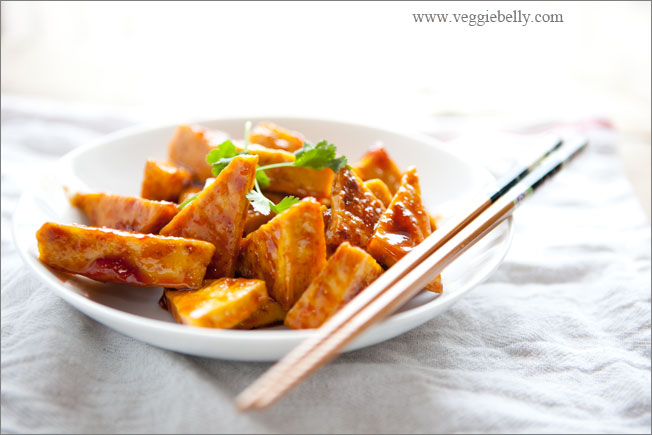 On a busy weeknight, this is my go to dish. Its quick and easy to make if you have pressed tofu lying around. I like to serve this hot and sweet marmalade glazed tofu with some steamed broccoli and brown rice for a complete meal.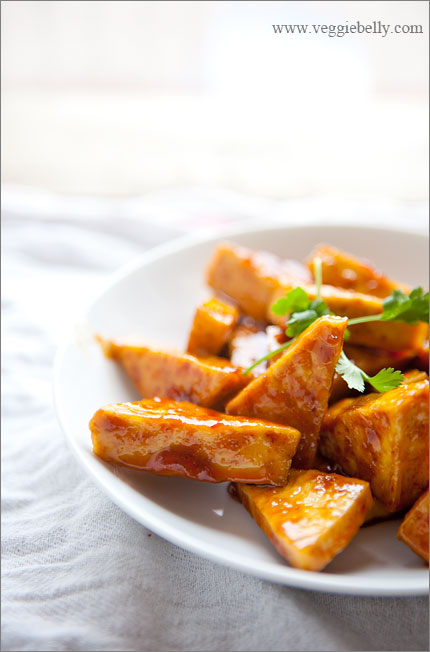 If you are not a tofu fan, but want to start incorporating some tofu in your meals, this is the perfect dish to start with. The glaze is sweet, spicy, and coats the tofu beautifully. I like to cut the tofu into small triangles (a method I learned from Vegan Yum Yum). The thinner you cut the tofu, the better results you will get with this recipe.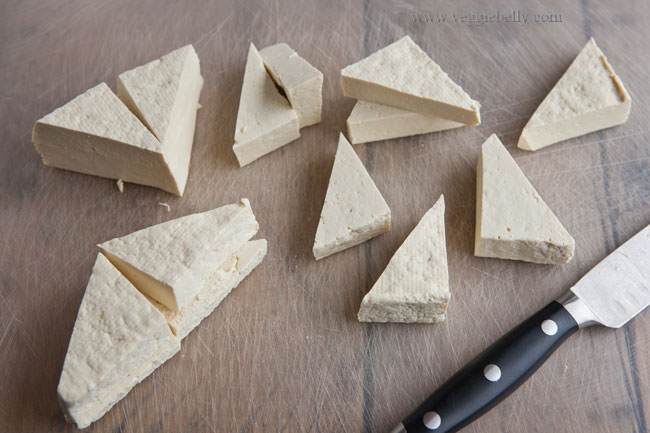 I originally posted this recipe a long time ago as sticky orange tofu thins. This continues to be one of my most popular posts, so I thought I should repost it, with updated photos. Checkout the old post to see what rubbish my photos were!
My original recipe requires you to slice the tofu as thinly as you can, that way you get to enjoy more of the orange glaze with every bit of tofu.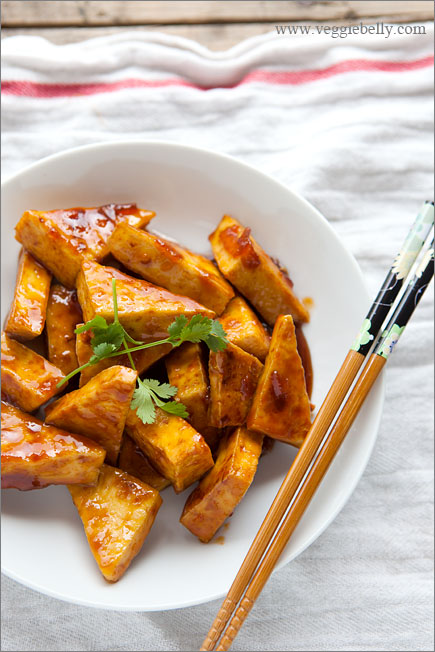 Hot and Sweet Marmalade Glazed Tofu Recipe
Inspired by this recipe from Vegan Yum Yum
Serves about 2
Ingredients
one 15 oz package of firm tofu, drained and pressed
A few drops of oil
For the glaze
4 tablespoons soy sauce
4 tablespoons orange marmalade. Substitute with brown sugar
1 1/2 tablespoons lemon juice
1 tablespoon or to taste sriracha or any other hot chili sauce
1 tablespoon chopped mint or cilantro for garnish
Method
Slice the tofu into small triangles. The thinner you slice the tofu the better
Whisk together the marmalade, soy sauce, lemon juice and sriracha and set aside
Heat a few drops of oil and large, flat non-stick skillet. Place the tofu slices on the pan in a single layer. Don't over crown the pan, do this in batches if needed.
Cook the tofu on medium heat, till it is browned on both sides. Gently press on the tofu using the back of a wide spatula to release any excess water, as the tofu cooks.
When the tofu is browned, reduce heat to low and pour the glaze all over the tofu
Let the glaze bubble and thicken, while stirring gently and flipping the tofu slices. This will happen quickly, so make sure you keep the heat on low to prevent the marmalade from burning. When the glaze has thickened and the tofu is well coated, about 1 minute, turn off the heat.
Garnish with chopped mint or cilantro
Serve with steamed broccoli and brown rice
Comments
comments