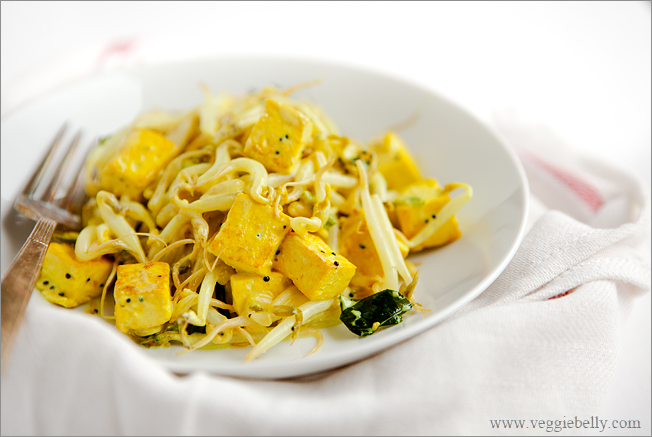 Even my tofu hating friends love this Indian style tofu with bean sprouts. I like to serve this dish with steamed brown rice and some wilted kale – a meal that makes me really happy! This is a simple dish, with simple flavoring. With a dish like this, I like to add some extra heat by using jalapenos or green chilies. Use them according to your taste and remember that green chilies are usually hotter than jalapeños. If you like it more liquidy, just add extra coconut milk at the end.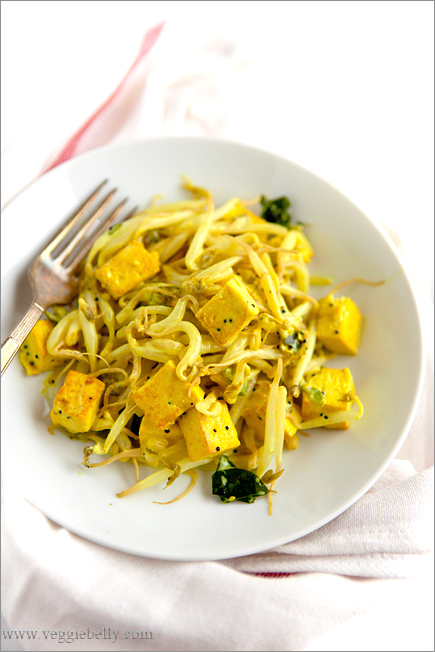 Make sure you use a wok or a large sauce pan. For two reasons – you don't want to crowd the tofu, if you do, it wont brown properly. Also, the bean sprouts will get too watery if you use a small pan and everything is crowded.
Simple Indian Style Tofu and Bean Sprout Braise Recipe
Serves about 2 
Ingredients
8 oz firm tofu
1 tablespoon oil
1/4 teaspoon black mustard seeds. Substitute with cumin seeds.
6-8 curry leaves
A pinch of asafetida, optional
½ a Jalapeno or one green chili
¼ teaspoon Turmeric powder
4 Cups bean sprouts (about 8oz)
½ cup coconut milk
Method
1.Drain the tofu, and gently pat it dry with an absorbent towel. Cut the tofu into ½ inch cubes and set aside.
2. Heat oil in a wok or large sauce pan. Add the mustard seeds and let them pop over medium heat.
3. Once they pop, throw in the curry leaves, jalapeno or green chili and asafetida. Stir for about 30 seconds or till the jalapeño/chilies start to sizzle.
4. Sprinkle turmeric over the oil. Immediately add cubed tofu. Mix everything gently so the turmeric coats the tofu.
5. Cook the tofu on medium heat, flipping it around occasionally, till it is lightly browned on all sides. About 8 minutes.
6. Then add the bean sprouts, coconut milk and salt. If you want more liquid, add more coconut milk. Cook just till the bean sprouts wilt a little – about 2 minutes.
7. Serve hot with brown rice or quinoa and some wilted greens.
Comments
comments