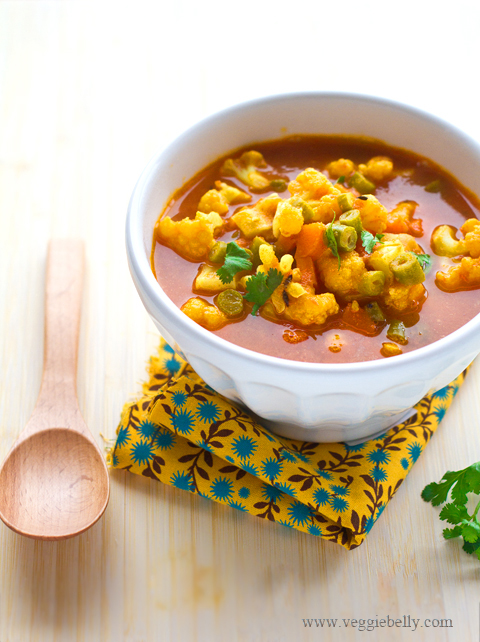 I've been a serious cook for over 15 years. I cook all kinds of recipes (vegetarian ofcourse!) – international recipes, quick and easy recipes, rich and complex recipes. But the kind I enjoy eating the most are the simple curries that remind me of home. This everyday mixed vegetable curry is one such recipe. Its fuss free, bursting with flavor and wonderfully comforting.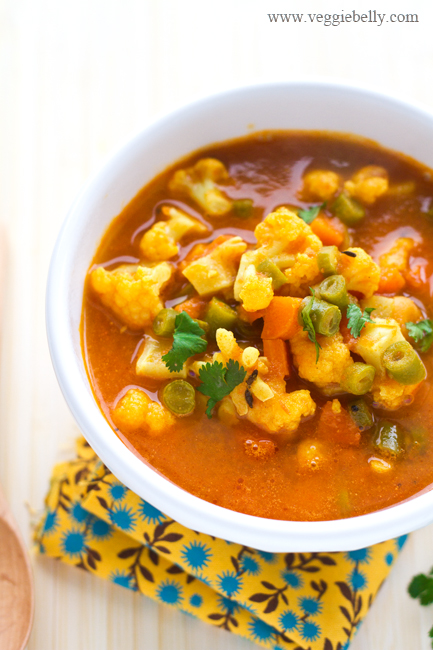 Everyday Mixed Vegetable Curry Recipe
serves about 4
Ingredients
2 large ripe tomatoes
1 tablespoon oil
1/2 teaspoon cumin seeds
1 green chili, slit, optional
1/2 teaspoon turmeric powder
1 teaspoon ground cumin
1 heaping teaspoon ground coriander
1/8th teaspoon chili powder, or more according to taste
1/2 cup diced carrot (small cubes)*
1/2 cup chopped green beans*
1 cup chopped cauliflower florets*
Salt
2 tablespoons chopped cilantro
*Chop all the vegetables small, and keep them the same size so they cook evenly
Method
1. Core the tomatoes and puree them in a blender, using as little water as possible. Blend into a very smooth puree and set aide.
2. Heat oil in a saucepan. Add the cumin seeds. When they sizzle, add the green chili and cook for 10 seconds. Turn the heat down to low.
3. Sprinkle the turmeric, cumin, coriander and chili powder on the oil. Immediately pour in the pureed tomatoes plus 2 cups of water. Bring to a boil. Then reduce heat enough to maintain a lively simmer. Cook till the sauce thickens just a little, and gets glossy, about 7 minutes.
4. Now throw in the vegetables and salt and cook covered till vegetables are soft.
5. If the sauce is too thick, add up to one cup of water to thin it down and boil for another minute. This is not a thick curry, it should be a little thin.
6. Garnish with cilantro. Serve with rotis.
Comments
comments