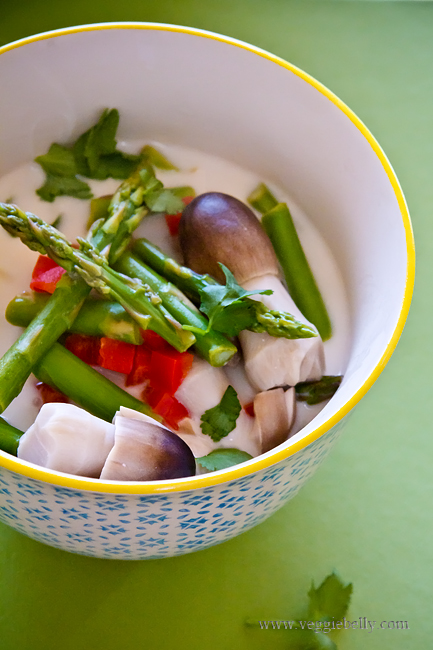 Spring nights are chilly here in Portland, and this vegetarian Thai tom kha soup with a big scoop of jasmine rice on top brings wonderful warmth and spice to a cold night. Thai soups at restaurants are often not vegetarian. They contain chicken stock and fish sauce. So when I'm graving a spicy, tangy Thai soup, I make it at home, using a vegetarian stock.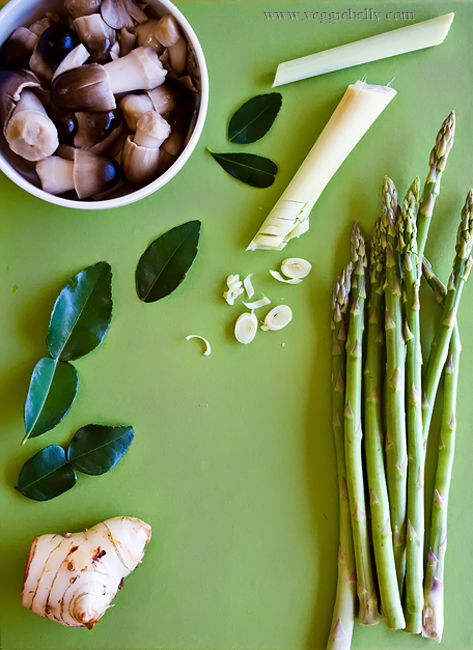 Tom kha is a spicy coconut milk soup. The stock contains what I call the "Thai Trio" – lemongrass, galangal, and kaffir lime leaves. You can find all three ingredients at Asian markets, and they're all you need to make a deliciously fragrant base for any Thai style soup. I used asparagus as the main vegetable in soup because its one of my favorites and its in season.
To make it a complete meal, serve the tom kha asparagus soup with cooked jasmine, brown, or basmati rice.

Tom Kha Asparagus with Jasmine Rice
Serves 2
Ingredients
4 cups vegetable stock or water
6 kaffir lime leaves
one 1/2 inch piece of galangal
2 lemon grass stalks, cut into 6 pieces
1-2 thai chillies, slit
1/2 can straw mushrooms, drained
16 spears asparagus, tough stems removed,and cut into 3 pieces
1 cup coconut milk
3 tablespoons lime juice
1/2 teaspoon sugar
1 tablespoon light soy sauce
2 tablespoons chopped cilantro
1 cup cooked jasmine, brown or basmati rice
Method
1. Place the vegetable stock or water in a saucepan and bring to a boil.
2. While that is heating up, lightly bruise the kaffir lime, galangal and lemongrass pieces in a mortar and pestle. Add to the stock/ water and simmer for 30 minutes.
3. Strain the stock, reserving the liquid. Discard the solids in the stock. Return the stock in the saucepan, add the chili, mushrooms, asparagus, coconut milk, lime juice, sugar and soy sauce and bring back to a boil. Boil the soup till the asparagus is cooked but still crisp, about 1 minute. Taste the soup and add more soy sauce if needed.
4. Garnish with cilantro and serve with rice.
Comments
comments