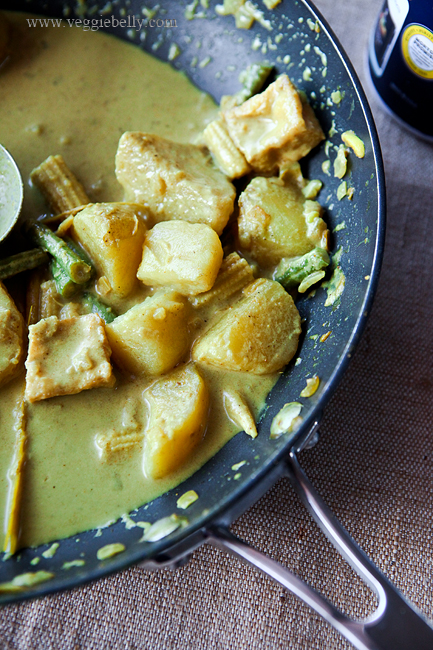 There is a little Vietnamese place near where I live called Lela's Bistro. It is the coziest little space with the most amazing food. (But then I live in Portland, and there is cozy and tasty all around me!) Anyways, Lela's bistro is special. I love their wood paneled interior, and their delicious vegetarian vietnamese curry. I often go to Lela's, pick a cozy nook, and tuck into a big, steaming bowl of their aromatic curry. I've tried to recreate this Vietnamese vegetarian curry at home, using Vietnamese curry powder, potatoes and green beans. Feel free to change the vegetables and use broccoli, zucchini, sweet potato etc. Some fried tofu will also be very nice in this curry.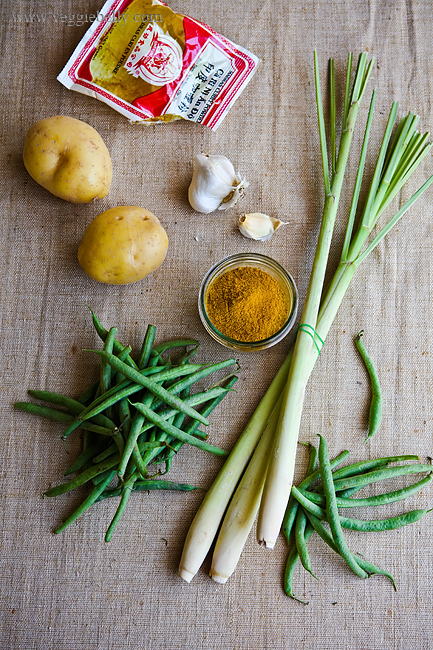 This curry is very easy to make. The curry powder and the lemongrass do the work for you, really. They make the curry wonderfully aromatic and tasty. A lot of Vietnamese curries have finely minced lemongrass in them. Sometimes lemongrass can be fibrous, so I prefer to leave it whole in the curry, and then fish it out before serving. Just make sure you give the lemongrass stalk a good smash, to break it open and release all its flavors.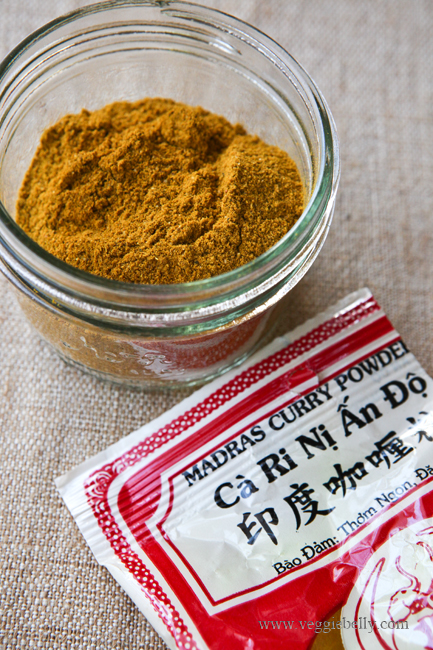 Vietnamese curry powder is easily available at Asian markets. Fubonn, the Asian store I frequent, has several brands of Vietnamese curry powder, and I'm spoiled for choice! Pick a Vietnamese "Madras" curry powder (Ca Ri Ni An Do) and you can't go wrong.
You can also order Vietnamese curry powder online.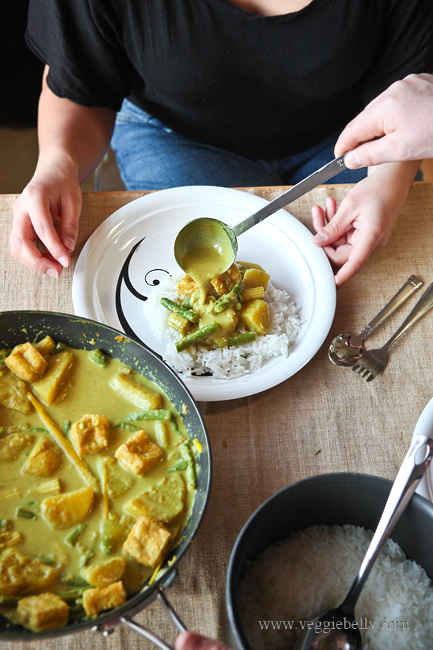 Vietnamese Potato and Green Bean Curry
Serves about 4
Ingredients
2 tablespoons oil
1 small onion, diced
1 lemon grass stalk
2 teaspoon minced garlic
1 tablespoon Vietnamese curry powder (Ca Ri Ni An Do or Madras Curry Powder
). Available at Asian markets or online.
12 oz yukon gold potatoes, peeled and chopped
5 oz green beans (about 1 heaping cup when chopped). Substitute with 1 heaping cup of broccoli florets
1 cup coconut milk
1/2 teaspoon sugar, optional
2 tablespoons chopped cilantro for garnish
Method
1. Heat oil in a large saucepan. Add the onions and cook on medium heat till slightly browned. While the onion is cooking, prepare the lemongrass – slice off the top and bottom of the lemongrass stalk, cut it into 2 pieces, and using a mallet, smash the two lemongrass sticks in order to release flavor. Set aside.
2. When the onion is golden brown, add the garlic and stir for about 1 minute.
3. Add the smashed lemongrass and curry powder and stir for 30 seconds.
4. Throw in the chopped potatoes, salt, and 2 cups water. Bring to a boil. Then reduce the heat and simmer covered till the potatoes are cooked but still holding their shape.
5. Now add the beans or broccoli, coconut milk and sugar. Cook on medium heat till the beans/broccoli are tender. If the curry is too thick, add up to 1 cup water.
7. Fish out and discard the lemongrass pieces before serving.
6. Garnish with cilantro. Serve hot with rice, noodles or baguette.
Comments
comments