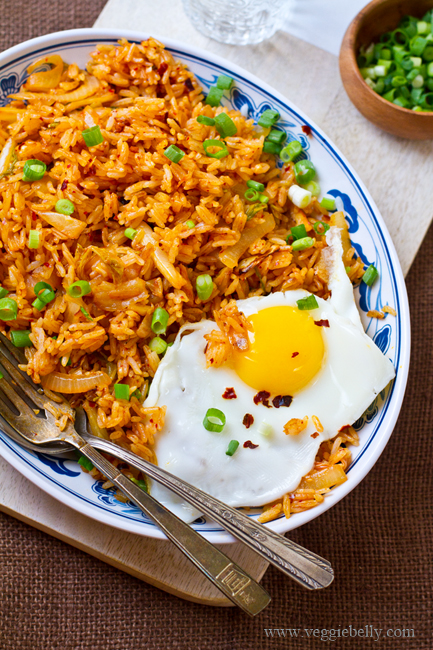 Kimchi or Kimchee is a Korean side dish made by fermenting cabbage, along with Korean chili peppers and spices. It is a spicy, pungent dish that people either love or hate. I am very much in the former category! If you like strong cheeses and such, you will definitely love Kimchi. And this fried rice is a great introduction to kimchi, if you haven't had it before. This kimchi fried rice recipe is quick and easy to make and uses just six ingredients!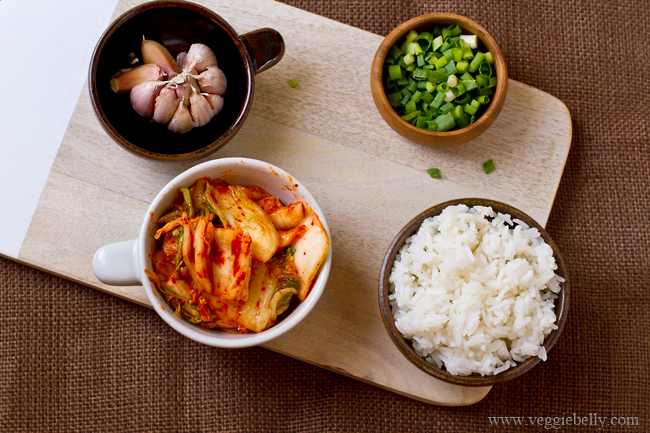 Kimchi is touted as one of the world's healthiest foods. It is loaded with vitamin C and probiotic bacteria. Did you know, in Korea people say "Kimchi" instead of "cheese" when posing for photos?!
Kimchi is easily available at Asian markets. Some store bought kimchis have fish (and some don't). So read the ingredients label before making your purchase. Alternatively, you can make your own kimchi at home.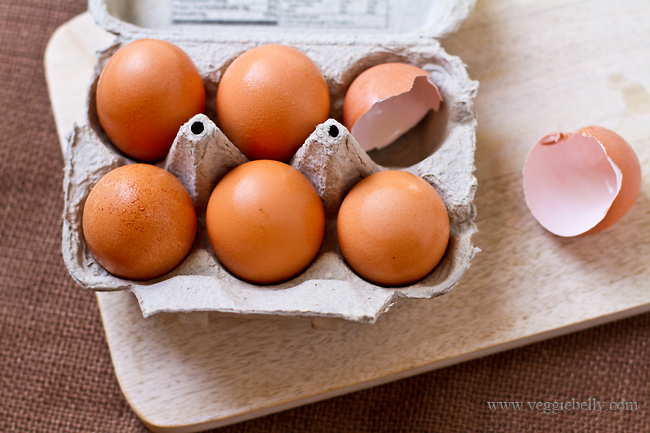 Day old, cooked rice works best for this recipe. That's because old rice has had a chance to dry out and wont get mushy when you make the fried rice. If you already have left over rice on hand, use 3 cups of that for this recipe. If not, cook 1 cup of jasmine rice (this will yield about 3 cups cooked rice), spread it our in a platter to cool and then refrigerate it over night before using. I like jasmine rice for this kimchi fried rice recipe, but any kind of rice will work. Just make sure its not over cooked.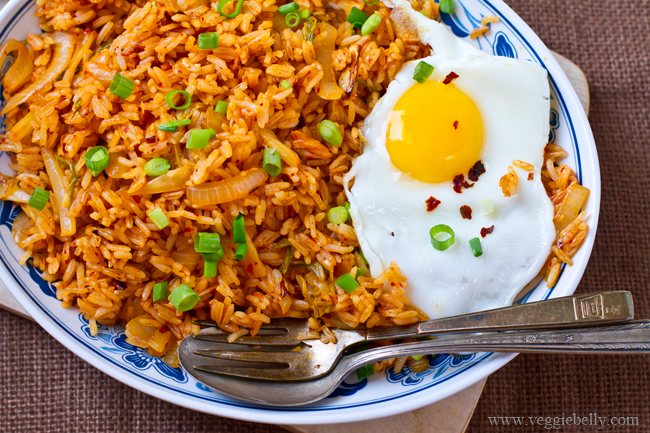 Kimchi Fried Rice Recipe
serves about 2
Ingredients
1 1/2 tablespoon oil
1/2 a yellow onion, sliced thin
1/2 a small green pepper, sliced thin. Optional
A pinch of crushed red pepper or according to taste. Optional
3 cloves garlic, chopped
1 cup thinly sliced cabbage kimchi, available in Asian markets
3 cups cooked, day old jasmine rice*
1 tablespoon soy sauce
2 scallions, chopped. Optional
2 eggs. Substitute with 1/2 cup of cubed, sautéed firm tofu.
*Any kind of rice will work for this recipe; but the amount of water needed and cooking time will vary depending on the kind of rice you use. Just make sure its not over cooked.
To make day old rice – place 1 cup jasmine rice and 1 1/2 cups of water in a small sauce pan. Bring to a boil. Stir well. Reduce the heat to low, cover the pan and let the rice simmer for 10 minutes or until all the water is absorbed and the riced is cooked through. The rice must be fluffy and separate, not mushy. Spread the rice out on a platter or large plate. Let it cook completely. Then cover refrigerate it over night.
Method
1. Heat the oil on high heat in a wok. Add the onion, green pepper if using, crushed pepper if using, and garlic. Sauté until fragrant, about 1 minute.
2. Add the sliced kimchi and cook for 1 minute. Then add the rice and soy sauce. Stir on high heat until everything is well combined and some of the rice is lightly brown. Taste the fried rice for salt. If you'd like it more salty, add more soy sauce and stir. Sprinkle chopped scallions on top.
3. Heat a small skillet with a few drops of oil on medium heat. Carefully break open an egg onto the skillet. Let it cook undisturbed, until the white is set, but the yellow is still a little runny. Carefully slide the egg on top of the rice. Repeat with the other egg.
Comments
comments