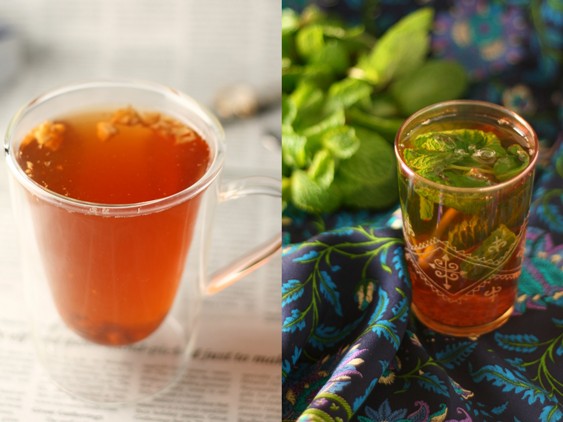 Any south Indian family will know how to make and enjoy a good cup of coffee. The day always starts with a stainless steel tumbler full of strong, sweet, frothy coffee. But not in my family. Most my family are tea drinkers. Serious tea drinkers at that. Tea time at my grandmother's house in India is an elaborate affair reminiscent of the British era. Every morning and evening, tea is carefully brewed and poured into a bone china tea pot with pink roses on it. A matching creamer with full fat milk, tea cups with saucers, little teaspoons and sugar are all placed on a tray. The tray is then ceremoniously placed on a teapoy before my grandmother. The tea is mixed, Marie biscuits are dunked and the slurping starts.
One day my grandmother offered a sip of tea to my 13 year old cousin, T. He loved it and wanted more. Then there was a great discussion whether a 13 year old boy should be drinking tea or not. But T had his way. And from that day on, my cousin had his daily tea, with his own little teapot, tray and teapoy. He is 35 now and still takes his tea with the same pomp and ritual.
Me…I'm not into 19th century teapoys or pretty British teapots. But I do have cute mugs and some great tea recipes that will be just perfect for a cold winter's day.

Kashmiri Kahwa (makes 2 cups)
We use to live 3 doors away from a Kashmiri family. Every time we visited them they would offer us Kahwa (or Kehwa) – Kashmiri green tea spiced with cinnamon, cardamom, saffron and walnuts. The saffron gives the tea a beautiful golden, honey color. The walnuts impart a delightful buttery flavor.
Green Tea – 1 tsp (I used Chinese gunpowder tea)
Cloves – 2
Cardamom – 3
Cinnamon – 1/2 tsp powdered or 1 stick
Walnuts – 4
Saffron – a pinch
Sugar to taste
Water – 2 1/2 cups
Coarsely chop the walnuts. Using the back of a wooden spoon, lightly crush the cardamom, cloves and cinnamon stick, if using.
Place the water, crushed cardamom, cloves and cinnamon in a pot and bring to a boil. Reduce heat and gently boil the water for about 5 minutes. Then add the green tea. Immediately turn off the heat. Let the tea steep in the water for about 2 minutes. Stir in sugar. Strain the tea.
To serve, divide the walnuts and saffron and place in tea cups or mugs. Pour tea over the saffron and walnut pieces.
Moroccan Mint Tea
(makes 2 cups)
We first had this refreshing mint tea when we went to Morocco. The tea was ubiquitous – every home and every shop always served a glass. We were even offered mint tea in the middle of the sahara dessert!
Green Tea – 1 tsp (I used Chinese gunpowder tea)
Mint – about 5 sprigs
Sugar to taste
Water – 2 cups
Bring the water to a boil in a pot. Turn off heat and add the green tea. Let tea steep about 2 minutes. Add sugar and mix well. Strain the tea.
Place the mint sprigs in tea cups or mugs. You'll need to use about 2 full sprigs of mint per medium sized cup/mug. This might seem like a lot of mint, but that's what imparts flavor to the tea.
Pour hot tea over the mint and serve immediately.
Comments
comments