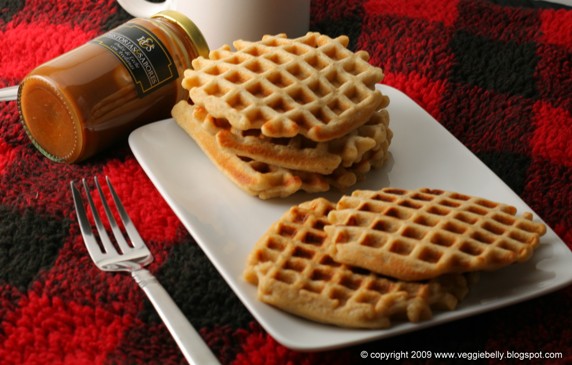 My sister was visiting and shes a big fan of sweet things. I thought it would be the perfect time to use the wonderful dulce de leche with hazelnut that I brought back from Argentina. So we started the new year with some home made whole wheat waffles topped with lots of dulce de leche. I used this recipe, but made some changes.
Dulce de leche, or "sweet milk" is popular in Argentina and tastes like caramel. I bought mine from the Historias y Sabores chocolate factory in Mendoza. I also picked up a bottle of this dulce de leche with hazelnuts for my readers. I will be giving it away on my blog soon, so watch this space!
 
Whole Wheat Cinnamon Waffles with Dulce de Leche
(about 6 servings)
Whole wheat flour or all purpose flour – 1 1/2 cups (or use half of each type of flour)
Corn starch – 1/2 cup
Baking powder – 1 tsp
Baking soda – 1/2 tsp
Salt – 1 1/2 tsp
Buttermilk – 2 cups
Melted butter – 3/4 cup
Egg – 2
Sugar – 6 tsp
Vanilla extract – 2 tsp
Cinnamon – 1 1/2 tsp
Dulce de leche or syrup or honey for topping
In a bowl, combine the first 5 ingredients. Mix well using a whisk. Then add in all the other ingredients, except the dulce de leche or syrup or honey. Mix well. Let the batter stand for 30 minutes.
Heat a waffle maker, ladle the batter onto it and cook according the waffle maker directions.
Serve with dulce de leche, syrup or honey.
Comments
comments