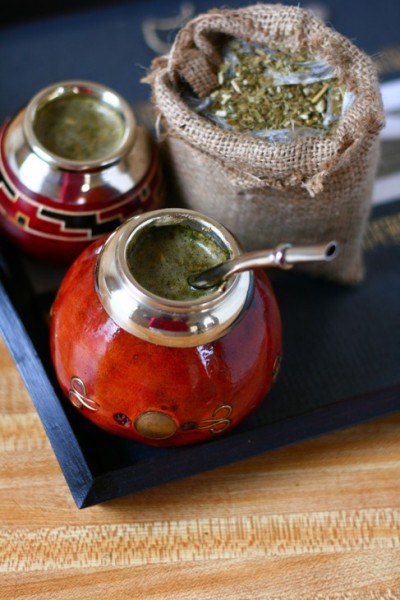 We discovered this hot, green tea-like South American drink when we visited Argentina. Yerba mate was everywhere Argentina. In the evenings, families flocked to Buenos Aires' parks with mate gourd and a flask of hot water in hand. Shopkeepers stood by their stalls sipping yerba mate from its bombilla or straw. People socialized over yerba mate. At a house party, when I asked for tea, I was given yerba mate…by a very handsome Argentinean.
This being Argentina's national drink, I had to bring back some yerba mate and a couple of mate gourds from my trip. I didnt realize till now that I hadnt shared pictures of my yerba mate and mate gourds with you. So here is my yerba mate post!
Spot the mate gourd picture that has a reflection of me!

A mate maker carving gourds & an olive vendor enjoying yerba mate in Mendoza, Argentina.
'Yerba' means herb and 'mate' is the gourd used to drink yerba mate. So the drink literally means 'herb in a cup'. True to its name, Yerba mate tastes like strong, earthy, somewhat bitter green tea.
Research shows that yerba mate has cancer fighting, antidepressant and energy boosting properties. If you've ever used Biofreeze – a topical muscle and joint pain reliever – you have experienced yet another medicinal property of yerba mate. Biofreeze, by the way, works like magic for aches and sprains; I HIGHLY recommend it. Biofreeze is so incredibly effective only because it is made from yerba mate! It contains Ilex, which is the botanical name for yerba mate!
How to make and drink yerba mate

The dried leaves and stems of the yerba mate plant are brewed like a tea in hot water and enjoyed in special mate gourds and straws (bombillas). The mate gourd is a hollowed out, dried vegetable. The outside of the gourd ranges from simple, plain black to beautiful carvings or ornamental enamel work. Mate drinkers use special straws because the drink is not strained before drinking. Instead, the straws come fitted with little strainers.
Here are step by step instructions on how to brew yerba mate from guayaki.com
1. Pack the dry loose yerba mate into the gourd just over half-full.

2. Place your hand on the top of the half-filled gourd and turn it upside-down. Shake the more powdery leaves to the top of the gourd with several flicks of the wrist.

3. Turn the gourd onto its side and give it several light shakes back and forth. This action will bring the larger stems to the surface.

4. Insert the bombilla (straw-like filter) into the gourd. Gently roll the gourd over until the mate levels off and some of the larger stems cover the bottom of the bombilla helping to filter.

5. Add fresh cool water and allow it to sit for a few minutes in order to moisten the mate. The cool water protects the nutrients and flavor of the mate.

6. After the mate absorbs the water and swells, add hot water.

7. The mate gourd can be refilled 15-20 times

You could ofcourse, skip the mate gourd and strain and drink your mate from a cup. If you do decide to go the traditional route and use a mate gourd, you might want to cure the gourd first.
How to cure a mate gourd
If you are using a mate gourd, you will have to cure it first. Since the mate cup is a hollowed out, dried vegetable, the mate will taste bitter if drunk from an uncured gourd. But curing a gourd is easy. Fill it half way with lose yerba mate. Then fill the gourd with hot water. Let it stand for a whole day. Pour out the yerba mate and water and air dry the gourd. You are now ready to enjoy yerba mate in your gourd.
If you don't mind bitter yerba mate, you don't have to cure the gourd.
Where to buy Yerba mate
You can buy yerba mate in grocery stores like Wholefoods. It comes in 3 forms – 1.loose leaf (what I have), 2.tea bags or 3.already brewed, flavored, bottled beverage.
You can also buy all forms of mate including some innovative drinks like mate latte, gourds, straws and accessories on http://www.guayaki.com/
Comments
comments