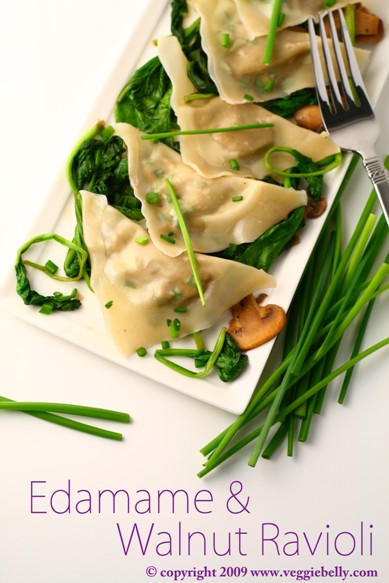 When we eat edamame, S and I usually have a contest. We see who does a neater job sucking the edamame out of their pods. I win. Always. Eating edamame in its shell is fun, but for making this amazing ravioli, shelled edamame is very convenient. All you have to do is open a bag and thaw. God bless whoever invented shelled edamame!
This ravioli is delicate in flavor. The chives and the white wine work wonders in the silky edamame filling. There is no cheese in this, so its healthy too. And if you can find or make vegan wonton wrappers, this dish is totally vegan! Once you fill the ravioli with the walnut-edamame filling, you can freeze the ravioli for later use. Make plenty, because these are delicious!
Edamame Walnut Ravioli with Spinach Mushroom Saute
serves about 3
For the filling
1/4 scant cup walnuts
1 cup Edamame, shelled and frozen
1 small garlic clove
1 tbsp white wine
Salt and Pepper
2 tbsp fresh chives, chopped
18-20 wonton wrappers
Place the walnuts in a large pan. Toast the walnuts on medium heat until they are lightly browned. To the pan, add frozen, shelled edamame, garlic clove, white wine, salt and pepper. (Make sure you season the mixture well, it makes a big difference in the final result!)
Let the wine bubble away on medium heat, about 1 minute. When the wine has evaporated, transfer the walnut-edamame mixture to a food processor. Blend into a smooth paste.

Place about 18 to 20 wonton wrappers on a clean work surface. Place a teaspoon full of the walnut-edamame mixture in the center of the wonton wrapper. Then sprinkle some chopped chives on top of the mixture.

Dip your finger in water and coat all four sides of the wonton wrapper with water. This will help the edges to stick. Fold the wonton over to make a triangle. Make sure none of filling is leaking out. Press the edges together to seal. Repeat for all wonton wrappers.

In a large pot, bring plenty of water to a gentle boil. Place the ravioli a few at a time into the water. Boil them gently for about 1 minute. (A rapid boil may break apart the ravioli). Ravioli are done when they rise to the top. Remove the ravioli from the water and place on a towel and gently pat dry. You could spray them with a little olive oil to keep them from sticking.
For the Spinach Mushroom Saute
8 oz box of mushrooms
1 small garlic clove
3 tbsp white wine
4 cups fresh baby spinach tightly packed
2 tbsp fresh chives chopped
2 tbsp olive oil
Salt and Pepper
Chop the mushrooms. Rise spinach leaves, and finely mince the garlic clove. Heat olive oil in a pan. Add the chopped mushrooms in a single layer. Cook the mushrooms on medium high heat, moving them as little as possible, until they are golden brown, about 3 minutes.
Then add the minced garlic, salt, pepper and white wine. Let the wine bubble and evaporate a little. Then add the spinach leaves and sauté till they are just wilted.
To serve the ravioli – place the spinach mushroom sauté in a serving dish. Place the ravioli on top. Garnish with chives.
Comments
comments