Its a crisp in America and a crumble in England. But not matter what you call it, this fruity dessert with its addictive, cumb topping is delicious. I used fresh cherries. To pit them, I simply cut around the pit with a sharp paring knife. If you have a cherry pitter, it will speed things up for you. You can use pretty much any fruit you like; apples, strawberries, blueberries, plums or peaches will all be wonderful. My mom was visiting when I made this, so she's the 'hand model' in these pictures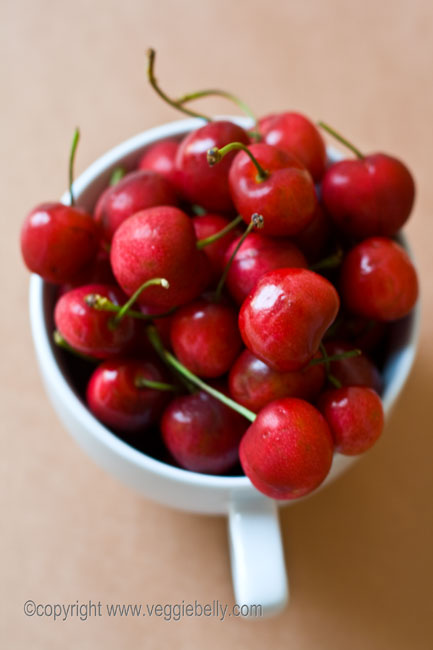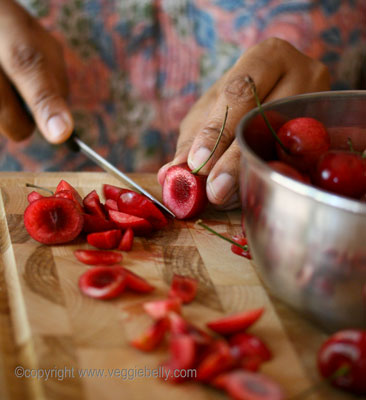 Select fresh, good quality fruit. Wash the cherries and pit them. You dont need any fancy equipment for this, just cut around the pit with a sharp knife. I like to cook the cherries first with some sugar, water and corn starch. This reduces baking time in the oven.
Now top the cooked cherries with the streusel or crumb topping and bake till golden.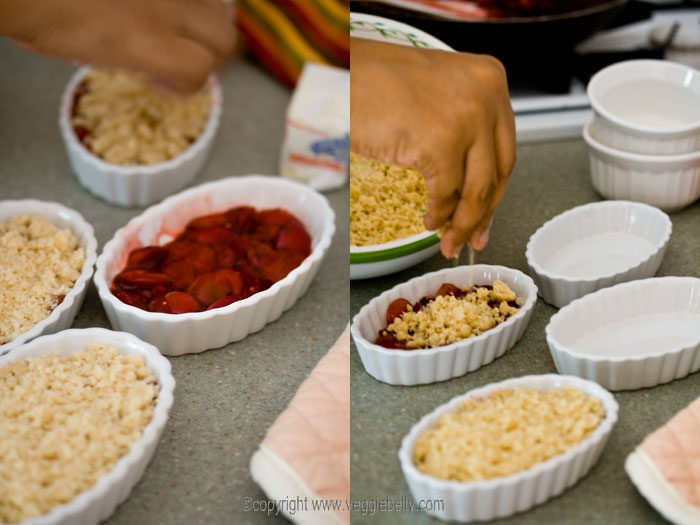 I like to serve this cherry crumble/crisp slightly warm, and with some vanilla bean ice cream. But its just as delicious all by itself!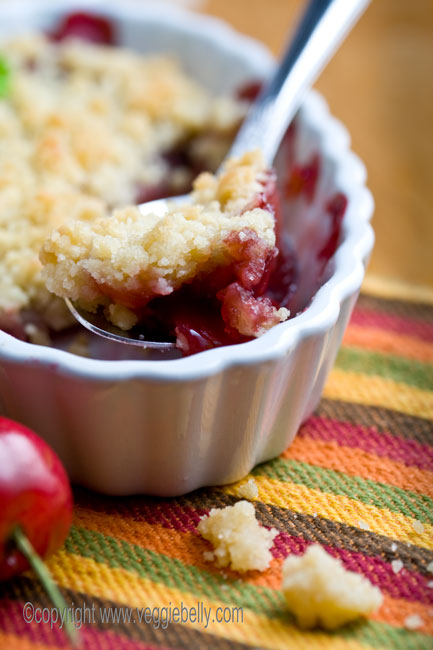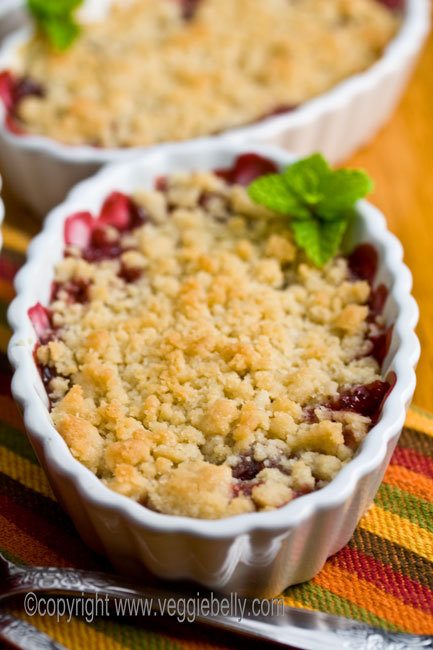 Fresh Cherry Crumble/Crisp Recipe
makes 6 small servings
For cherry mixture
2 cups pitted, fresh cherries
2 tbsp sugar (this will produce a mildly sweet crumble. add more sugar if you like)
4 tbsp water
1 tsp corn starch
For streusel or crumb topping
3/4 cup flour
3 tbsp brown sugar
2 tbsp white sugar
a pinch of ground cinnamon
a pinch of salt
5 tbsp unsalted butter, melted plus more to butter baking dish
Preheat oven to 400f
Place the pitted cherries and sugar in a saucepan. Cook on medium-high heat for about 4 minutes or untill the cherries are lightly softened. Mix together the corn starch and water and add it to the cherries. Cook for about 1 minute or till the mixture thickens.
To make the streusel or crumb topping, combine the flour, brown and white sugars, cinnamon and salt together. Mix well. Then pour in the melted butter. Using your fingers, rub the butter into the flour until it forms a crumbly mixture.
Lightly butter a baking dish (I used 6 individual sized creme brulee dishes). Divide the cherry mixture among the dishes. Place the crumb topping on top and bake for 15 minutes or till the topping has lightly browned.
Comments
comments