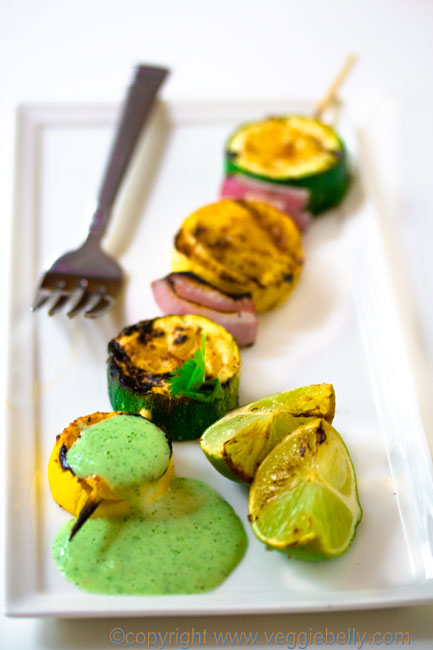 Call me crazy..but I grilled outdoors on a blazing hot, 98 degree day. I could have made my no-cook double layer summer vegetable sandwich instead, stayed indoors and stayed nice and cool. But I was really, really in the mood for some grilled summer squash/zucchini skewers with chipotle and lime.
When the wonderful Kalyn of Kalyn's Kitchen posted a recipe for creamy tomatillo dressing, I simply had to make it and serve it with grilled zucchini. Kalyn's Café Rio inspired tomatillo dressing is tart, creamy and refreshing. But let me tell you about the chipotle lime grilled squash first.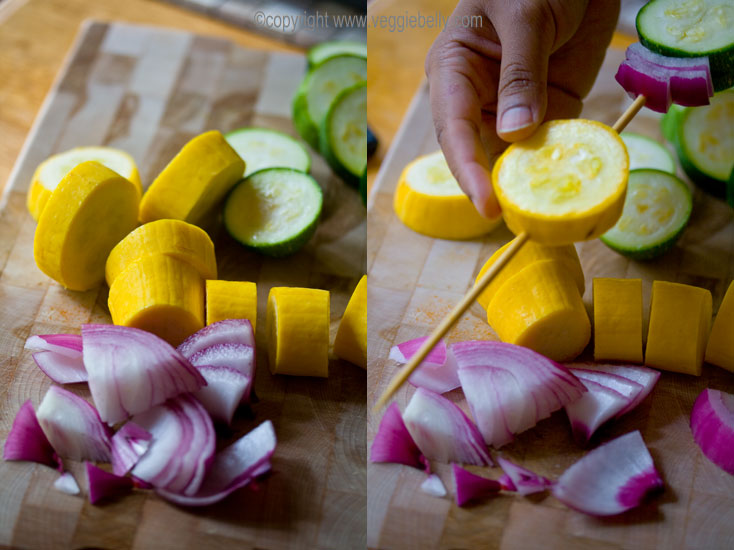 Use both yellow squash and green zucchini for colorful skewers. Red onion goes well with the squash and is always wonderful on the grill. Red onion is one of my favorite things to grill – it gets sweet and roasted and incredibly flavorful. Cut the squash and onion and thread them alternatingly on soaked bamboo skewers.
Then grill the skewers on an outdoor grill. Towards the end, baste the skewers with a mixture of olive oil, lime juice, chipotle powder, cumin and salt. Chipotle powder burns easily, so only baste in the last minute or so of grilling.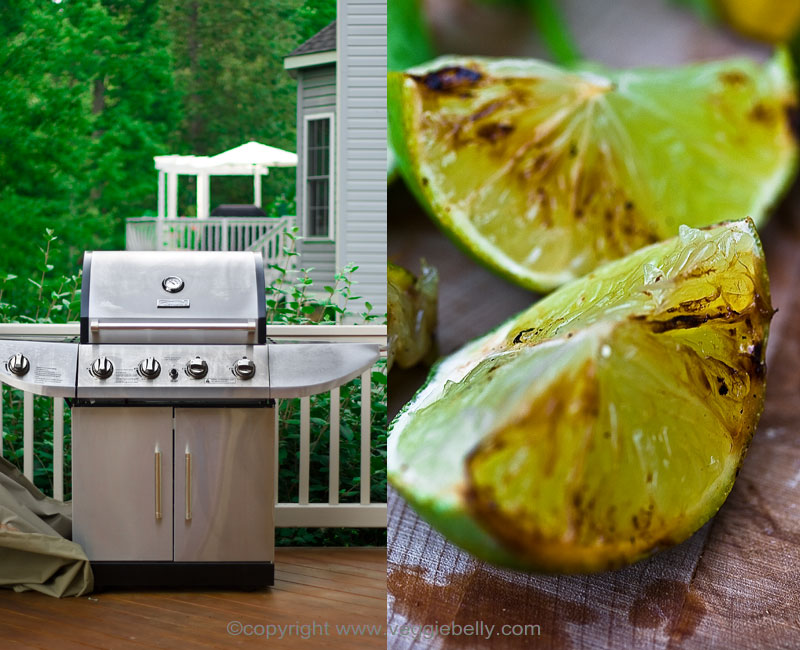 Meet my grill. We got an incredible deal on it a few years ago in Sears. Among the many things we've grilled, we really like grilled limes and they go great with this dish.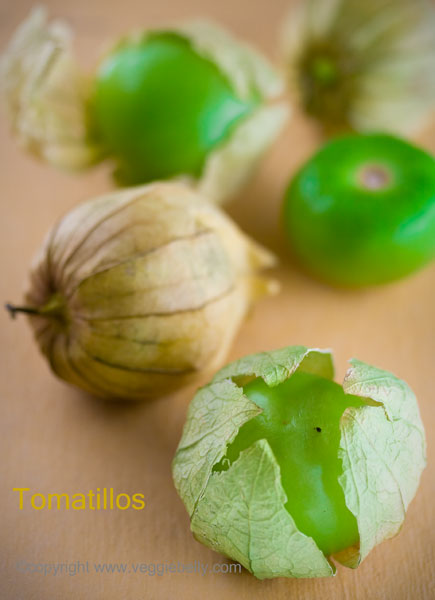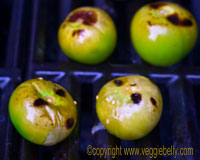 Now, onto Kalyns creamy tomatillo dressing. This is really easy to make. You'll need a couple of tomatillos. Remove their husk and wash away the sticky coating on the tomatillos. Pat them dry. Then throw the tomatillos on the grill. When they are soft and blistered, put them in a blender.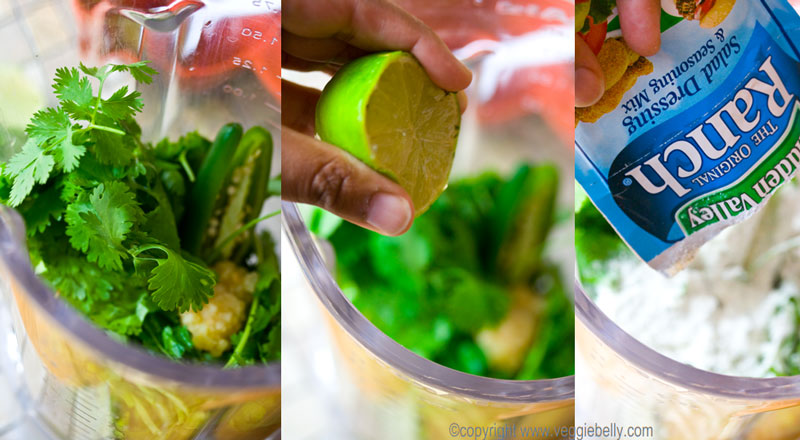 Add some cilantro, garlic, a Serrano chili (Kalyn uses jalapeno or Tabasco sauce), lime juice, a packet of ranch dressing mix and a cup each of milk and mayonnaise.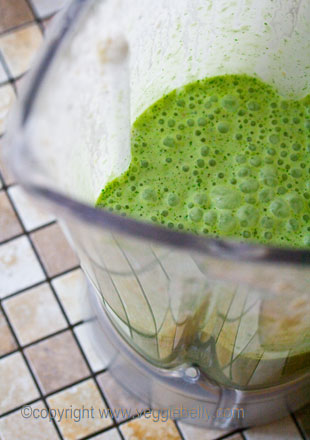 Blend everything together and your sauce is done.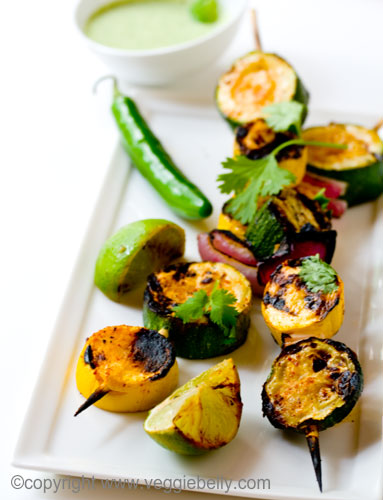 Served chipotle grilled squash with creamy tomatillo sauce and grilled limes.
Chipotle Lime Grilled Squash recipe with Creamy Tomatillo Sauce
makes 4 skewers
2 squash (preferably 1 yellow squash and 1 green zucchini)
½ medium red onion
¼ tsp ground chipotle
¼ tsp ground cumin
1/2 tbsp lime juice
1 tbsp olive oil
Salt
four 12 inch bamboo skewers
Soak the skewers for 15 minutes in warm water. This will prevent them from burning on the grill.
Heat an outdoor grill to about 350f.
Cut the squash into rounds (about 8 rounds per squash). Cut the onion into chunks. Thread the squash and onions onto the skewers alternatingly – about 4 pieces of squash and 3 pieces of onion per 12 inch skewer.
Mix chipotle powder, cumin, lime juice, olive oil and salt together. Place squash skewers on the grill and grill each side till browned. Brush the chipotle-olive oil mixture on the grilled squash in the last 1 minute of grilling.
Serve with creamy tomatillo sauce.
Kalyn's Creamy Tomatillo Sauce recipe inspired by Café Rio
about 2 ½ cups (you'll have left over sauce)
2 large or 4 small tomatillos
½ cup chopped cilantro
2 tsp lime juice
1 tsp minced garlic
1 serrano chili (Kalyn uses jalapeno or Tabasco sauce)
1 packet Hidden Valley ranch dressing mix
1 cup milk
1 cup mayonnaise
Toss the tomatillos in 1 tso of oil and grill on an outdoor grill or in the oven till soft and blistered. Place the tomatillos along with all other ingredients in a blender. Blend into a sauce. Refrigerate till you are ready to serve.
If you want to use prepared/bottled ranch dressing, use 2 cups of the prepared dressing instead of the ranch dressing mix, milk and mayo. If you don't have tomatillos, Kalyn recommends using store bought salsa verde.
Comments
comments