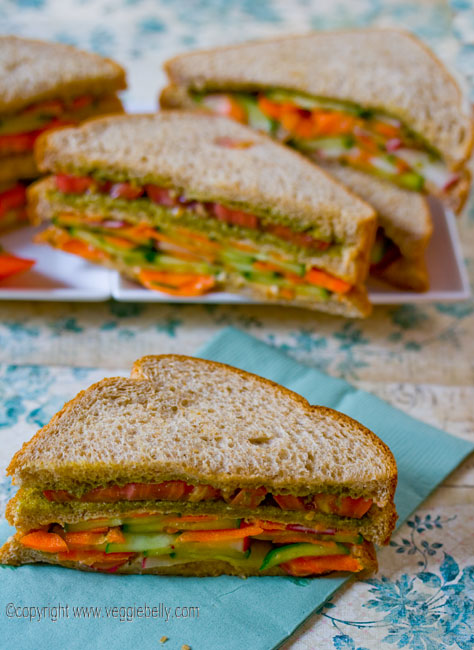 This is an easy sandwich for a sweltering hot day, when you don't feel like turning on your stove. With all the raw summer vegetables and brown bread, this sandwich is healthy too. Its a double layered sandwich, so its quite filling. I love the combination of creamy hummus and the basil pesto in this sandwich.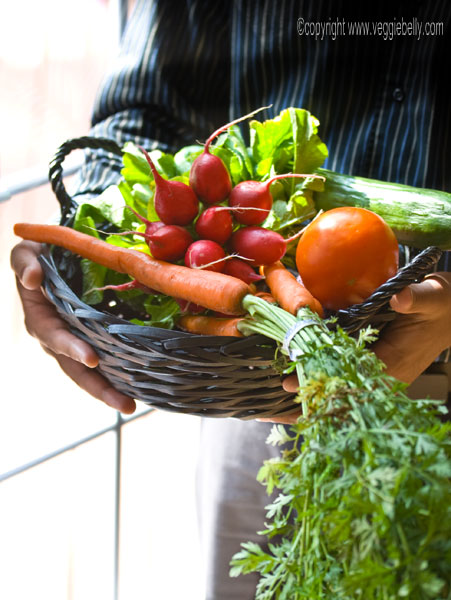 You'll need a carrot, some baby radish, cucumber and tomatoes. All you have to do with the vegetables is slice them thin and toss them in olive oil, lemon juice, salt and pepper. Store bought hummus (I used Tribe 40 spice hummus) and pesto act as sandwich spreads. Use whatever bread you like. I prefer soft brown bread slices or pita pockets for this.
See my new flexible chopping mat  from Bed Bath and Beyond in the pictures below? I recently bought two of these and  I love them! They're great if you are cutting a small amount of stuff. They're flexible, take up no space at all and the best part is, you can throw them in the dish washer!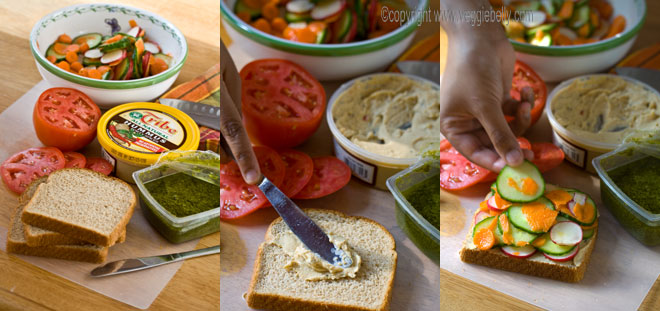 You'll need 3 slices instead of the usual 2 slices of bread. Start with the first slice. Spread some hummus on it. Then pile on the chopped carrots, cucumber and radish. I like to load the sandwich with lots of veggies!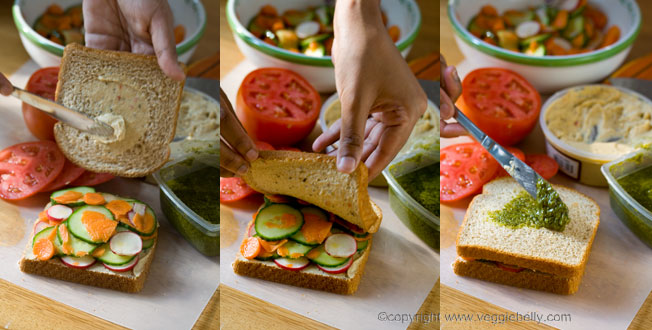 Put a little more hummus on the second slice of bread and place it over the veggies, hummus side down. Then spread some pesto on top of the second bread slice. See where I'm going with this?!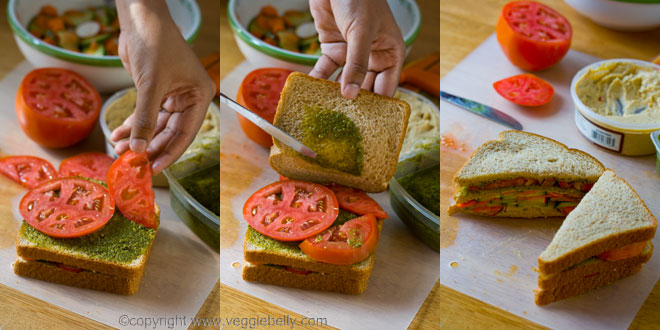 Now come the tomatoes. Place them on top of the sandwich. Spread more pesto on the third slice of bread and top the tomatoes with it. I like to put the tomatoes on the top layer of the sandwich and spread pesto on the top slice of bread. The science behind that is that tomatoes taste great with pesto. Just like how I think the vegetables taste great with hummus. So each sandwich layer is assigned its own vegetable-spread pairing!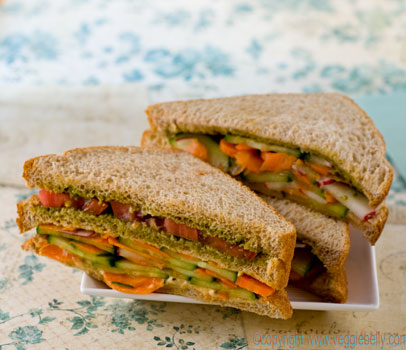 Press down on the sandwich gently to compact everything. Then cut it in half. This sandwich will get soggy on you if you let it sitting around. So serve it immediately.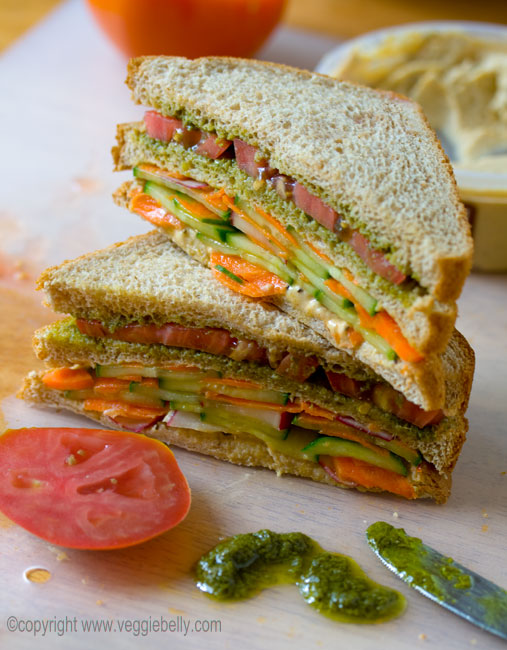 Double Layer Summer Vegetable Sandwich with Hummus and Pesto Recipe
makes 3 sandwiches (or 6 if you slice each in half)
9 slices of bread
1 small carrot
4 baby radishes
1/2 an English cucumber
1 small tomato
1 1/2 tbsp olive oil
1 1/2 tbsp lemon juice
about 5 tbsp store bought Hummus or enough to spread on the bread slices
about 4 tbsp store bought Pesto or enough to spread on the bread slices
Salt and Pepper
Slice the carrot, radishes, and cucumber into thin slices. You should have about 2 cups (loosely packed) of chopped vegetables in total; chop less if you want fewer veggies in your sandwich. Combine the chopped vegetables with olive oil, lemon juice, salt and pepper and set aside. Slice the tomato into rounds.
Place one slice of bread on a work surface. Spread about 1 tbsp hummus on it. Arrange the vegetable slices on top. Spread a little more (about 1/2 tbsp) hummus on the second slice of bread and place it hummus side down on the vegetables. Spread about 3/4 tbsp pesto on the second slice of bread. Place tomato slices on top. Spread a little more pesto on a third slice of bread and place it pesto side down on top of the tomatoes.
Comments
comments