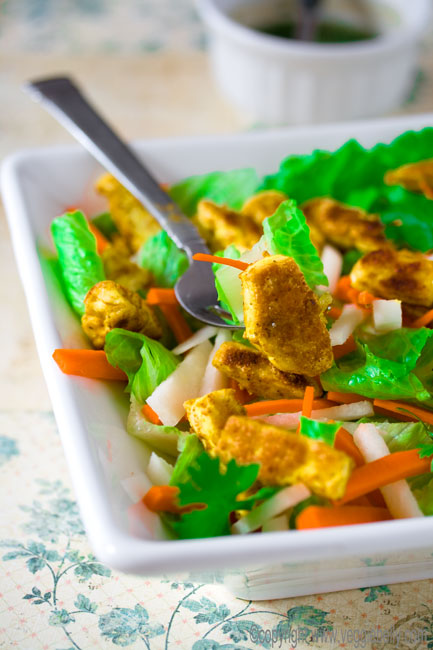 This salad is crunchy, healthy, filling and cumin scented all at the same time. And you can change it up or customize it however you wish. You could use baby corn, red peppers, arugula or cucumbers in this salad. Also try using tempeh or seitan instead of tofu.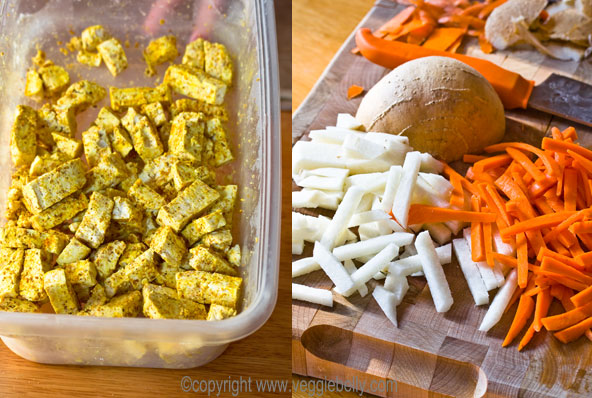 Marinate tofu in curry powder and corn startch and pan fried it till crisp. I marinated the tofu over night, but you could skip the marinating if you are in a hurry. Use a good curry powder that you enjoy, it will make all the difference. Served the tofu on top of romaine lettuce, jicama and carrots.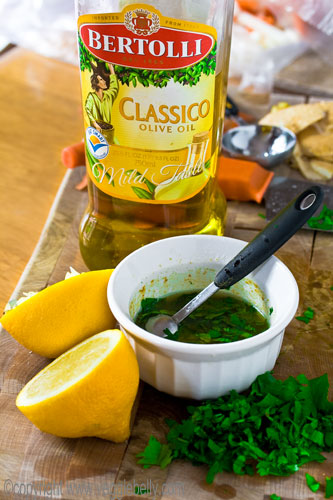 The cumin vinaigrette is easy and delicious. Just whisk together lemon juice, olive oil cumin powder and chopped cilantro.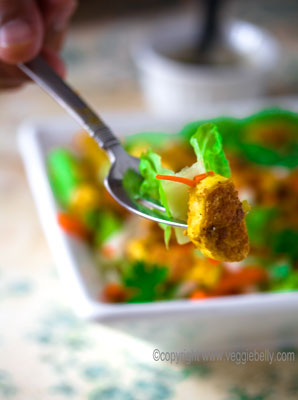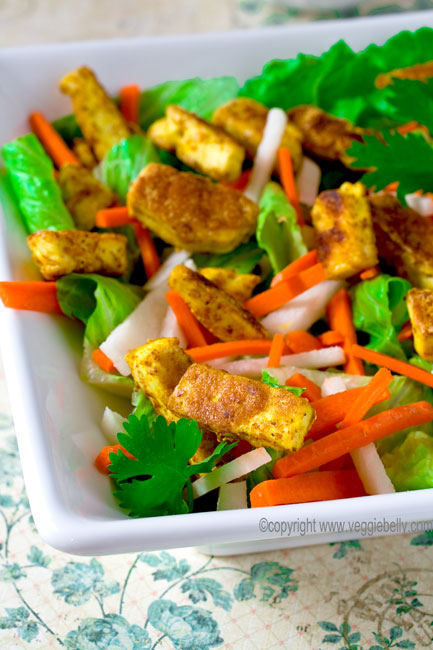 Curried Tofu Salad with Jicama and Carrots
serves about 2 as an entree
1 block firm tofu
2 tbsp corn startch
1 1/2 tbsp curry powder
1 tsp turmeric
salt
2 tbsp vegetable oil
1 head romaine lettuce, chopped
1/2 smal jicama, cut into match sticks
1 large carrot, cut into match sticks
Drain the tofu and pat dry. Wrap it in several layers of paper towels, place a plate over the wrapped tofu and place a few cans (tomato, beans, soup cans etc) over the plate. Let the tofu compress this way for atleast an hour to get all the moisture out of the tofu. Then cut tofu into pieces. Toss with corn startch, curry powder, turmeric and salt. I marinated the tofu over night, but you could use it right away if you are in a hurry. Heat oil in a skillet and pan fry the tofu till its golden on all sides. Serve tofu pieces over lettuce, jicama and carrots.
 Cumin Vinaigrette
4 tbsp olive oil
3 tbsp lemon juice
1 tsp sugar
1 tsp cumin powder
1/2 tsp mango powder (amchoor), substitute with extra lemon juice
3 tbsp chopped cilantro
salt, pepper
Whisk all ingredients together. Keep chilled. Serve with curried tofu salad.
Comments
comments