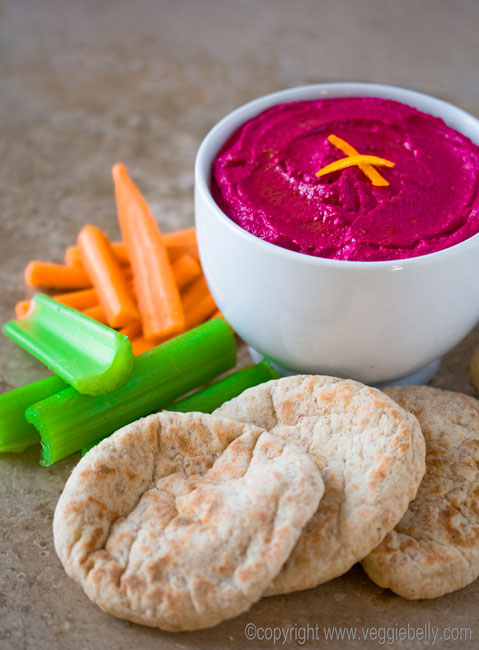 This recipe is a copycat version of the beet and orange dip at our local Wegmans grocery store. Wegmans don't add walnuts to their dip. But I like the nutty, creamy muhammara-like flavor that the walnuts add to this dip. Its sweet, tart and great for dipping pita bread or in a vegetable crudite platter. I love the brilliant color of beets too. But if you don't like beets, try this with carrots.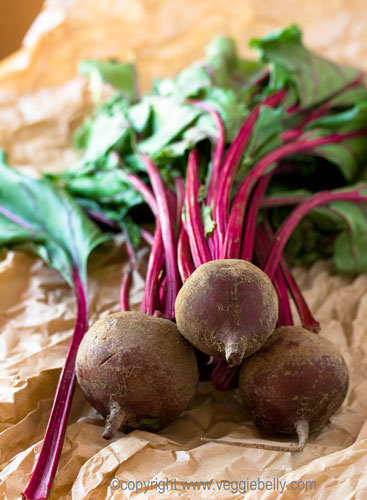 Dont throw away beet greens. They taste great chopped up and sauteed in some olive oil, garlic and a splash of balsamic vinegar.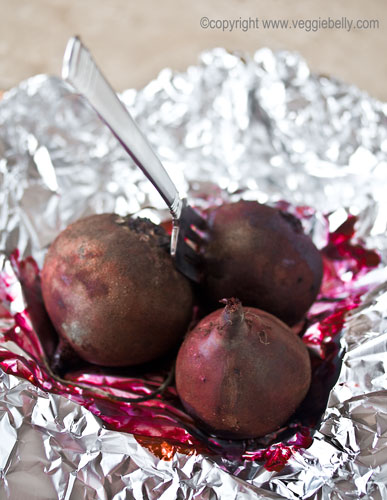 I love the delightful earthiness of roasted beets. They take about an hour in a 400 degree oven to get fork tender. If you are in a hurry, use drained, canned beets. Once the beets are roasted, all you do is puree them with some toasted walnuts, balsamic vinegar, orange juice and garlic.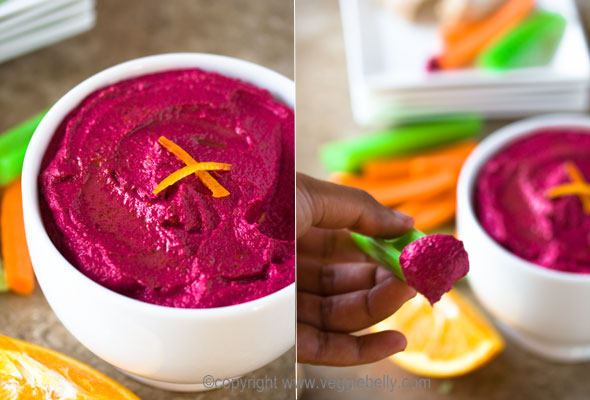 I served this dip with carrot and celery sticks and toasted mini whole grain pita bread.
Here are some other ways to use this dip:
Use as a sandwich spread
Mix it into hummous for a gorgeous light pink colored dip
Serve as a platter with vegetable crudites, melba toast, olives, crackers, apple wedges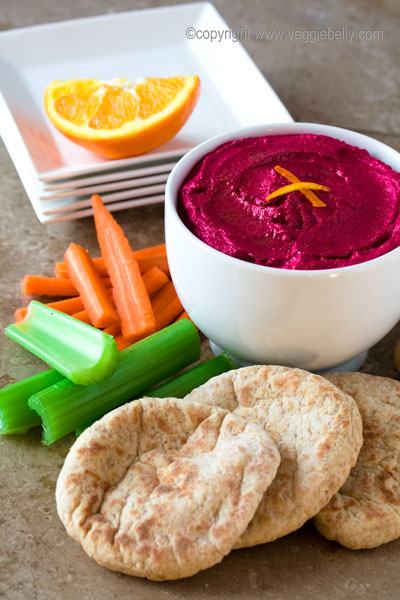 Dont have walnuts? Try these beet dip recipes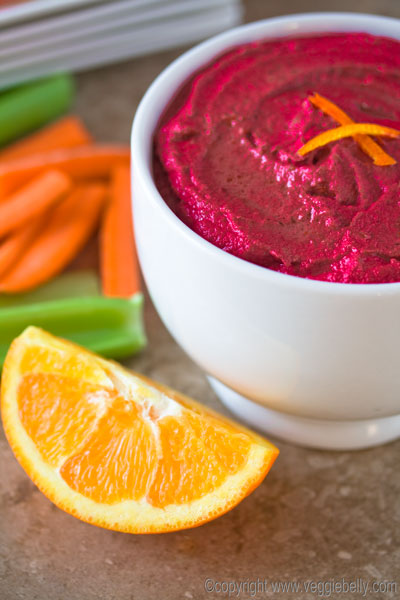 Roasted Beet and Orange Dip with Walnuts Recipe

makes about 1 1/2 cups
12 oz beets (2-3 medium beets)
3/4 scant cup walnuts
2 tbsp balsamic vinegar
1/2 tbsp sugar, depending on how sweet the beets are
2 pods garlic
3 tbsp orange juice
salt, pepper
1/2 tsp orange zest
Wash and dry the beets. Wrap them in foil,place in a baking dish and bake in a 400 degree f oven for 1 hour or till the beets are fork tender. Let the beets cool a little and peel the skin.
Toast walnuts in a pan over medium heat till they are light brown. Place the roasted beets, toasted walnuts and all other ingredients, except orange zest in a blender. Puree till smooth. Adjust vinegar, sugar, and salt to taste. Transfer the dip to a bowl and mix in orange zest. Serve chilled with pita bread and vegetable crudites.
Comments
comments