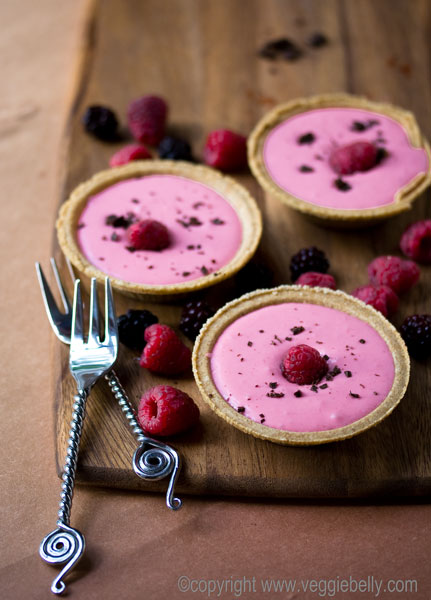 I had a really stressful week. When I was talking about it to my friend K, she suggested two things. Go over to her place for dinner. Or make something decadent and post it on my blog. (Notice how both involve food?!). I went with option two. What can be more stress busting than cooking (and then making S clean up)? What can make a girl happier than a luscious raspberry mouse tart with dark chocolate ganache hidden inside?! And what can make me forget my worries that reading your comments
Stress be gone!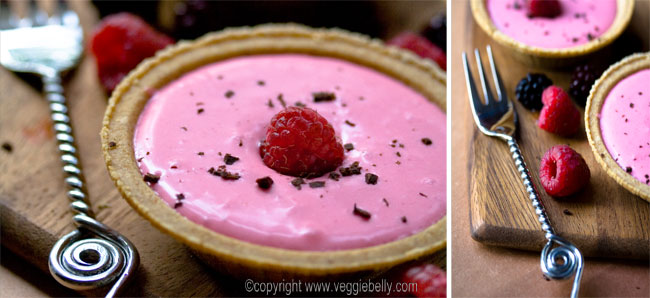 You can whip up this dessert rather quickly because there is no baking involved. The only time consuming step is chilling the tartlets for atleast 3 hours so that the filling sets.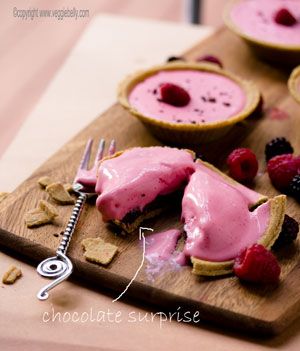 I used store bought graham cracker mini tarts. You can use whatever pie crust you like. An oreo crust will be great too.
 The filling is raspberry jello powder or agar agar, mixed with a quick raspberry jam (recipe below), cream cheese and cream.
Whip everything together. Pour a little chocolate ganache at the bottom of the pie/tart. Then pour the raspberry mousse in and let it set.
You cant see the chocolate layer, but once you cut into the tartlet, there is a nice little chocolate surprise waiting for you.
Regular mousse involves eggs. But this recipe is eggless. You still get a wonderful, creamy yet light mousse from the addition of fruit pectin and jello powder or agar agar.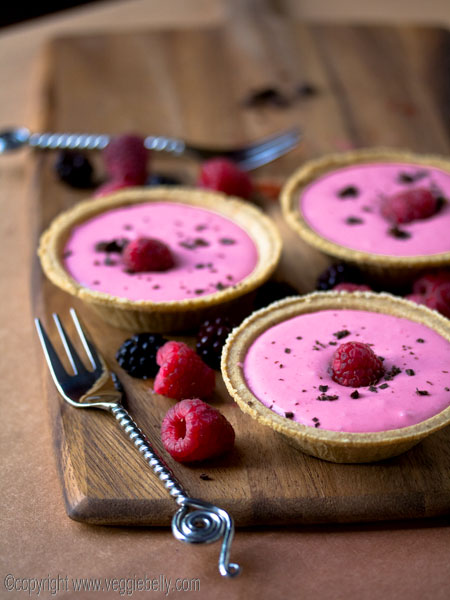 Raspberry Mousse Pie/Tart/Tartlet with Chocolate Surprise Recipe
loosely adapted from this recipe on Recipe Bazaar
makes about 6 mini tarts
6 mini graham cracker pie crust or any pie/tart shell of your choice. If the crust you are using needs baking, pre-bake it according to package directions
for quick chocolate ganache
2 oz dark chocolate bar
1 1/2 tbsp heavy cream
for raspberry mousse
6 oz fresh raspberries
1 1/2 tbsp fruit pectin powder
3/4 cup sugar
a pinch of salt
1 1/2 tbsp raspberry jello powder or agar-agar
1 1/2 tbsp boiling water
3 tbsp cream cheese
1/2 cup heavy cream
Start with the raspberry jam. In a medium pan, heat the raspberries, pectin, sugar and salt on medium heat. Cook till the mixture is bubbling and slightly thickened. About 4 minutes. Then press the raspberries through a strainer, discard the pulp and seeds and reserve the liquid jam. Let the jam cool.
Meanwhile, in the bowl of an electric beater, place the boiling water and jello or agar agar and mix till dissolved. Then add the cooled jam and cream cheese. Mix with a fork till well incorporated. Pour in cream. Using the beater, whip/beat the mixture on high till thick.
For the chocolate ganache, place the dark chocolate and cream in a pan and cook on low heat just untill the chocolate melts. Be careful not to burn the chocolate
Divide the chocolate ganache evenly among the pie crusts. Let it cool about 5 minutes. Then pour the raspberry mousse mixture into the pie crusts, over the chocolate ganache. Refridgerate atleast 3 hours to allow the mousse to set. Serve chilled, garnished with fresh raspberries and chocolate shavings.
NOTE (added Oct 13 '09): the raspberry filling was very slightly runny for me. (You can see that in the picture of the cut open tart above). You may want to use more jello or agar (3 tbsp jello/agar + 3 tbsp boiling water) to help the filling set better.
Comments
comments