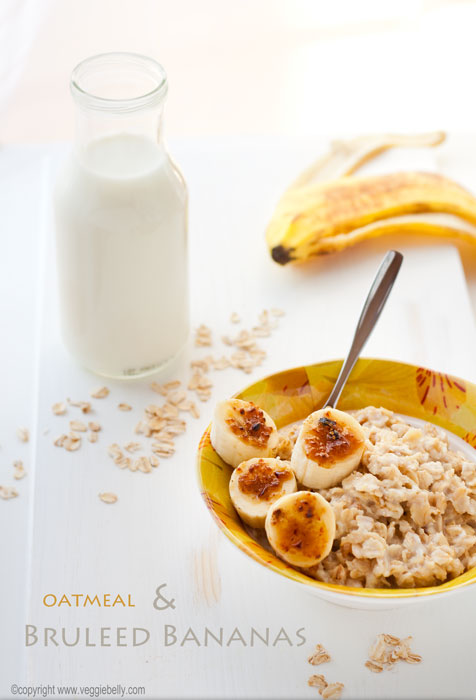 Its really weird, I've been craving bananas like crazy. No im not pregnant thankyou very much. Just a craving for some nice, ripe, sweet bananas in an un-pregnant sort of way. This breakfast dish of oatmeal and bruleed bananas hit all the right notes. Its easy enough to make on a busy morning; the oatmeal takes 4 minutes to make and you can brulee the bananas while the oats cook. This is also special enough to serve guests..wow them with some brulee torch action!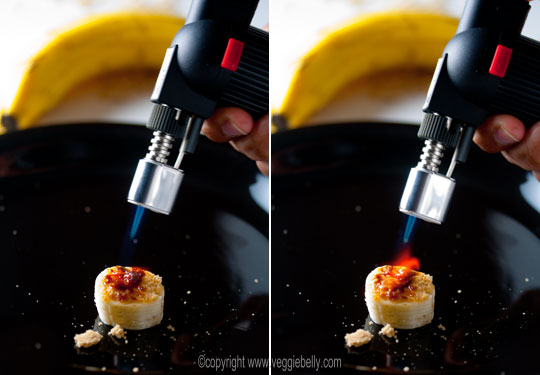 If you have a creme brulee torch, just skim the top of the sugar with the flame till sugar melts. I enjoy my creme brulee torch. Its theraputic in a pyromanic kinda way. But dont get carried away with the creme brulee torch, be careful not to burn the sugar!  If you dont have a brulee torch, just stick the sugar topped banana pieces under the broiler.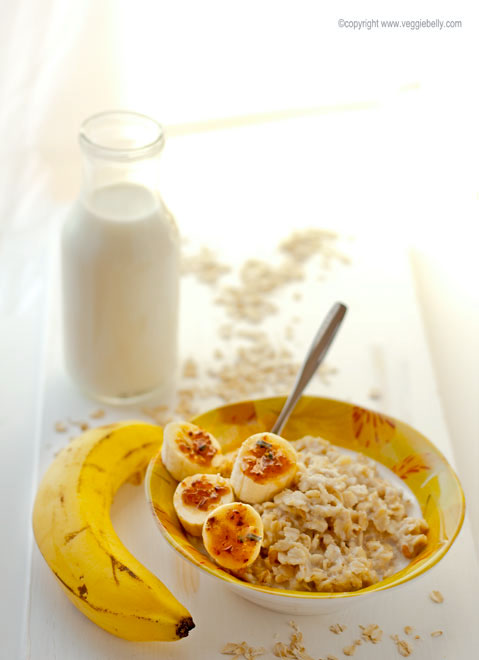 Oatmeal with Bruleed Bananas Recipe

serves 1
1/2 cup oats
1 cup milk
1 small banana
2 tbsp brown sugar, more if you like it sweeter. You could also use regular white sugar.
1 tbsp butter, optional. I didnt use.
a tiny pinch of salt
1/8th scant tsp allspice or cinnamon or pumpkin spice
Bring milk to boil, add oats and cook on medium heat for about 4 minutes (or cook the oats according to package instructions).  Add sugar to oatmeal if desired.
Cut the banana into about 1/2 inch thick discs. Mix sugar, butter if using, salt and allspice/cinnamon/pumpkin spice. Place equal amounts of this mixture on top of cut banana discs. Gently pat the sugar mixture down so that it covers most of the banana disc. Using a creme brulee torch on low heat, brulee the sugar mixture just till it melts (see picture above). Take care not to burn the sugar.
To brulee without a creme brulee torch – Place banana slices topped with brown sugar mixture on a baking sheet. Place in the oven and broil on low just till the sugar melts and becomes golden. Be careful not to burn the sugar.
Comments
comments