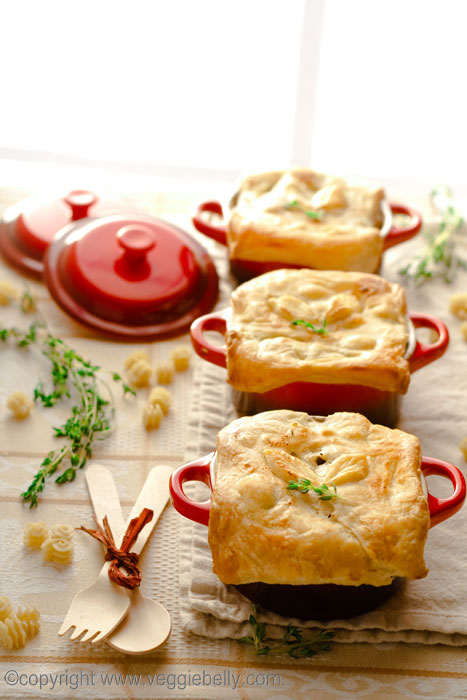 I'm too damn disorganized to make and post thanksgiving recipes for you before thanksgiving. Plus, we're celebrating thanksgiving at my in-laws'. So I wont be posting a complete thanksgiving menu this year. These pot pies however, will make a great entree for thanksgiving. It takes just over an hour to make and you could work on your side dishes while these pot pies bake in the oven.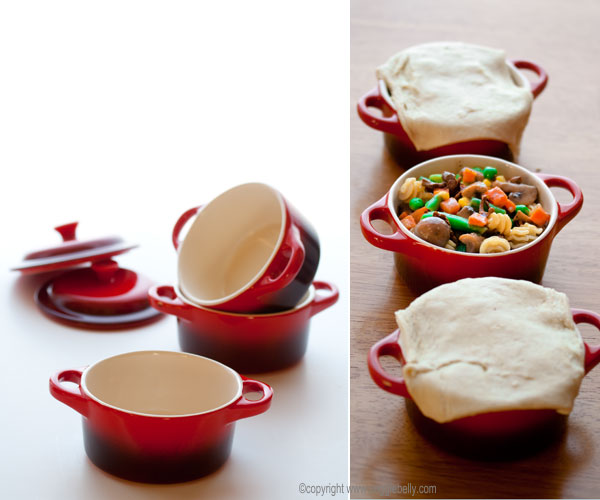 Use any kind of vegetables you like. I like the meatiness of wild mushrooms. The creamy, mushroomy filling is really good with the flaky, golden puff pastry crust. Doesnt puff pastry just make everything better?! Another thing that will make your pot pie better is using a good wine in this recipe. I used a Gruner Veltliner, a dry, food-friendly white wine from Austria. I used this wine in the recipe and then served the rest with the meal.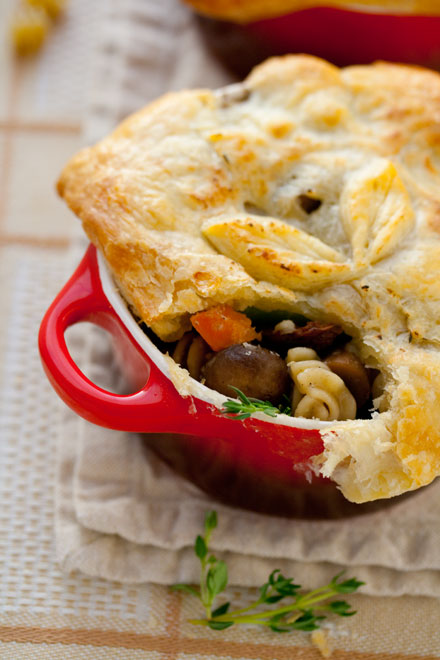 To make the leaves that go on top of the puff pastry, simply score out a leaf shape from a piece of puff pastry. Use a sharp knife to get clean edges. Then press the blunt side of the knife to make veins on the leaf. Place 2 leaves on top of the puff pastry shell.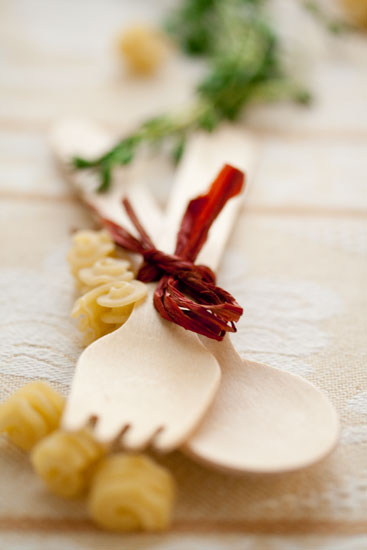 A note on using dried wild mushrooms: Use any kind of wild mushroom you like. This recipe requires you to use some of the mushroom soaking liquid. However, if you are using chanterelle mushrooms(which will be delicious in this recipe), I recommend that you dont use the soaking liquid. Chanterelle soaking liquid can be bitter sometimes. So if you are using chanterelles, use some mushroom stock, vegetable stock or milk instead.
Marx Foods is a great place to buy a wide variety of mushrooms online.
Wild Mushroom and Pasta Pot Pie Recipe
serves 2-3 as an entree
1/2 oz dried wild mushrooms like chanterelle, morel or porcini
2 1/2 cups boiling water
1 cup milk 
1/2 cup heavy cream
4 tablespoons flour
2 tablespoons butter or olive oil 
1/2 a medium onion
10 oz baby bella (crimini) mushrooms
2 teaspoons minced garlic
2 sprigs fresh thyme
1/2 sprig frsh rosemary
1/2 cup dry white wine
3/4 cup frozen mixed vegetables
1/2 cup small sized pasta like small shells, uncooked
1 sheet puff pastry, thawed
Soak dried mushrooms in boiling water for 15 minutes. After 15 minutes, squeeze out the water from the mushrooms, chop the reconstituted mushrooms if they are large. Reserve the mushroom soaking liquid (see note above).
Chop the onion. Pull the leaves away from the thyme and rosemary sprigs and finely chop the leaves. Quarter the crimini mushrooms. Whisk milk, cream and flour together and set aside.
Cook the pasta in salted water. Pasta must be very al dente. It will finish cooking in the oven. If you are not using the pasta immediately, run some cold water over drained pasta to stop the cooking process.
Pre heat oven to 375f.
Heat oil/butter and add onion. Cook on medium heat till the onion is translucent. Add crimini mushrooms and  wild mushrooms. Cook for 2 minutes on medium-high. Then add garlic, thyme, rosemary and white wine. Let most the wine boil away. Add frozen vegetables, salt, pepper, 1/2 cup mushroom soaking liquid and the milk+cream+flour mixture. Let the sauce come to a boil. Then reduce heat and simmer for about 4 minutes or till the sauce has thickened slightly and flour doesnt taste raw anymore. Turn off heat. Stir in cooked pasta.
Place the filling in an oven proof dish. (Use either individual sized dishes or one large dish). Cut the puff pastry sheet so that it fits over the top of the dish with a little draping over the sides. Place puff pastry sheet over the top of the filling. Brush some milk over the puff pastry. Place the pot pie on a baking sheet and bake for about 30 minutes or till the puff pastry is golden brown. The filling may boil over, so make sure the dish is on a baking sheet before placing in the oven.
Comments
comments