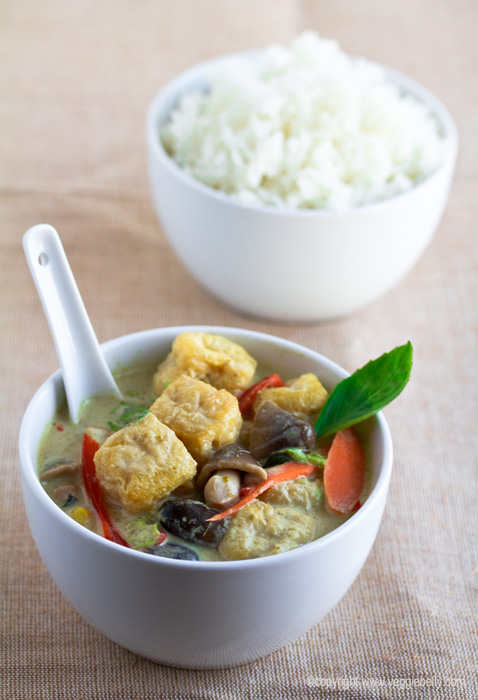 I don't know what I'd do without an Asian store near me. The one I go to is huge, cheap and stocked with every ingredient you'd need to make any Asian meal imaginable. One of my favorite things at the Asian store is tofu or soy puffs – little cubes of golden fried tofu. When you add tofu/soy puffs to curries, they absorb all the flavor and become incredibly flavorful. If you cant find tofu puffs, oven bake or deep fry some firm tofu and use in this recipe.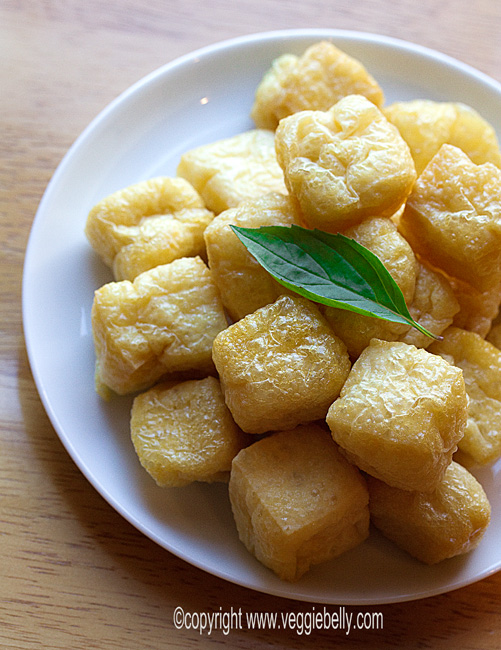 I learned how to make fresh green curry paste when I was in Thailand (more about that in future posts!), but I think store bought green curry paste is good enough when you are in a hurry. No pounding lemon grass in a mortar and pestle here! Freshly made curry paste ofcourse is much tastier, but if you are in a rush, canned paste is just fine.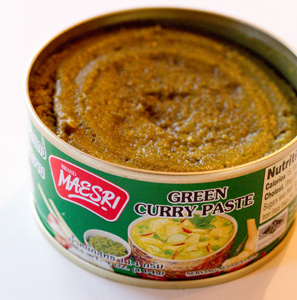 The Maesri brand green curry paste I use contains:
green chili
shallots
ginger, garlic
lemon grass
kaffir lime
sugar
galangal
turmeric
coriander
cardamom
cumin
You simply add coconut milk to the paste, boil, then add vegetables, boil again and you are done!
I like to garnish my thai curries with lots of fresh thai basil. Cilantro or green onions will also make great garnishes.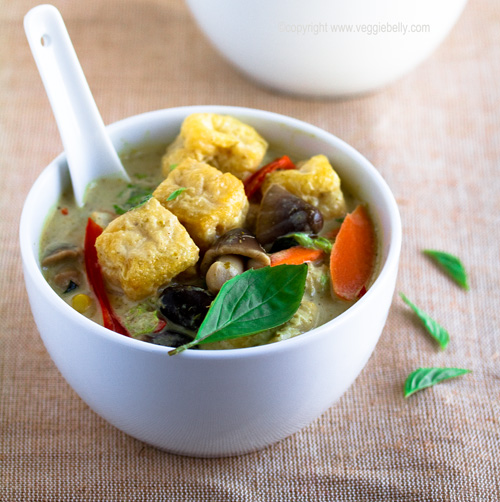 Thai Green Curry (Gaeng Keow Wan) Recipe
serves about 4
1 can (4 tablespoons) green curry paste (you may need to use more or less depending on the brand)
1 can (13.5 oz) coconut milk
1/2 cup water
2 cups napa cabbage or chinese cabbage, shredded
1 medium red pepper, cut into thin strips
1 medium carrot, cut into matchsticks
1 cup fresh or canned straw mushrooms
1/2 cup canned baby corn
1 cup tofu puffs (or firm tofu cubes that have been deep fried)
1/4 – 1/2 cup Thai basil leaves, loosely packed.
Heat a large wok and place the green curry paste, coconut milk and water in it. Bring to a boil while stirring. Reduce heat and simmer for about 5 minutes. Add all other ingredients, except Thai basil, and boil gently for about 4 minutes or till the cabbage has wilted and the vegetables are cooked but not mushy. Turn off heat. (If the green curry is too spicy for you, add more coconut milk). Sprinkle chopped Thai basil on top. Serve with jasmine rice.
Comments
comments