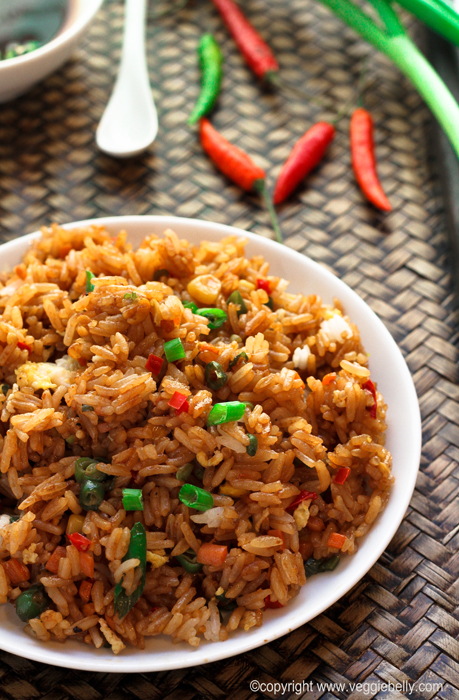 So many of you wrote in, facebooked and tweeted me to ask where I am and why I havent blogged in a while. I am so touched that so many of you care about this blog and I'm happy to say I'm back! Ive been travelling and just got back from a fantastic trip to India, Thailand, Cambodia and Malaysia (more about that in future posts!). I havent posted while traveling because I had zero drafts when I left..hows that for pre planning?! Now heres a fried rice recipe for you thats yummier than take out!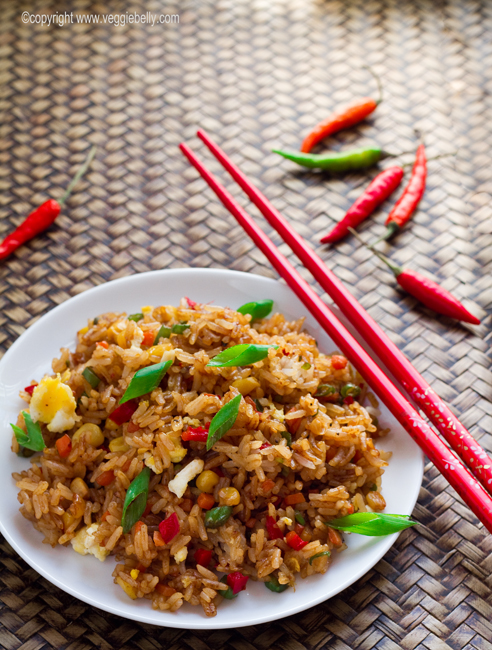 Make sure you use jasmine rice for this recipe, it will make your fried rice very fragrant. Also dont skip the maggi seasoning sauce, it adds depth and a lovely umami flavor to the fried rice. If you cant find maggi seasoning sauce, use mushroom flavored soy sauce.
Egg Fried Rice using Jasmine Rice: Recipe
serves about 3-4
2 cups Jasmine rice, uncooked
3 1/2 cups water
2 large eggs (for an eggless vegan version, use 1/2 cup fried or scrambled tofu)
2 tablespoons vegetable oil
1 red chili slit lengthwise, optional
2 cups mixed vegetables, diced (I used carrots, beans, red pepper and sweet corn)
3 tablespoons light soy sace
1 tablespoon dark soy sauce (you may need to use more depending on how dark/strong the brand you are using is)
1/2 teaspoon maggi seasoning
1/4 teaspoon scant white pepper
Cook the 2 cups jasmine rice with 3 1/2 cups water in a rice cooker. When the rice is done, spread it out on a platter or large plate and let it cool completely (if im in a hurry, I put the rice in the fridge to cool). While the rice is cooling, scramble the eggs in a large wok and set the scrambled eggs aside and wipe the wok. Heat the same wok to high, add oil and the red chili if using. Add the mixed vegtables and cook sritting, on high heat, about 4 minutes. Now add 1 tablespoon of light soy sauce and cook another minute. Add the scrambled eggs, cooled rice, remaining light soy sauce, dark soy sauce, maggie seasoning and white pepper. Cook on high heat for about 3 minutes. Garnish with chopped green onions.
Comments
comments