I wanted to make a comforting, hot dish for those chilly, rainy evenings we've had recently. I used a beautiful bundle of asparagus (which is is season now) to make some risotto. Fresh peas would also be great in this dish. You can pretty much use any vegetable you like in this risotto, but my favorites are asparagus, peas or wild mushrooms. I also like to stir in some arugula to my risottos. The fresh, peppery arugula is a nice contrast to the creamy arborio rice.
I used a crisp, dry, Gavi white wine in the risotto. I then served the same wine with the risotto.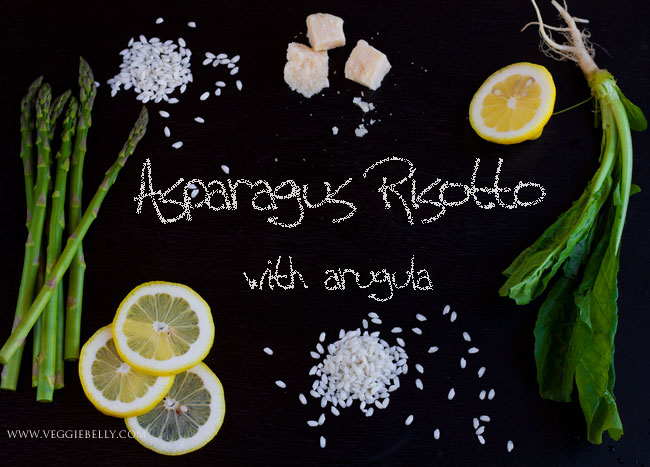 Below: check out the cute dishes I picked up at the local thrift store! They were perfect for serving risotto. I'm not sure what the spout is meant for, but it works well as a spoon rest. Next time, I think I'll use these dishes for baked eggs.

Perfect Risotto Tips
- use a short grain risotto rice like arborio, carnaroli or violone
- take care not to brown the rice while cooking it in butter
- always use simmering hot stock, not cold stock
- make sure you only add one ladle full (about 1/2 cup) of stock at a time
- use a good quality dry white wine. I used a Gavi; a crisp, dry white wine from Italy.
- the wine must be at room temperature. Don't add cold wine to risotto!
- don't stir the risotto too much while its cooking (but do stir occasionaly!)
- risotto is done when it looks creamy, but the rice is still slightly al-dente
- for a creamier risotto stir in a little butter or cream at the end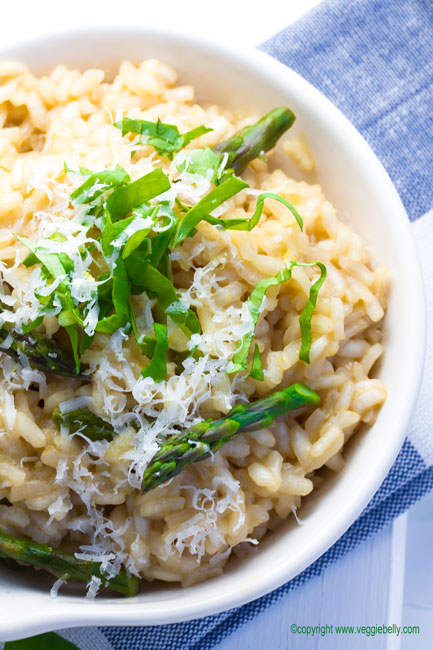 Note: I dont like soupy risotto, so I cooked mine very aldente as you can see in the photo above. But the recipe below will give you a creamier, more moist risotto, which is how traditional risotto should be.
Asparagus and Lemon Risotto with Arugula Recipe
serves about 4
10 cups vegetable stock
1 1/2 cups chopped asparagus
4 tablespoons butter
2 cups arborio or carnaroli or vialone rice
1/2 cup dry white wine
1/2 cup arugula leaves, shredded
1/4 cup or more grated Parmesan
2 teaspoons lemon juice
1/4 teaspoon lemon zest
salt
Place vegetable stock on a large pot and bring to a gentle boil. Place the chopped asparagus in the stock and blanch for about a minute. Asparagus should be bright green and still crisp. Using a slotted spoon, remove the asparagus from the stock and keep aside. Reduce heat and keep the stock on simmer.
In a skillet, heat the butter and add arborio rice. Stir the rice on medium heat for about 2 minutes, or till it is fragrant (but don't let the rice brown). Add wine to the rice and let is bubble away. When most the wine has evaporated, add one ladle of the simmering stock to the rice. Cook on medium-high heat. When the rice has absorbed most the stock, add another ladle full of stock. Repeat this process till the rice has cooked through (you may not use up all the stock).  Check the rice for doneness as you go. When the rice is done, stir in arugula, parmesan, lemon juice, zest and salt.
Comments
comments