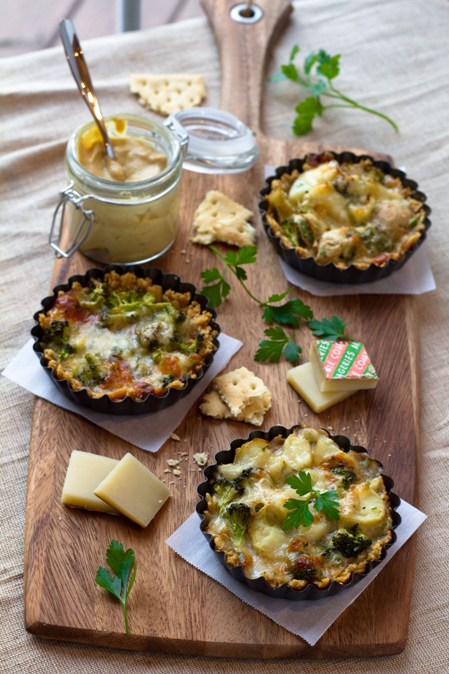 I'd been dealing with a cranky client all week and was exhausted. I wanted a nice gourmet meal, but at the same time I didnt want to leave the house (ever felt that way?). So I used what I had on hand to make this gourmet tasting, gourmet looking, cheesy tart…just what I needed after a stressful day! The gorgeous wedge of french comte cheese Sanjeev picked up a few days ago was simply spectacular in this savory tart.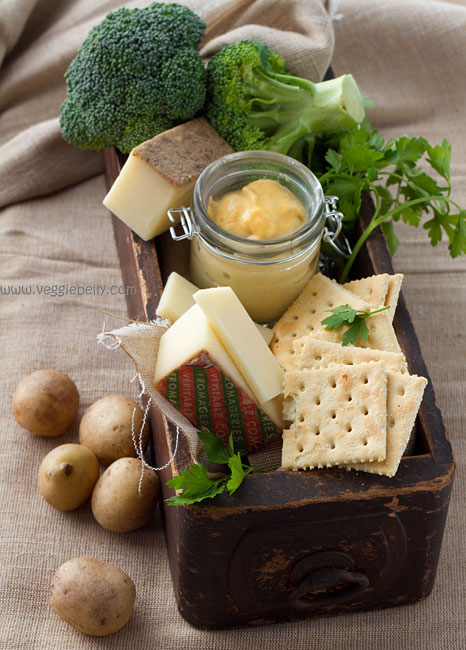 Comte is a Gruyere type French cheese made from cows milk. Comte is made only with spring and summer milk. I absolutely love this cheese. Actually, I love all cheeses, but I have extra love for Comte. Its slightly sweet, somewhat soft, and melts beautifully.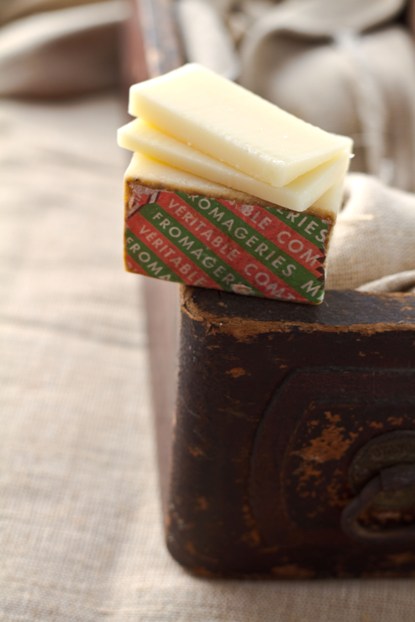 If you dont like or cant find Comte cheese..
Substitutes for Comte cheese: use Gruyere or fontina instead of Comte. Or if you want to spend less, try a mix of mozzarella and parmesan.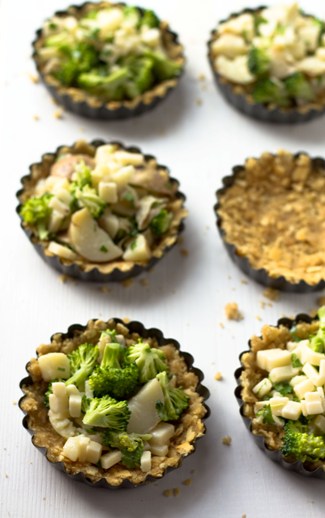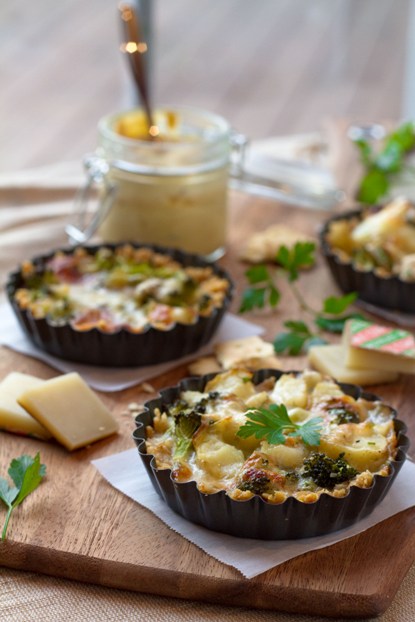 The tarts smelled sooo good in the oven, we were getting hungry quickly! We snacked on the ingredients while waiting for the tarts to bake.

This is a rather heavy, cheesy tart, so I made it in individual mini tart/pie pans. A mini tart along with a salad was a good portion size. If you dont have mini tart/pie tins, you can make this as one large tart and cut it into wedges.
We absolutely loved the saltine cracker crust – it was easy, smelled heavenly, and very yummy!

Broccoli, Baby Potato and Comte (Gruyere) Cheese Tarts in Saltine Cracker Crust: Recipe
makes 6 mini tarts
4oz or 5 small baby potatoes (or use a medium baking potato instead)
1/2 cup low fat milk
1 teaspoon flour
1 teaspoon dijon mustard
3/4 cup comte or gruyere cheese, cut into tiny cubes
1 cup broccoli florets, chopped
2 tablespoons parsley
salt and pepper (keep in mind the cheese, mustard, saltines are all already salty!)
for saltine cracker crust
4oz or 1 sleeve of saltine crackers
4 tablespoons butter, melted
1/2-3/4 cup hot water
Pre-heat oven to 375f.
Wrap the potatoes in a paper towel and micrrowave for 2 minutes or till half cooked. Set aside.
In a bowl, whisk together the milk, flour, and dijon mustard. Then add the cheese, broccoli florets, potatoes, parsley, salt and freshly cracked black pepper and mix well.
To make the saltine cracker crust, place the saltine crackers in a food processor and crush them to a powder. You should get about 1 1/2 cups of crushed saltines. Place this in a bowl, add melted butter and hot water and stir till it comes together like a dough. Now press the saltine cracker crust dough into a non-stick pie or tart pan. Press down on the crust to compact it and also push it up the edges of the pan.
Pour the cheese, broccoli and potato mixture into the tart/pie pan with the saltine crust. Place the pan on a foil lined baking sheet and bake on 375 degrees for about 20 minutes or just till the top of the tart starts to turn golden. Cool tarts a little, then gently lift them off the mould using a knife. Serve tart warm with a salad of your choice.
Comments
comments