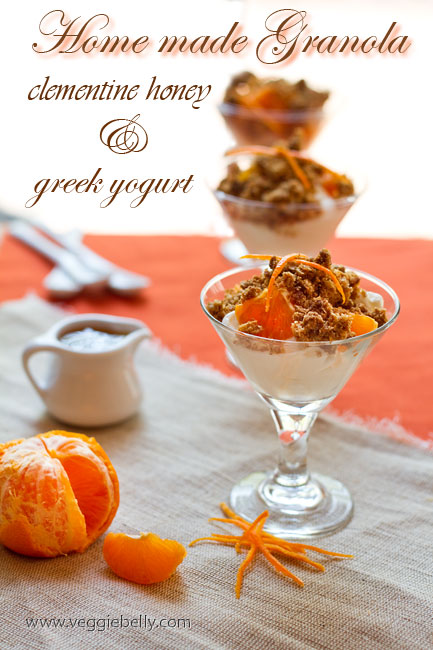 I was suddenly gripped by an intense and urgent desire to make granola at home. Didn't want to make dinner that night. Didn't want to go to the store to buy granola ingredients. But I just had to make granola. Right that minute. (I'm weird like that). I suspect this granola craving rubbed off from my sister who was visiting me. She is a total granola junkie and can go through a whole box in a day. So M, this one is for you ♥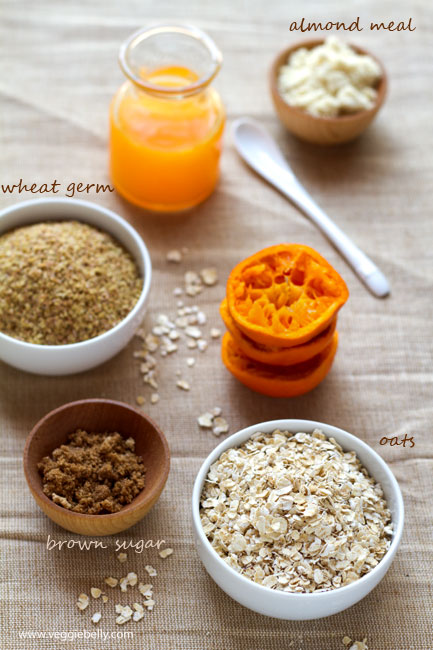 Like I said, I hardly had any of the ingredients needed to make granola. So I just used what I had on hand – instant oats, wheatgerm and almond meal.  This is by no means a 'proper' granola recipe, but it certainly tastes good. Take a look at some of the other granola recipes on the web:
Addictive granola on Tastes Like Home
Four grain granola bars on Whats For Lunch Honey
Savory granola trifle on Jugalbandi
Low fat citrust granola on Inn Cuisine
Granola cookies on Dandy Sugar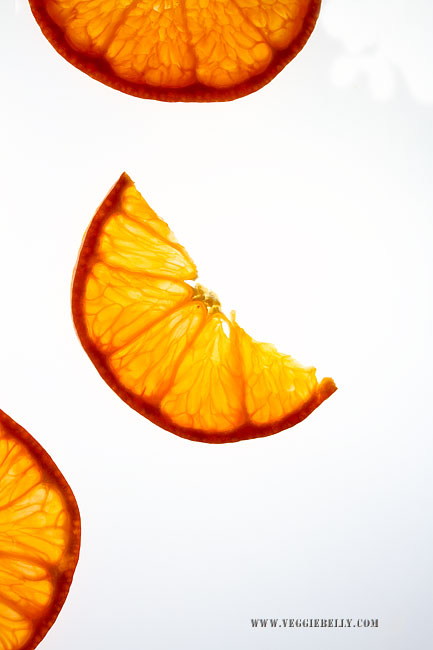 Clementines are a type of mandarin orange. They have cute little sweet segments with lots of juice. You could also use a tangerine for this recipe, but it probably wont be as sweet as a clementine. You could of course, substitute with good old orange.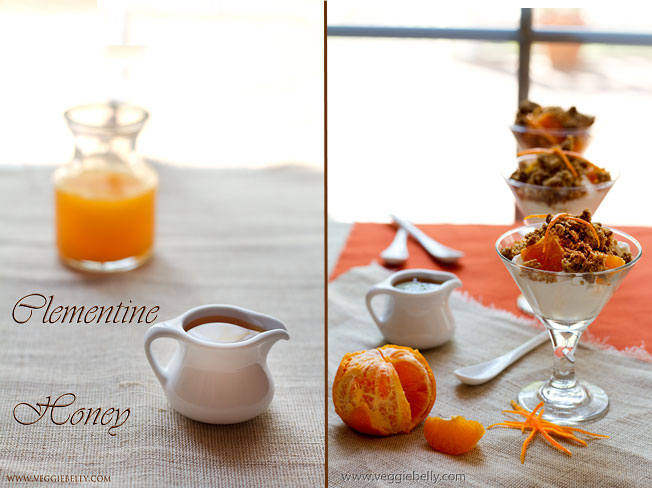 Simple (Improvisational) Oat and Almond Granola Recipe
makes about 2 1/2 cups
1 cup rolled oats (I used instant oats because thats all I had, but rolled oats will make better granola)
1/4 cup wheatgerm
1/2 cup slivered almonds (I used almond meal because thats all I had)
1/2 cup dark brown sugar
1/4 cup vegetable oil
1/4 teaspoon vanilla extract
1/8 teaspoon salt
Pre heat oven to 300f
Place oats, wheatgerm, almonds and brown sugar in a bowl. In a smaller bowl, whisk together oil, vanilla, salt and 2 tablespoons of water. Add this liquid mixture to the dry ingredients. Mix well until clumps form. Spread out on a baking sheet and bake 30-40 minutes or till the granola is crunchy. Stir the granola every 15 minutes while it is baking. Once completely cooled, store granola in an airtight container.
Clementine Honey Recipe
makes about 1/4 cup
1/2 cup fresh clementine juice (substitute with tangerine or orange)
1 tablespoon brown sugar
2 tablespoons honey
1/4 teaspoon tangerine zest
Place clementine juice and brown sugar in a small pan and bring to a boil. Continue boiling till the mixture reduces in half and becomes like a syrup. (Be careful sugar burns easily!). Turn off heat. Stir in honey and zest. Clementine honey will thicken once cool.
To make granola parfaits
Layer granola, Greek yogurt and tangerine honey in serving glasses.
Comments
comments