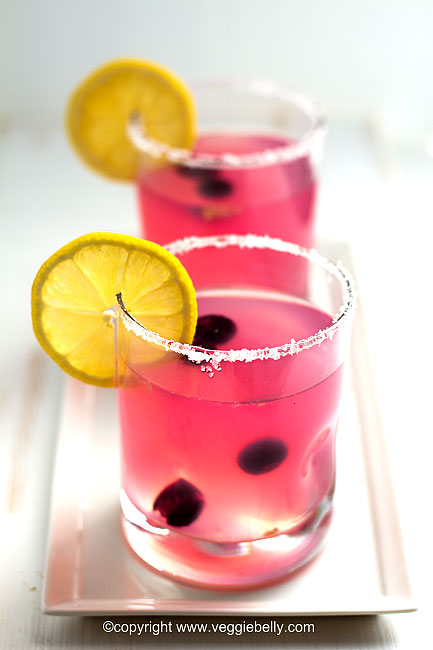 I almost feel bad giving you a recipe for lemonade. I mean, its a no brainer right? Just mix up sugar, lemon juice, and water, thats it. So, to spruce up the humble lemonade, I added some blueberries (and vodka!). The extra tang and brilliant color were fantastic! We loved eating the lemonade soaked blueberies in the end of each glass!
The lemonade will become a stronger color if you let the blueberries sit in the lemonade for a few hours. Use either fresh or frozen blueberries. Other berries would work well too — strawberries, blueberries, huckleberries..yum!  If you are using something with lots of seeds (like raspberries), you may want to puree the fruit and strain the puree before adding it to the lemonade.  
Alcoholic version - Spiked Blueberry Lemonade:  add vodka to this lemonade. You will not be sorry you did!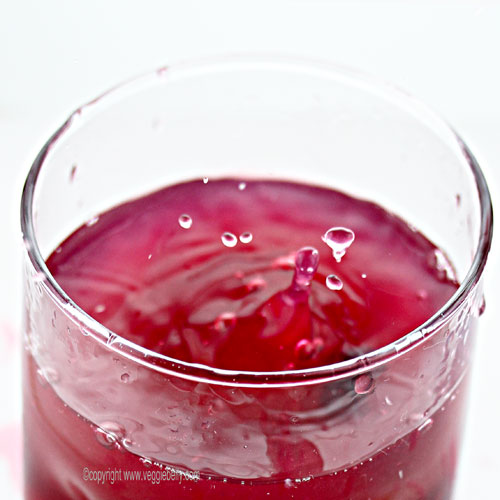 Blueberry Lemonade Recipe
makes about 8 cups
1 cup sugar
1 cup lemon juice (I used bottled)
6 cups water
1/2 cup fresh or frozen blueberries
Place all ingredients in a pitcher and stir till sugar dissolves. Muddle the blueberries a little using the back of a wooden spoon to release their juices and color. Taste and adjust sugar if needed. Serve chilled.
For spiked lemonade – add 1 to 2 cups of vodka (preferably citron flavor) to above recipe.
Comments
comments