When I visited Thailand, I was intoxicated by the sites, sounds, smells and tastes. The sensory explosion was just incredible. And the food…oh man the food..where do I even start?! Thailand has a huge street food culture; so this only means one thing – tasty, fast, cheap food. Batter fried bananas, sticky rice steamed inside hollow bamboo sticks, street-side penang curry, morning glory (a spinach like green vegetable) with garlic..the list is endless!
I had no problem being a vegetarian traveling in Thailand and finding vegetarian food. I asked for my dishes without meat and with vegetables only and most often got what I wanted. They all probably had fish sauce in them, but I was ok with that. Also, I was very excited to learn how to make vegetarian thai food without fish sauce and shrimp paste! That was the highlight of my trip – a vegetarian cooking class I took at May Kaidee's restaurant in Chiang Mai. May Kaidee's is a vegetarian restaurant run by two sisters. May runs the Bangkok restaurant and Duan runs the Chiang Mai one.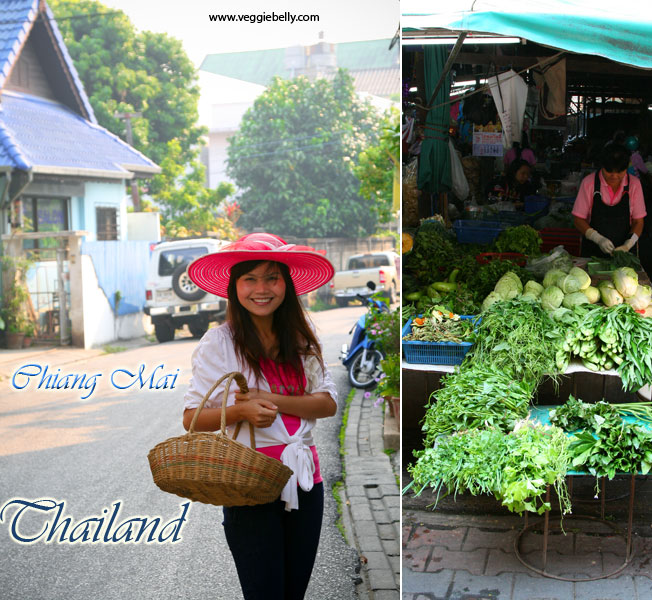 Above, Duan is all set to go to the produce market next to her restaurant.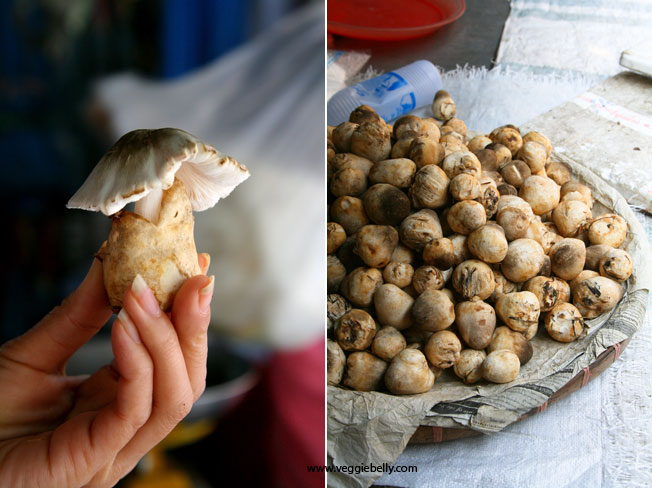 I didnt know which to admire more, the delicious straw mushrooms at the market or Duan's beautiful fingers! Dear Duan, you will always have a back up career as a hand model for Veggie Belly.
Duan holds up some essentials for Thai cooking – kaffir lime leaf, lemongrass, galangal (ginger-like rhizome), turmeric, cilantro, red chillies.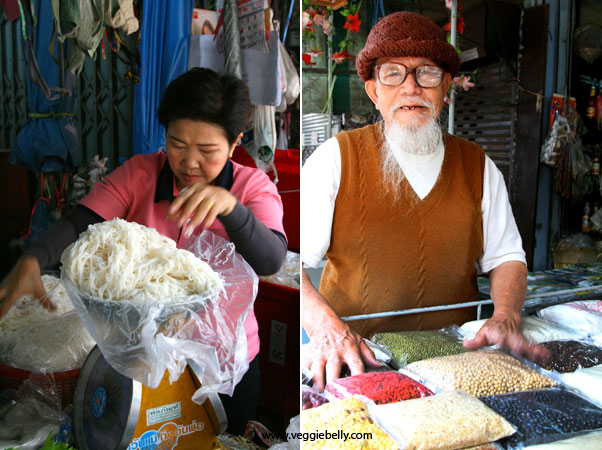 At the market: noodle lady and beans and rice man.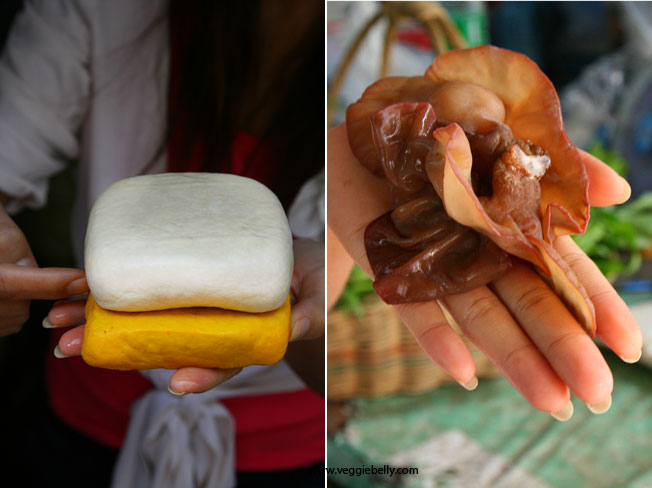 Fresh tofu! Colored a brilliant yellow using turmeric. Wood ear mushrooms really felt like ear cartilage.
Back at the restaurant, Duan gave me some tips:
-          Fry tofu in vegetable oil, keep the tofu in the oil till you are ready to use it. Use the same tofu flavored oil while cooking your dish.
-          Look for the "Jay" symbol on Thai sauce bottles, this means they are vegetarian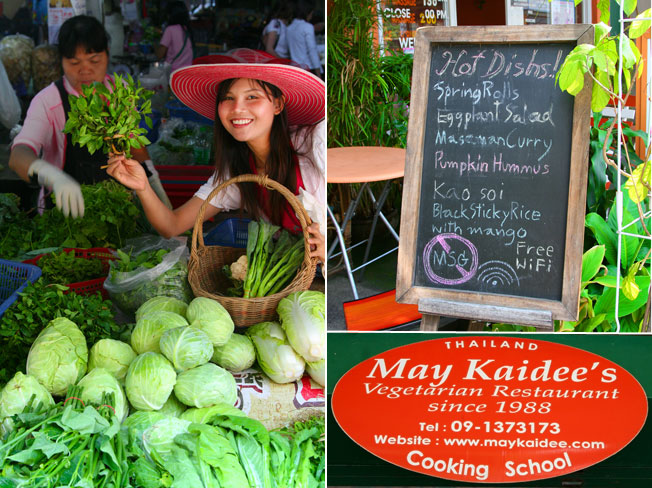 Look what Duan found at the market! Gorgeous Thai basil.
Here are excerpts from a chat with Duan:
On an average day, what do you and your family eat for breakfast, lunch, dinner, snacks? 
We usually eat traditional items such as curry with rice , fried egg with rice etc. We almost always have papaya salad and sticky rice for lunch. Dinner may be noodle soup or rice soup. We dont really snack much, maybe a fruit shake or ice tea with milk.
 
Thai food has a lot of fish sauce and shrimp paste, how can a vegetarian cook make thai food without these ingredients?
That is the thai way..lots of fish sauce and shrimp paste. They add saltiness to dishes. You can use salt, soy sauce, mushroom flavored soy sauce or thick mushroom sauce instead.
Sala's note: Healthy Boy brand mushroom flavored soy sauce is really good! Available in Asian stores.
 
What items do you use instead of meat?
In my restaurant  I use soy protien, tofu and sometimes vegetarian sausage or seitan.
 
Tell me about the food Thais eat during the Kin-Jay vegetarian festival
You can see fried yellow noodles with shitake mushrooms as the main dish everywhere during the festival.  Yellow is for goodness and prosperity in our culture.
 
What are the basic thai ingredients a thai vegetarian cook needs?
Chilli, garlic , onion, lemon grass, galangal, kaffir leaves — these are used in the paste for curry and in everyday dishes like stir fry and soup.
  
What is the most important element to thai vegetarian cooking?
The balance of spicy, sour, salty and sweet. Also important are fresh produce and freshly prepared pastes and ingredients. 
 
Are fake meats (seitan) popular in Thailand? Do you use them?
Yes. There are some dishes like a vegetarian 'fish' wrapped in seaweed.
 
What are some of your favorite ingredients to cook with? why?
I like to cook noodles because I love to eat pad thai and pad see ew. Noodles are also really easy to cook.
 
What are your favorite dishes?
I love Pad Thai.  And my mother's pumpkin cashew hummus is really good.
If you want to learn more about May Kaidee's:
Restaurant website: http://www.maykaidee.com/
Cook book: http://www.maykaidee.com/site/cookbook/ebook
I'm not affiliated with May Kaidee in any way; I just think they are awesome!
Comments
comments